Given the size of the crossover between the two sides, when the mood around Irish rugby shifts, so too does the mood around Leinster.
As the New Zealand tour loomed in June, confidence seemed low.
Beaten in heartbreaking circumstances by La Rochelle in the Champions Cup final, Leinster finished the season empty-handed after they were flattened by the Bulls in the semi-final of the United Rugby Championship.
Fast-forward through the summer, and as Ireland's internationals returned to training with Leinster last week, they did so with a skip.
Mentally and physically refreshed, confidence restored, but as Hugo Keenan warns, they haven't forgotten the pain of last season.
"After such a disappointing end with Leinster it was a good way to bounce back and finish the summer on a high, the full-back said.
"It means you're coming back in in good spirits but I think we still need to hold on to the hurt from last year and how that season ended for us to motivate us to go one better this year and crack into it again.
"We're going to be using that as extra motivation, not that we need it now, I think it's been too long since we've won the Champions Cup. I've never won one and it's our big goal, it's the one we talk about and yeah, I think we're really looking forward to cracking into the season and starting to build.
"And I think that's important, you can even see in the URC that it's getting more and more competitive, so a fast start in those first seven games before the international break are huge just to put yourself in a good position and a good platform to take the season on."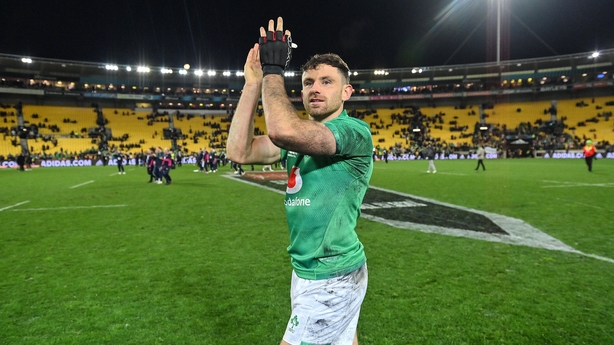 After the Test series in New Zealand, Keenan made the short trip across the Tasman for a holiday in Australia, visiting friends in Byron Bay, Brisbane and Sydney before his return to pre-season training last week.
Now 26-years-old and an established member of the Ireland starting team, the full-back still feels there are areas of his game to expand on, as we turn towards a World Cup season.
"There are definitely still work-ons for me," he adds.
"I've still got areas of the game that I've chatted to coaches about and am working on in pre-season, and it's a great opportunity to do that and work on stuff on the pitch and then off the pitch as well."
He'll be working closely with new attack coach Andrew Goodman, the ex-Leinster centre who returns to the province as replacement for Felipe Contepomi, and is looking forward to picking the brains of the New Zealander who most recently worked with the Super Rugby-winning Crusaders.
"It's been great to have a few fresh ideas and fresh faces in. We've only had him for about a week and a half now so he's doing a bit of observing, he wants to see how we do it and not try force anything on us early.
"He's obviously got a huge amount of experience from the Crusaders and his previous experiences in New Zealand, so he's definitely going to have new ideas for us, new moves and plays, so that's all going to be really exciting as a back.
"Felipe was brilliant for me and progressing my game, and hopefully Goody will be just as good and even better.
"His credentials speak for themselves. The success the Crusaders have had, the style of rugby played down in New Zealand, the players the Crusaders are producing and their domination down there, I'm sure he's had a such an impact, and is one of the reasons why they've been so successful, so hopefully he can bring that to Leinster."