If you needed an illustration of the importance of Nick Timoney to Ulster Rugby, you only have to look back at last night's win against the Sharks.
In a game with six World Cup winning Springboks, the 26-year-old stood head and shoulders above the rest.
Even aside from his multiple turnovers and 21 tackles, his influence could be identified by the opening scrum of the game.
With Ulster having the put-in 10 metres inside the Sharks half, Timoney and his number 8 Duane Vermeulen were seen to have a quiet word together before the sides packed down, and swapped places at the last second.
For those who didn't spot the switch, it came as a surprise to see the pacey Timoney sling-shotting his way from the back of the scrum, catching Siya Kolisi flat-footed and carrying hard to the 22.
When asked about that swap after last night's 24-21 win, which secured Ulster a home quarter-final in the United Rugby Championship, the flanker said it was down to some quick thinking by Vermeulen.
"Duane just said it to me at the time. That kind of game for him is a nightmare, because Duane is such a superstar in South Africa. They all know who he is, they'll be fired up to go and get him, especially the backrow.
"He just said 'listen, you're a small bit quicker than me, see if you get get outside him,' and we switched on the spot. I'm never going to turn those down because I love being at the back of scrums, and being given a license to go.
"It was just off the cuff, but it was pretty nice."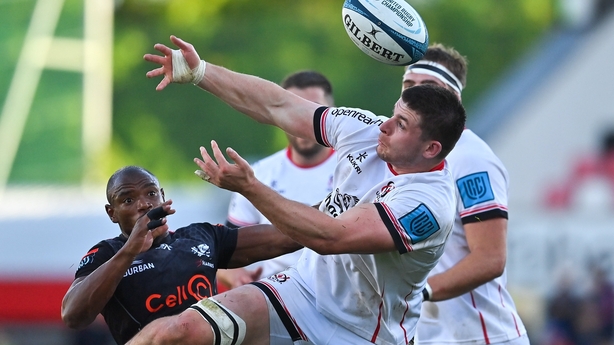 It set the tone for Timoney's night. A few minutes later, the Dublin native came up with a big turnover under his posts, while he poached another right on half time to end a huge defensive stand, ensuring his side would go in at half time 10-0 in front.
They pushed on in the second half with tries for Stuart McCloskey and James Hume, and although the Sharks did rally with late scores, the Irish side held on to guarantee a top-four regular season finish.
That home quarter-final is one which didn't look too likely a few weeks ago when they lost four URC games on the spin, but after grinding out wins against Edinburgh and the Sharks in the final two rounds, Timoney believes they are battle-hardened at just the right time.
"I think we're trending back in the right direction having had a bit of a dip in form," he said.
"It's a starter, and a home quarter-final is a good place to be.
"It's huge for the club in general, just giving fans another game to come and watch, a playoff game is huge for us in terms of the momentum, and the feel and buzz around the place.
"Playing at home is more of an advantage than playing away, when some of the away games looked like they could be in South Africa, it's a lot of travel, so I think it's massive for us.
"The pressure is still on, the last two games felt like must-win, and the quarter-final will be must-win. We're happy, but nothing changes."
On a personal level, Timoney is showing top form at just the right time, and last night's Player of the Match display should be enough to ensure his place in Andy Farrell's squad list for Ireland's summer tour of New Zealand.
And after playing all but three of Ulster's 24 games this season across the URC and Champions Cup, he could very well add to his two Irish caps this summer.
"I think I was maybe guilty - similar to the team - of just running out of steam a small bit over that dip in form," he added.
"It felt like a long season, but those couple of weeks off you get to have a look back, look at some of the good games, some of the bad games, what works and doesn't work, what frame of mind you need to be in.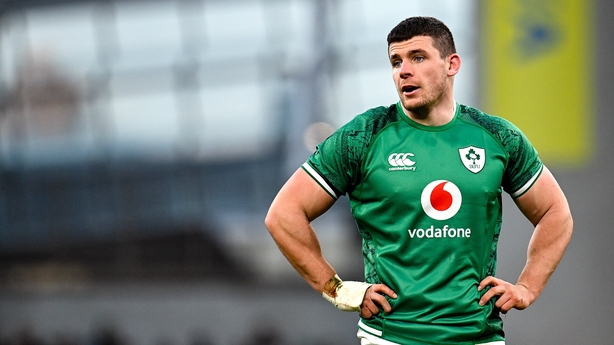 "Those couple of weeks off came at an unbelievable time for me personally and for the squad.
Having been a regular in the team last season, Timoney seems to have elevated his game to the point where he's now one of Dan McFarland's key players, a guaranteed name on the big game teamsheets.
The key to his rise? Never being comfortable.
"I guess I always look at myself and where I'm at in my rugby career, and I assess if I'm all that happy," the 26-year-old reflected.
"When I was a kid or if you'd asked me at the start of my career what I would have wanted to achieve at 26 I'd have ultimately said I'd have wanted to have won the league, the Champions Cup, have played 20 or 30 times for Ireland like a lot of lads that I'm mates with have.
"The worst thing you can have in a team is just people that are happy getting picked. I just look at all the things I don't have or all the things I've failed on and try to use that sometimes."
"Ultimately I know my position in the squad.
"I've got to play pretty much every game this year so from that point of view I feel lucky but also especially in a position like the back row, a couple of months out of form and that can all go away.
"From my point of view it's keep the same chip on my shoulder, keep the same hunger I had when I was not getting picked at all.
"I just have tried to not really think like that. I know how fickle things can be. I don't think it's a thing of getting comfortable, because if you get comfortable you probably get left behind."