Connacht boss Andy Friend reckons his side must knuckle down in order to pass this weekend's Champions Cup exam.
The Westerners welcome Stade Francais, currently tenth in the Top14, to the Sportsground next Sunday.
The Parisians have won just five of 12 games so far, their topsy-turvy season almost mirroring Connacht's fortunes in the United Rugby Championship.
Following a 'disappointing but not disheartening' loss to champions Leinster on Friday night, Friend has overseen seven matches this season and has three wins and four defeats in the ledger.
Asked to assess his team's season to date, the Australian said: "I felt like we've grown through that period.
"I thought our opening game [33-21 loss to Cardiff], we didn't stay in the struggle to the end, a bit like Friday night.
"Our second game [34-7 win over Bulls] was a really good performance and our worst game of the block by far was the [22-35 loss to] Dragons, and that was our own doing.
"I think we used the phrase, 'we fell in love with ourselves', and we didn't front up but the way we bounced back, Ulster [36-11] into Ospreys [46-18], was really good.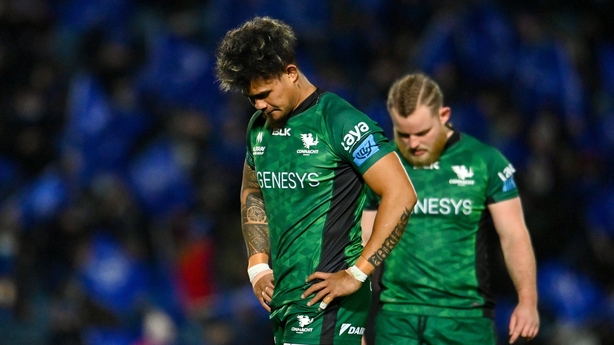 "Friday night was always going to be a tough ask but we'll take the really positive elements out of that and reflect on that, we scored some really good tries against a really good side.
"But we'll also be realistic, and I'd give us a pass mark - just a pass mark. We need to be better, we will be better and we've got a great couple of weeks coming up to challenge ourselves."
Stade beat Ronan O'Gara's La Rochelle 25-20 yesterday.
Despite Connacht's deficit in the win-loss stakes, his outfit have won admirers for their style of play, which is based on a fast tempo and keeping the ball alive.
It's a modus operandi that suits his charges, he claims.
"We definitely got out-muscled [against Leinster] and one of the reasons we say we want to play fast is we want to move big teams around," said Friend, whose team face Premiership table-toppers Leicester in round 2 on 19 December.
"You're going to have to do that, you're going to have to stick to our beliefs or identity of being faster and more accurate.
"That is one way of conquering that but if you get into an arm-wrestle against these big sides, it is going to be tough for you.
"I think [the format is] a great opportunity for us, and I think the last two years we've been in it, we've come out saying, 'We haven't got out of the pool stage but we belong here'.
"And we've got to take another stage now. We've got to play it to the next step.
"Next Sunday is going to be a massive challenge for us but I believe our game style can do some damage and hopefully we get the performance that we know is there."
Friend says he doesn't expect Ireland international centre Bundee Aki to be fit for the tie.