Alexander Zverev landed the biggest win of his career by shocking Novak Djokovic to win the ATP Finals.
The 21-year-old German, who was booed by indignant Roger Federer fans after beating their idol 24 hours earlier, saw off the world number one 6-4 6-3 to the delight of the vast majority at London's 02.
Djokovic, seeking to win a sixth title, had not dropped a set all week and had swatted aside Zverev in the group stages, losing just five games.
But the 31-year-old Serbian may just have run out of steam a little following an incredible run of form over the last six months.
Yet this was a deserved victory for Zverev, who broke his opponent four times in total and finished the match with a vicious, curling passing shot which could very well have come from the boot of the watching David Beckham.
British fans had yet to see the best of Zverev, who despite being seeded fourth at Wimbledon this year bowed out in the third round to Ernests Gulbis.
In fact he has yet to make it past the quarter-finals of a grand slam, but the affable youngster, 6ft 6in tall with his long hair and gold chains, has a definite star quality - and now he can add the London crown to his three Masters titles.
"I really can't describe it. It is the biggest title I have ever won," said Zverev. "Firstly I want to congratulate Novak - we may never have seen the tennis he has played in the last few months before.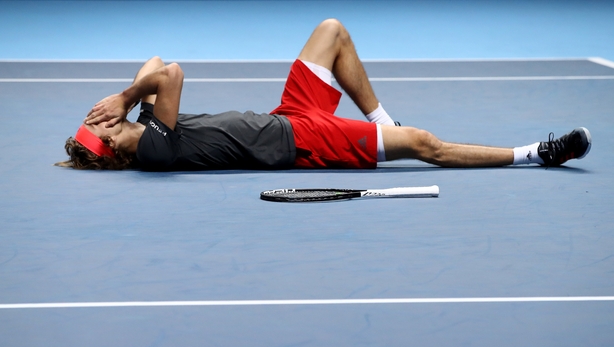 "He barely lost a match - but thankfully he did to me. We have had so many talks, not only about tennis but all different types of subjects. You are a sharing person and you have shared some titles with me. I appreciate you letting me win one today."
When these two met earlier in the week Zverev had a break point for 5-4 in the opening set but could not convert it.
This time when the opportunity arose at exactly the same point of the match he struck, Djokovic netting to drop serve for the first time at the tournament.
Zverev duly took the set, in which he had landed 21 out of his 24 first serves into court, firing down seven aces in the process, and the world's best player was rattled.
So much so Djokovic was broken again twice at the start of the second set, although a jittery service game in between from Zverev kept him in touch.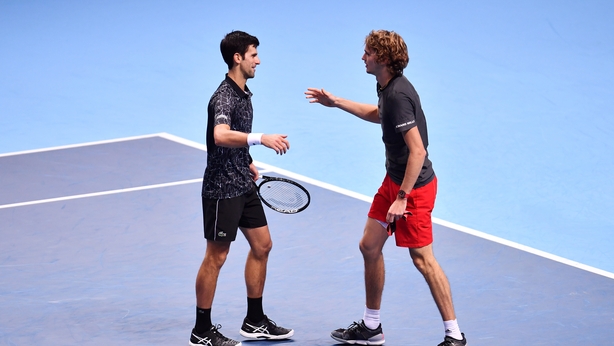 Nevertheless, at 5-3 Djokovic had the chance to test his raw opponent's nerve further by forcing him to serve out for the title, but Zverev had other ideas.
The new champion fell to the floor in jubilation and was warmly congratulated on court by Djokovic, who later said: "I'm really happy for him.
"I mean, obviously it's not great to lose a tennis match, especially in the finals of a big tournament. I'm quite disappointed with my game.
"But I'm happy he won the big title because we have a really good and friendly relationship. Obviously you could see how much it means to him. He deserved it.
"Health-wise I haven't been really perfect in the last three or four weeks. That took a lot out of me.
"But I have to be happy with that result. Finishing the year as number one, that was the goal coming into the indoor season. I managed to achieve that.
"Overall it was a phenomenal season that I have to be very proud of."