Novak Djokovic said he was grateful for the hard times after hitting top form again at Wimbledon to win a 13th grand slam title.
The Serbian defeated Kevin Anderson 6-2 6-2 7-6 (7/3) to claim his fourth Wimbledon crown but first slam title since the French Open in 2016, which proved to be a dramatic turning point in his career.
From holding all four slam titles, Djokovic lost motivation, form and confidence, before being forced to take six months off at the end of last season when elbow problems struck.
The 31-year-old said: "There were several moments where I was frustrated and questioning whether I can get back on the desired level or not. But that makes this whole journey even more special for me.
"It's easy to talk now and look back at it and be kind of grateful, but I really am grateful to go through these kind of mixed emotions, moments of doubt and disappointment and frustration, anger.
"It's a learning curve, it really is. It helped me, not just as a tennis player, but as a human being. It's usually in a struggle that you get to know yourself, you get to have an opportunity to rise like a phoenix and evolve and get better."
It was an extra special moment because of the presence among his support camp of his three-year-old son Stefan.
Wimbledon do not allow children under five to watch matches in Centre Court but was brought into Djokovic's box for the trophy ceremony and shouted excitedly as his father walked over to do a BBC interview.
"I was visualising, imagining this moment of him coming to the stands, cherishing this moment with my wife and me and everyone," said Djokovic.
"There are special rules here so we have to respect them. He was not there until the very moment when I was walking to get an interview. That was just a moment that I will carry inside of my heart forever."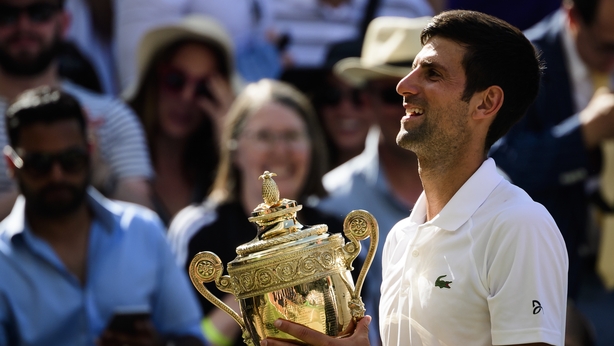 Anderson was playing in his second slam final in less than a year, after losing to Rafael Nadal at the US Open last summer.
A victory over Roger Federer in the quarter-finals followed by an epic semi-final against John Isner kept Anderson on court for nearly 11 hours so it was no surprise that he was not as his best to start with.
But he made a real fight of it in the third set, where he held five set points.
Anderson, who will rise to a career-high of number five in the world rankings, said: "You always have high hopes. But I didn't really find my form the way I wanted to. Of course, my body didn't feel great. I tried my best to keep at it."