By John O'Donovan
Serena Williams heads into the US Open having dominated the sport since the beginning of 2012, losing only 12 competitive matches in that period.
However, seven of those defeats have been in grand slams and she has yet to get beyond the fourth round of a major this year.
There are numerous other contenders for the title. We have had six different grand slam finalists so far this year, which can only be extremely positive for the women's game.
Li Na, who misses the tournament through injury, beat Dominika Cibulkova to win in Australia, Maria Sharapova overcame Simona Halep in a terrific French Open final, while Petra Kvitova won Wimbledon after beating Eugenie Bouchard.
While Williams has won five tournaments this year, it has been her inability to reach the latter states of a grand slam which has raised eyebrows. Moreover, the players she has lost to are not players who are consistently challenging to win major tournaments. She went down in the fourth round of the Australian Open to Ana Ivanovic, the second round of the French Open to Garbine Muguruza and the third round of Wimbledon to Alize Cornet. It is clear that Williams is most vulnerable in the early rounds of tournaments and once she gathers momentum is very hard to stop. The American is in good form coming into the Open with wins in Stamford and her 62nd career title last week in Cincinnati, while she lost to her sister Venus in Toronto in the semi-finals. She has won the US Open five times, including the last two years, and if she plays close to her best she will prevail again.
Sharapova and Halep are the two players most likely to benefit from a Williams slip-up.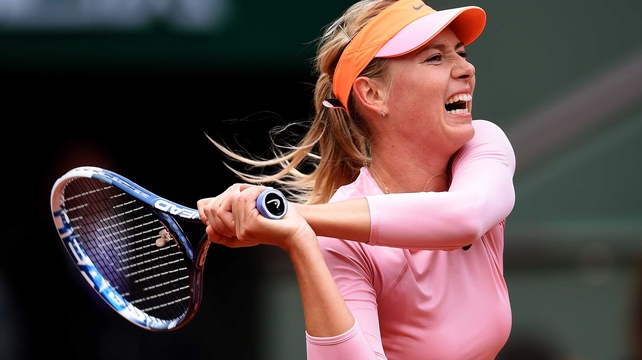 Sharapova had a terrific start to the year but has not had a great summer since winning the French Open. She lost to Angelique Kerber in the fourth round of Wimbledon, to Carla Suarez-Navarro in Montreal and to Ivanovic in Cincinnati last week. However, Sharapova is a great competitor who thrives in grand slams, so we can expect a serious challenge from the Russian. Her awful record against Serena Williams could be her biggest problem. She has not beaten her since 2004 and her career record stands at just two wins from 18 encounters.
This has been Halep's breakthrough year and she has shot up the rankings to her current world number two ranking. She reached the quarter-finals of the Australian Open, the final at the French Open and semi-final at Wimbledon. She has great groundstrokes, is very athletic and aggressive, and has excellent court coverage. She lost to Sharapova for the third time this year in the quarter-finals in Cincinnati last week and will hope to avoid the Russian in New York.
Eugenie Bouchard is another player who has enjoyed a breakthrough year. The Canadian, aged just 20, has performed extremely well in grand slams thus far, reaching the semi-finals in Australia and France, and the final at Wimbledon. Interestingly, her results outside these tournaments have not been particularly good, so it is hard to predict how far she will go.
Petra Kvitova was particularly impressive in her Wimbledon triumph last month. However, inconsistency has long been a factor of the Czech player's career and she has not progressed beyond the third round in any of the three tournaments she has played since. She has also struggled previously in the New York humidity. However, on her day, she is one of the few players who can match Williams for firepower as the left-hander has one of the best serves in tennis and tends to have better results on quick courts.
Victoria Azarenka reached the US Open final the last two years, but has suffered numerous injuries this year and withdrew from Cincinnati last week with a knee injury, which makes her a doubt for the tournament.
Agnieszka Radwanska consistently reaches the latter stages of tournaments but struggles against the very top players in Grand Slams.
It has been great to see the re-emergence of former world number ones Ana Ivanovic and Caroline Wozniacki in recent months.
Ivanovic is back in the top ten for the first time in five years and has had some notable victories. She reached the final of Cincinnati where she beat Sharapova in the semi-final, saving two match points in the process.
Wozniacki has enjoyed a resurgence of form since Wimbledon, winning 12 of her last14 matches. She won the Istanbul Trophy, reached the quarter-finals in Toronto and the semi-finals in Cincinnati, where she lost to Williams - on both occasions in three sets - having won the opening set each time. She has also reached at least the semi-finals in three of the last five US Opens.
Venus Williams too has enjoyed a recent return to form, reaching the final in Stamford where she beat Serena in the semi-final. On her day she can beat anyone and could be a real danger if she can find her rhythm and momentum early in the tournament.
Verdict
Despite her rivals' respective claims, Serena Williams is still the safest bet to retain her title.