Andy Murray's Wimbledon defence ended in an emphatic defeat at the hands of rising star Grigor Dimitrov in the quarter-finals at the All England Club.
Murray never managed to find his best form while Dimitrov played an inspired match to win 6-1 7-6 (7/4) 6-2 and reach his first grand slam semi-final.
The defeat ended Murray's 17-match winning streak at SW19 and was his first slam loss to a player ranked outside the top 10 in four years.
Tough Australian coach Roger Rasheed has helped Dimitrov develop the physical side of his game to go with his exceptional racquet skills.
He made a tentative start to his first Wimbledon quarter-final but Murray was unable to take advantage of a break point and he was made to pay in remarkable fashion.
From 1-1, the Bulgarian won the final five games of the set, barely missing a ball while a nervy Murray could not find the form that had carried him to the last eight for the loss of only 32 games.
Perhaps the scoreline was not too surprising given their respective seasons - Dimitrov having won three titles, including his triumph at Queen's two weeks ago, while Murray has not made a final since having back surgery last September.
He has also not beaten a top-10 player since last year's Wimbledon final victory over Novak Djokovic.
Dimitrov looked so much more confident and he broke for the first time in the second set for 4-3.
Murray played his best point of the match to save one break point but on the second he served a 93mp/h first serve and then erred with a horrible backhand slice.
He looked towards his support camp with arms held wide as if looking for answers, and he found them in the next game, with some help from his opponent.
Having been rock solid, Dimitrov's backhand let him down, allowing Murray to level straight away at 4-4.
Centre Court held its collective breath at 30-30 in the next game as the pair pulled each other all over the court in a 31-stroke rally. Murray won it, and then served an ace to hold, but the pressure was relentless and he needed two big serves to save break points at 5-5.
A tie-break would settle it, and it was Dimitrov who made the first meaningful move with a backhand pass to lead 5-4. A delightful drop volley gave the 23-year-old two set points, and he took the first as a desperate attempt at a pass from Murray found the net.
Murray has come back from two sets to love to win matches seven times but against a player playing at Dimitrov's level, it was a seriously tall order to do it again.
Things went from bad to worse for Murray when, from 40-15, he lost four points in a row to drop serve at 3-2 behind, ending on a double fault.
He looked a beaten man, and another double fault gave Dimitrov a first match point after exactly two hours.
Murray saved that with one of his best forehands of the match but then netted a forehand to hand Dimitrov an unexpected but thoroughly deserved victory.
"I played a poor first set and that gave him confidence at the beginning." - Andy Murray
Murray said on BBC One: "I'm disappointed, especially disappointed with the way I started the match.
"I played a poor first set and that gave him confidence at the beginning.
"In the second set he got tight at the end and it could have gone either way. When he got that set it's a lot easier to settle down when you're two sets to love up.
"If I had managed to come back with him having been a break up in that set and got it, maybe I would have been able to find a way back, but it wasn't a great day."
Dimitrov suggested Murray had been off his game from the warm-up onwards, but Murray disagreed.
"I felt fine in the warm-up," he said.
"I obviously got off to a bad start so that was the disappointing part of the match for me.
"I found a way to get myself back into it at the end of the second set but the start was not good enough. You need to start better."
Top seed Novak Djokovic suffered some jittery moments under the big-serving onslaught of Marin Cilic before pulling his game together to win 6-1 3-6 6-7(4) 6-2 6-2 and take his place in the semi-finals.
The Serbian former champion began efficiently, rattling through the first set in 27 minutes on a sunny but subdued Court One.
Djokovic's intensity dropped in the second set.
He slipped and slid in the baseline dust and his towering Croatian opponent grabbed a break of serve using his big forehand to pummel the six-time grand slam champion.
The pair fought a tight third set, watched by their celebrity coaches Boris Becker and Goran Ivanisevic, before normal service was resumed.
Djokovic changed his shoes, upped the pace and raced into his 23rd semi-final, where he will meet Dimitrov.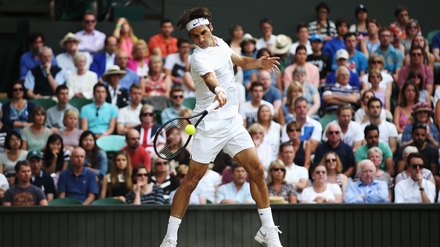 Roger Federer reached a ninth Wimbledon semi-final after beating his great friend Stan Wawrinka in an all-Swiss battle on Centre Court.
The seven-time champion has never lost at the last-four stage at the All England Club and gave himself the chance to reach another final after taking national bragging rights with a 3-6 7-6 (7/5) 6-4 6-4 victory.
With Rafael Nadal and Andy Murray already out, there was a point in the afternoon when both Federer and Djokovic were in danger of tumbling out too.
However, Federer took charge against Wawrinka once he levelled the contest in their second-set tie-break.
Wawrinka, who had been struggling physically, dug deep at the end to save four match points.
But on the fifth Federer followed up a scorching serve, that Wawrinka did well to float back, with a lethal smash from mid-court.
Federer's opponent will be big-serving Milos Raonic, who powered past Nick Kyrgios 6-7(4) 6-2 6-4 7-6(4) to end the Australian teenager's Wimbledon adventure and book his first grand slam semi-final.
The Canadian eighth seed called upon his huge serve to thump down 39 aces.
He conceded only one break against the 19-year-old who had rocked tennis with the previous day's triumph over world number one Rafael Nadal.
Both Kyrgios and Raonic, 23, were playing the day after their fourth-round matches, but the Australian's exertions to claim his momentous win appeared to have taken a physical and emotional toll on the youngest player in the men's draw.
Raonic, who reached the last eight at the French Open last month, is the first Canadian to reach the men's semi-finals of a grand slam in the professional era.