They are both grand-slam winners, they are both ranked number one and they are both 30-something yet that is where the similarities ended as Serena Williams left Roberta Vinci red-faced at the French Open today.
As the reigning doubles champion at Roland Garros, Vinci arrived for the fourth-round showdown knowing that she had the game to hurt Williams on red dirt.
Yet it was the 30-year-old Italian who was left aching all over as she was given the runaround for 70 agony-filled minutes before Williams ended the ordeal with a 6-1 6-3 win.
Waiting for her in the last eight will be another player eager to derail Williams's pursuit of a 16th grand-slam title, 2009 champion Svetlana Kuznetsova, who secured a 6-4 4-6 6-3 win over German eighth seed Angelique Kerber.
That may well turn out to be Williams's first test of her title credentials as so far the 31-year-old American has dropped just 10 games in four matches in Paris.
"The last time we played here she (Kuznetsova) won, so that will probably get her pumped up. She has nothing to lose but everything to gain," Williams told reporters.
"It will be a good job for me to see how I go there."
Like Rafa Nadal, Kuznetsova missed the second half of the 2012 season with a knee injury and she warmed up for the challenging task ahead with her three-set win over Kerber.
Kuznetsova beat Williams en route to the title four years ago but is under no illusion about what it will take to beat a player who is on a 28-match winning streak.
"She's been playing unbelievable tennis," summed up the Russian.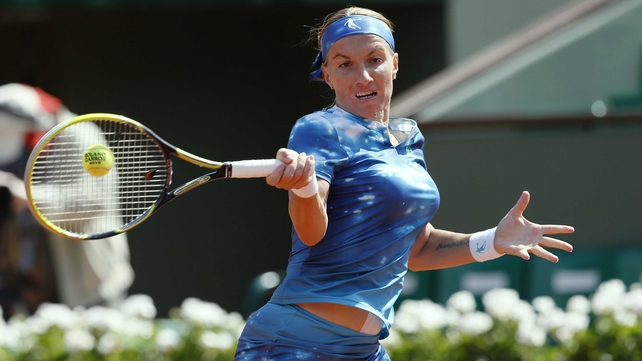 "But I believe that I have (my) game and my good days, as well. Let's cross fingers I will have a good day (on Tuesday)."
Lately every day has been a good day for Williams.
Sunday was no different as during the opening set she had more problems controlling her figure-hugging, ash-coloured dress on a windswept Philippe Chatrier Court than the woeful shots plopped over the net by doubles number one Vinci.
Her win-at-all-costs attitude shone as brightly as the range of day-glo orange accessories - including underpants, shoelaces, headband, wristbands and ponytail grip - she chose to model on day eight of the claycourt grand slam.
Such was Vinci's plight, those outside Chatrier Court might have thought she had actually won the match when she let out an almighty roar which reverberated around the vast, marquee-filled grounds at 2.17 p.m. local time.
As it was, all she had done was saved herself the ignominy of being whitewashed by winning her first, and only, game of the first set.
The Italian carries a stuffed orange dinosaur as a lucky charm but it failed to have the desired effect during a match in which her softly-softly approach appeared to belong to the prehistoric age.
Vinci put up a bit more of a fight in the second set but it was not enough to save her blushes against a player who is the overwhelming favourite to add to her 2002 success.