Novak Djokovic showed no ill-effects from his marathon encounter with Stanislas Wawrinka by brushing aside the challenge of Tomas Berdych at the Australian Open.
Djokovic scraped past Wawrinka 12-10 in the fifth set on Sunday night in a match which lasted over five hours.
But, not for the first time in his career, he displayed his remarkable powers of recovery with an impressive performance against the fifth-seeded Czech, winning 6-1 4-6 6-1 6-4 to set up a semi-final clash with David Ferrer, who earlier beat Nicolas Almagro 4-6 4-6 7-5 7-6 6-2.
"I was hoping to have a shorter match, whoever won, just not go over five hours" - Novak Djokovic
The victory also meant Djokovic will retain the number one ranking even if he does not win the title on Sunday.
"It was a great performance," he said. "I was hoping to have a shorter match, whoever won, just not go over five hours.
"It was always going to be tough against Tomas, he has been an established top-10 player now for the last five or six years and if he's on he can win against anyone on any surface.
"I was aware of his qualities and I was very pleased with my performance."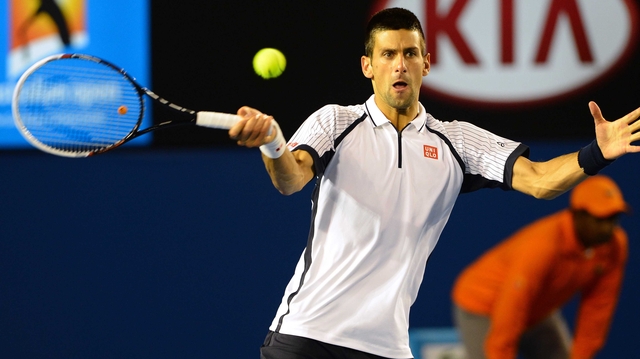 On the match-up with Ferrer, he added: "He is one of the most respected guys on the tour because he never gives up. He is one of the fittest guys around and I am expecting a long one."
For three of the four sets against Berdych, Djokovic was dominant.
Any doubts over his fitness were dispelled in a blistering start as, crushing winners from every angle, he ripped through the first set in just 28 minutes.
Berdych was shell-shocked but regrouped sufficiently to break early in the second and hold his advantage to 5-4 when he had the chance to serve it out.
Djokovic applied the pressure, having four break point chances, but Berdych stood firm with a backhand winner down the line on the Serbian's third opportunity arguably the shot of the night.
It was to prove as close as Berdych would get as from there he was swamped.
The top seed, aiming to become the first man in the Open era to win three successive Australian Open crowns, raced into a 4-0 third-set lead on his way to re-establishing his advantage.
Berdych did marginally better in the fourth but a solitary break in game three proved enough for Djokovic who moved into his 11th successive grand slam semi-final.
Ferrer capitalised on Nicolas Almagro's fragile temperament to hit back from two sets down and clinch his place in the last four.
Almagro had lost all 12 previous meetings with his Spanish compatriot before today and the mental baggage was apparent when he failed to serve out the match three times - once in the third set and then twice in the fourth.
By the fifth, Almagro was a psychological wreck and it was no surprise that Ferrer duly completed a gutsy 4-6 4-6 7-5 7-6 (7/4) 6-2 victory in three hours and 44 minutes.
"It was a miracle that I won this match," Ferrer said.
"Nicolas had a lot of chances to beat me but I tried to fight for every point - that is my game. I will always try to fight and do my best.
"In the important moments all the players get nervous, it has also happened to me."
Almagro denied he had 'choked' and blamed the defeat on a groin injury suffered in the fourth set tie-break.
"If you're not 100 per cent to play I am not sure if it's mental or not," he said.
"I tried to play my best tennis today and I think I did that.
"But that's not enough to beat David.
"I don't think that it's a mental problem. If I have a mental problem I don't think I would have won the first two sets."