by John O'Donovan
Petra Kvitova and 13th seed Serena Williams are seen as the two most likely winners of the Australian Open by the bookies - with world number one Caroline Wozniacki almost something of an outsider.
Read John O'Donovan's preview of the Men's Singles.
Wozniacki is 22-1 with one bookmaker - what does that say about the state of the ladies' game and the ranking system?
Should a player who has never won a Grand Slam be ranked number one in the world?
Wozniacki is being rewarded for her consistency in winning lower ranked tournaments - she won six last year - but the highest ranked player she beat in a final was world number 17 Marion Bartoli.
Her greatest attributes are the consistency of her groundstrokes and her court coverage. This year she will have to become more aggressive if she is to finally win that cherished Grand Slam.
Kvitova is the favourite for the tournament on the back of a great 2011 where she won Wimbledon, the WTA End of Season Championships in Istanbul and helped the Czech Republic win the Fed Cup. She was also named Player of the Year.
If she wins this week's tournament in Sydney, she will become the new world number one.

Kvitova brings both power and finesse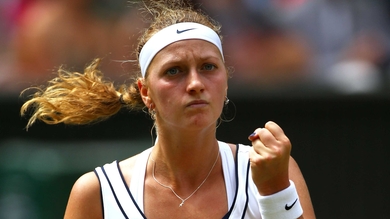 When she won Wimbledon it was mostly down to brute strength and her enormous firepower, but she has since shown that she can mix up her game to good effect and showed great ability to win the WTA Championships. It was the guile and intelligence of shot making which she demonstrated on that occasion which most impressed me.
The lack of depth in the women's game is a big problem. That was highlighted last year when Serena Williams, having not played for the first six months of the year, reached the US Open final only to suffer a surprise defeat to Sam Stosur having beaten Wozniacki comprehensively in the semi-finals.

There may be a question mark hanging over William's fitness after she had to withdraw from the Brisbane International tournament last week with an ankle injury. What of her extraordinary outburst a couple of weeks ago when she claimed that she never liked sports in the first place and can't understand how she became an athlete?
Whatever she intended, reports seem to suggest she will be fit and looking to win her sixth Australian Open.
Unfortunately, her sister Venus is missing the tournament through injury and it appears that this great seven times Grand Slam champion is finished challenging for the major honours in the game.

What of the best of the rest?
Kim Clijsters is the defending champion and one of the few who can match Williams and Kvitova for power in her shots. Unfortunately, she is another player whose fitness is in doubt.
Can Clijsters defend her title?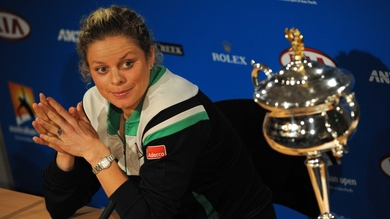 The Belgian had to withdraw in her semi-final in Brisbane last week due to a hip spasm injury - a cruel blow as she had not played since Toronto in August, suffering a succession of wrist, shoulder and abdominal injuries. There is no doubt she would be firmly in contention had it not been for her bad luck.
Fourth seed Maria Sharapova is another player who has won Grand Slams and has the potential to win more with her heavy-hitting groundstrokes but she has yet to play this year as a result of an ankle injury.

The Australian media will be hyping up Stosur but she has struggled to cope with the pressure since suffering an emotional breakdown when losing to Francesca Schiavone in the first round in Sydney last week and has admitted that she finds it hard to play in her own country.
Victoria Azarenka is third seed yet has never reached a Grand Slam final, although she did get to the final of the WTA End of Year Championships and finished 2011 at a career high of number three in the world.

Li Na is perhaps another player we should mention as she reached the final of the Australian Open last year and won the French Open. However, she had a poor last six months to 2011 and I can't see her challenging for the title this time.
With that lack of depth, and despite her recent outburst, Williams may lift the title again.