by John O'Donovan
Tennis is one sport where the players have very short time off between the end of one season and the start of another - the ATP World Tour finals only finished on 28 November, with Roger Federer looking back to his imperious best in winning the event.
Read John O'Donovan's preview of the Women's Singles.
The Australian Open starts this Sunday night in Melbourne and the tournament is often the hardest to predict as it is the first Grand Slam event of the season, while the excessively warm conditions can make it a battle of physical strength as much as tennis ability.
Total prize money this year is €20 million with the men's and women's tournament winners each pocketing €1.8 million.
Novak Djokovic will start as favourite after his amazing year in 2011 but Federer has looked in tremendous form since winning in London.
Rafa Nadal cannot be discounted, having reached the last three Grand Slam finals but his form at the end of last season was poor and he lost to Gael Monfils last week in Doha.
Murray's best chance of Grand Slam glory?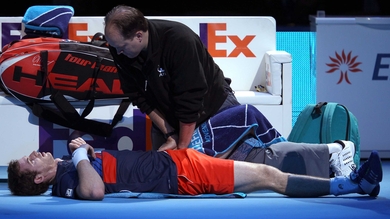 Traditionally, the Australian Open is the tournament which Andy Murray performs best in and he has reached the finals for the last two years.
The big question is whether Djokovic can keep up his remarkable form from the first nine months of 2011. The world number one has struggled in recent months and since the US Open his record has been patchy, with a troublesome back muscle hampering his ability to play top quality tennis.
He has yet to play a set in 2012 and there are questions over his match fitness. Having said that, he must start the tournament as the favourite given his dominance over Federer and Nadal in 2011 – when he beat them a total of ten times.
Federer goes into the tournament second favourite but he could be affected by the injury he suffered in Doha last week; the Swiss had to pull out with a back problem before his semi-final with Jo-Wilfired Tsonga.
It is unfortunate for Federer as his preparations coming into the Australian Open looked excellent having won the last three tournaments he participated in 2011. Can he play the seven best of five set matches required to win the tournament?
It is also two years since he won a Grand Slam – beating Murray in straight sets in the Australian Open in 2010.
Nadal: Eclipsed by Djokovic and Federer in 2011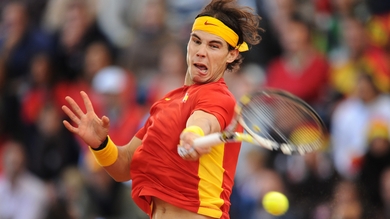 Nadal won the French Open in 2011 and also reached the final of Wimbledon and the US Open, yet many consider that he had a poor year in that he won only one Masters 1000 Series or Grand Slam event, compared to the six he chalked up in 2010.
He also lost to Djokovic in six finals on three different surfaces. That stat will surely play on Nadal's mind in his meetings with Djokovic in 2012.
The Spaniard has stated that he needs to be more aggressive this year and try to obtain more free points off his first serve – in 2011 he only averaged three aces a match which is well below the ratio of the majority of players in the world's top 50.
Interestingly he has also changed to a heavier racket in a bid to gain more power.
Many critics are starting to write off the Mallorcan who they feel may now be on the decline having enjoyed his peak at a very young age. The other worrying issue for Nadal fans is his shoulder problem, which he says he is going to rest for the entire month of February in a bid to cure his injuries.
That said, his once troublesome knees no longer seem to be giving him a problem.
Outsiders have their chance in Australia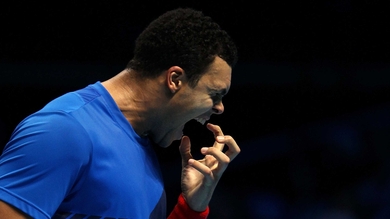 As for Murray, the other member of the so called 'big four'. Can he make a breakthrough and win his first Grand Slam? He is coming into the tournament in better physical condition than Djokovic, Nadal and Federer. By all accounts he had a terrific off-season training period in Miami. He is also in good form having won the title in Brisbane last week.
There is also the intriguing factor of his appointment of Ivan Lendl as his coach. Murray has lost his three Grand Slam finals as Lendl did before he went on the win eight Grand Slams and spend much of the 1980's as world number one.
There is no doubt that Murray has the talent to win a major, the big question is whether he has the temperament and nerve to do it. He reached the semi-finals of all four Grand Slams in 2011 and will be hoping to become the first British male player since Fred Perry in 1936 to win a Grand Slam– a truly extraordinary statistic if one considers the amount of money spent by the British Lawn Tennis Association and the popularity of the game in England.
Tennis Ireland would love to get a fraction of the money which the LTA receives.
I can't see a winner coming from outside these top four players, but dark horses include Jo-Wilfried Tsonga and Juan Martin Del Potro.
Tsonga reached the final of the ATP World Title Series in London in November and won the tournament in Doha last week and is yet to lose a match in 2012.
The big Frenchman is a very talented player who hits the ball very hard and if he is on form he could pull off a big shock. Who can forget his victory over Federer in last year's Wimbledon quarter-final coming from two sets to love down to win 6–4 in the final set?
Del Petro has a huge serve and forehand and if he is on his game could beat any of the top players. He won the US Open in spectacular fashion in 2009 beating Nadal in the semi-final and Federer in the final.
He has had awful luck with injuries but perhaps 2012 will be the year he fulfils his enormous potential.
My tentative prediction is that Djokovic is the best bet.