There were six new national champions crowned and three new Irish records on the first day of the Irish Swimming Championships in Dublin.
Jack McMillan got proceedings underway with an Irish senior record in the 400m Freestyle.
The Bangor swimmer broke Andrew Meegan's 2013 record of 3:54.11, touching in 3:53.31. He was the only swimmer to break four minutes.
McMillan's Bangor team-mate Rachel Bethel took the women's title for the fourth year running in 4:20.51.

The Men's 100m Breaststroke was the race of the night with outstanding performances from a number of swimmers.
Darragh Greene went under the minute mark for just the second time in 59.98 for gold in a new Championship record.
Greene had already secured consideration for the World Championships in July.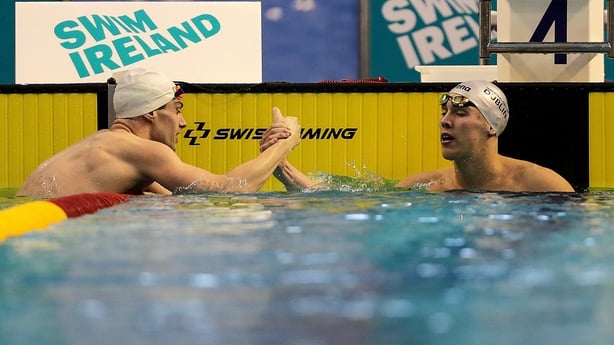 Rio 2016 Olympian Nicholas Quinn swam a speedy 1:00.98, just off his best time of 1:00.95 and looks to be in great form ahead of his main event tomorrow, the 200m Breaststroke.
Eoin Corby, who swam three Irish junior records last month, completed the podium with another record of 1:02.01.
The 16-year-old had first posted a record of 1:02.35 in heats, his efforts good enough to be considered for both World and European Junior Championships this summer.
Uiseann Cooke, was also under the European Juniors time in 1:02.81.

In the Women's Breaststroke final, 17-year-old Niamh Coyne clocked an impressive 1:07.94, finishing over two seconds ahead of her closest competitor, Scotland's Hannah Miley (1:10.24) with Aisling Haughey third in 1:10.61.
Molly Mayne secured a European Youth Olympic Festival consideration time in the morning heats touching in 1:11.55.

Jena Macdougald caused a shock when she set a new Irish record in the 50m Butterfly, the 100m Backstroke specialist set her first Irish junior record in the morning heats in 27.07 and went on to take silver in the final in 27.30, just .01 behind Ellen Walshe (27.29) who took the National Title.
Calum Bain secured the Men's 50m Butterfly title in 24.28.

Ireland's Para Swimmers were in top form this morning with six achieving consideration times for this Summer's World Para Swimming Championships.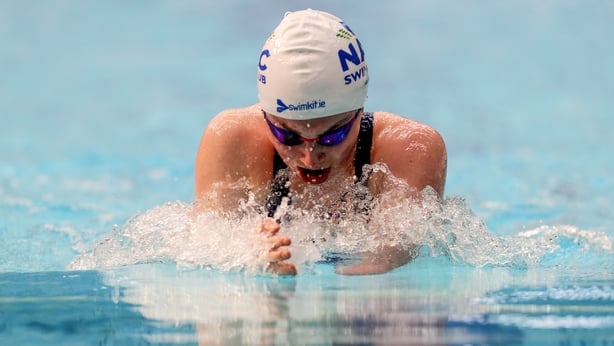 Dublin 2018 medallists Ellen Keane and Nicole Turner went under in the 100m Breaststroke while Sean O'Riordan, Patrick Flanagan, Barry McClements and Ailbhe Kelly all hit their times in the 400m Freestyle.