Grainne Murphy returned to championship swimming this evening claiming the 800metres Freestyle National title at the Irish Short Course Swimming Championships in Lisburn.
Murphy and NAC Performance Centre swimmer Antoinette Neamt battled it out in the first final of the three day competition with Murphy holding off Neamt to take gold in 8:38.76.
Neamt, just 12-years-old, swam a personal best to finish under a second behind Murphy in 8:39.61.
UCD's Brian O'Sullivan won the Men's 50m Freestyle final in 22.94 seconds, O'Sullivan touched ahead of Curtis Coulter (23.03) and Matthew Coward (23.30) to pick up his first title of the night.
The 18-year-old then went on to win his second title in the 100m Individual Medley with a new Irish Junior record of 55.85, knocking Barry Murphy's 2006 record of 55.88 from the books.
Barry Murphy eased to victory in the 50m Breaststroke Final winning in a time of 27.15 ahead of Theodore Pender (29.54) and Sean O'Brien (29.89) while Shani Stallard of UCD won the women's 200m Individual Medley in 2:13.97 ahead of Lisburn's Bethany Carson (2:16.86).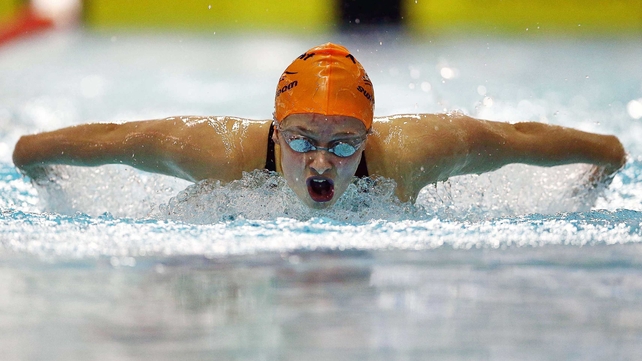 Murphy, Stallard and Carson will all compete at the European Short Course Swimming Championships in Denmark in December.
Swim Ireland NAC Performance Centre swimmer Clodagh Flood won the women's 200m Butterfly Final in 2:17.44 while teammate Brendan Hyland was first to touch in the men's 100m Butterfly final with a time of 54.75.
Emma Cassidy, Laoise Fleming and Iseult Hayes gave spectators the race of the night with only .01 of a second separating them in the 50m Backstroke final.
Cassidy (29.97) from Sundays Well in Cork tipped the wall just .01 of a second ahead of Laoise Flaming and Iseult Hayes who could not be separated, with both finishing in 29.98.
The men's 200m Backstroke Final didn't disappoint either with just 0.02 separating the top two finishers.
Conor Ferguson, aged 14, from Larne SC pipped Trojans Philip Hanley (2:04.94) to gold in 2:04.74.
Another swimmer preparing for European Championships, Andrew Meegan, won out a close encounter in the 400m Freestyle final.
Meegan beat off Ennis swimmer Bernard Cahill (3:50.90) by just 0.04 to win gold in 3:50.48.
Brendan Gibbons, in third place, set a new Irish Junior record of 3:53.25 bettering his own 2012 time of 3:54.21 by .94 of a second.
In the women's 100m Freestyle Final Shauna O'Brien, Bethany Carson and Melanie Houghton battled it out for the championship title with UCD's O'Brien (56.16) getting the touch just ahead of Carson (56.33) and Houghton (56.43).
In the night's final event Aisling Cooney, Shani Stallard, Shauna O'Brien and India McGlynn teamed up to set a new national club standard in the women's 4x100m medley relay.
The UCD team bested the previous Irish record held by Aer Lingus SC (4:16.92) by over 3 seconds finishing in 4:13.18.