Will it be the end of refereeing controversies or the cause of fresh ones?
Either way, the Video Assistant Referee system is set to be used at a World Cup finals for the first time in Russia.
VAR will be available to help guide match officials at the tournament on incidents in the build-up to goals or penalties, as well as straight red cards or cases of mistaken identity.
It will only be used to "correct clear and obvious errors and missed incidents in clearly defined match-changing decisions", according to FIFA.
The VAR system, and the goal-line technology first used at World Cup 2014, is being provided by Hawk-Eye Innovations, who also count the GAA among their customers.
On Wednesday, history was made at #ClubWC in Japan!🇯🇵@atlrs_english were awarded a penalty after #VAR assistance
👉 https://t.co/QRSRDGwubL pic.twitter.com/899Hc1Y0jp

— FIFA.com (@FIFAcom) December 15, 2016
How it works
The VAR team comprises four main members: the video assistant referee and his three helpers, imaginatively named 'assistant video assistant referees'. All are top-level FIFA match officials and some will also be on-pitch referees and officials for other games.
The team is based off-site in a room at the International Broadcast Centre (IBC) in Moscow, with camera feeds from the 12 stadiums around Russia and a radio link with the referee provided through a fibre-optic network.
They have access to 33 cameras placed around the stadium, eight of which are super slow-motion and four of which are ultra slow-motion cameras. These are FIFA placed cameras rather than those from participating countries.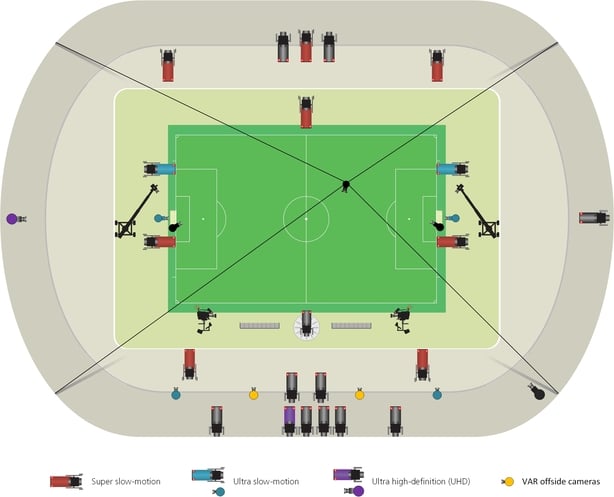 There are also two dedicated 'offside cameras' on the sideline, the pictures from which are superimposed with virtual lines to help one of the three AVARs dedicated to judging tight calls.
The team review all goals for fouls or offside, potential or awarded penalties, potential or awarded red cards, and cases of mistaken identity and alert the referee by radio when errors are spotted.
The referee can decide to rely on the verbal information from the video assistant referee, particularly for objective calls like offside, or to review the video footage themselves in a booth on the sideline before making their final decision.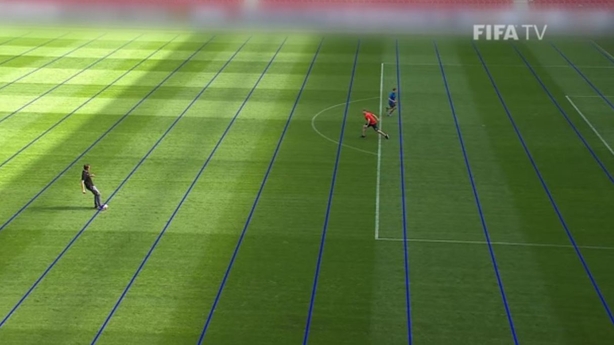 The referee will announce a delay to the restarting of a game by holding a hand up to their ear or drawing a rectangle with their hands in the air to signal an on-pitch review.
Irish fans who witnessed the VAR trials in England's FA Cup last season will recall some strange decisions and long delays for decisions without communication to fans in the stadium or viewers at home.
FIFA have promised better communication this summer, saying broadcasters will be kept in the loop during reviews and provided with graphics to help clarify decisions, which will also be shown on the big screens in stadiums.
FIVE WORLD CUP MOMENTS THAT VAR COULD HAVE CHANGED
Maradona's 'Hand of God'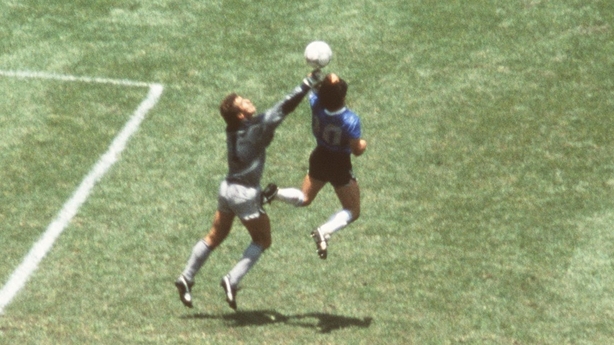 England faced Argentina in the quarter-finals of the 1986 World Cup at the Azteca Stadium in Mexico City, where Diego Maradona would go on to score one of the most controversial goals in the tournament's history, soon followed by one of the best. Early in the second half, Steve Hodge's deflected clearance sent the ball spinning back into the England penalty area. As goalkeeper Peter Shilton came out to punch clear, diminutive midfielder Maradona leapt high to apparently nod the ball over the England captain and into the net. England players and manager Bobby Robson were left in disbelief - protesting in vain to Tunisian referee Ali Bin Nasser over handball as Maradona ran off to be swamped by his team-mates on the far touchline.

Rivaldo's Turkey theatrics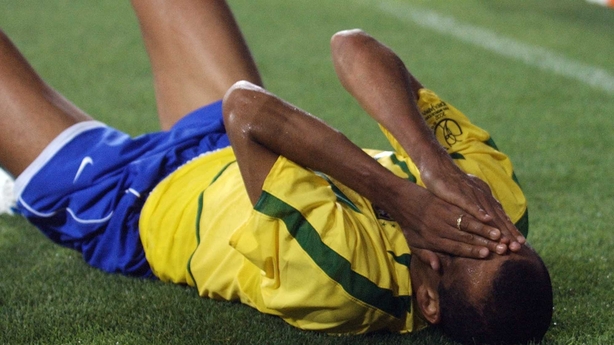 At the 2002 World Cup, Brazil played Turkey in their opening group match in Ulsan. Brazil were 2-1 ahead in stoppage time, with Rivaldo having netted a late penalty. Going over to take a corner, the forward waited for Hakan Unsal to give him the ball. When it was kicked by the Turkey player, it hit Rivaldo on the thigh and rolled up onto his arm - but the Brazilian went down holding his face. Unsal was subsequently shown a red card by referee Kim Young-joo and tempers boiled over at the final whistle.

Blanc sees red in Saint-Denis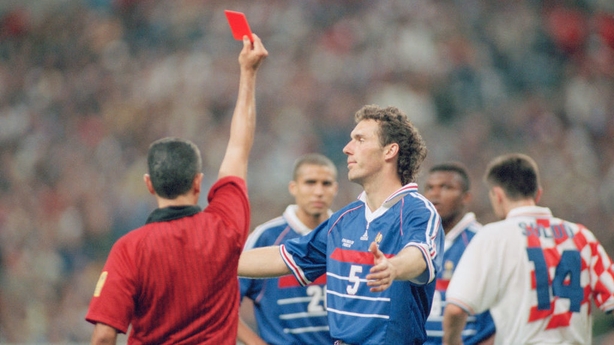 Hosts France took on Croatia in the semi-final of the 1998 World Cup. With France leading 2-1 and a quarter-of-an-hour left, Slaven Bilic and Laurent Blanc collided as the ball was delivered from a free-kick. Croatia defender Bilic went down, clutching his forehead, after what looked like minimal contact at best from the Frenchman's palm into his chest. It was, though, enough to convince Spanish referee Jose Garcia Aranda, who brandished a red card. Blanc was suspended for the final, which Les Bleus went on to win 3-0 over Brazil.

Spain crossed the line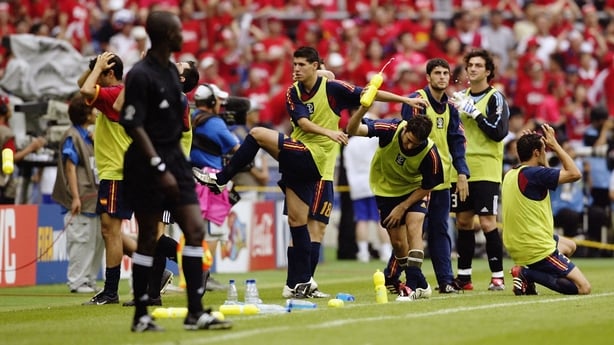 Joint-hosts South Korea became the first Asian side to reach the semi-finals of the World Cup when they beat Spain on penalties in Gwangju in 2002. During the first period of extra-time, though, Joaquin ran to the touchline and clipped the ball back across for Fernando Morientes to nod in at the far post. However, Egpytian referee Gamal Al-Ghandour and his assistant ruled the ball had gone over the endline - which replays showed was a "clear and obvious error" from the officials. South Korea went on to win the penalty shootout 5-3, with Joaquin seeing his crucial spot-kick saved.

Suarez sinks his teeth into Chiellini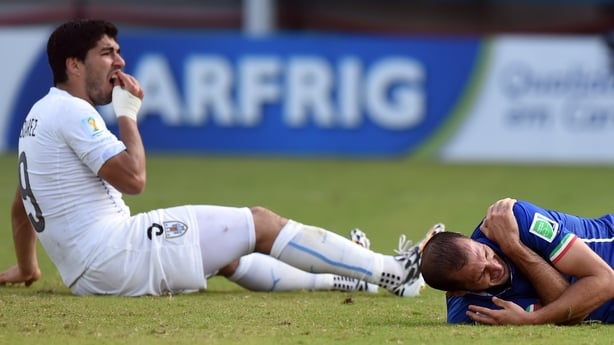 At the 2014 World Cup in Brazil, during Uruguay's final group match against Italy in Natal, Luis Suarez again found himself in the headlines for the wrong reasons. Then Liverpool striker Suarez clashed with Italy defender Giorgio Chiellini in the penalty area, both men going to ground. Suarez held his face and teeth following what he claimed was a stray elbow, while a raging Chiellini exposed bite marks on his shoulder. At the time, no action was taken by Mexican referee Marco Rodriguez. The high-profile incident, though, was eventually dealt with retrospectively by FIFA. Suarez received a four-month ban from all football-related activities, which delayed his debut for new club Barcelona, and was suspended from playing international football for nine matches.
You can follow the FIFA World Cup from 14 June with RTÉ. Live blogs of every game on RTÉ.ie and the News Now App, with 56 games live on RTÉ television and all 64 games available on the RTÉ Player.
The Video Assistant Referee system will be used at the World Cup for the first time. Here's all you need to know. #VAR #WorldCup pic.twitter.com/TSIFvJkAND

— RTÉ Soccer (@RTEsoccer) June 15, 2018