By Alan Cawley
Goalscorers are about as rare as seeing a poster or hearing a radio advert promoting our domestic league. You either are one or your not, it's literally as simple as that.
That is the reason they all command the big money because they are worth their weight in gold. They turn games in an instant, they can be the difference between a club being successful and a club not being successful - that's how highly I value them.
The common consensus is that all success is built on solid foundations, i.e. a strong back-four. I go along with that to a point but if you don't have an out-and-out goalscorer in your team then the chances of you attending a civic reception following a league or cup success are very slim. There will always be the odd exception to the rule but that is generally the case.
Over the years, we have been blessed with some fantastic goalscorers in our domestic league. Top of the pile is still Brendan Bradley but hot on his heels after kicking off yet another season with a goal on opening night is the legend that is Jason Byrne.
"I had the pleasure of playing with Jason and not only is he a sensational goalscorer but he is also a top professional"
Jason now finds himself just 27 goals behind Bradley and although Byrne may not be getting any younger you would want to be a brave man to bet against him overtaking Bradley's huge goal tally.
I had the pleasure of playing with Jason and not only is he a sensational goalscorer but he is also a top professional. He has looked after himself extremely well over the years, hence him still turning out at the grand old age of 36.
He was never the best trainer in the world in terms of loving hard graft but as soon as it came to finishing sessions he came alive like all top strikers. He was made to score goals and thats what he does, simple.
Check out some of his goal scoring stats, in particular during his time at Shelbourne. In his first season he banged in 21 league goals. He bettered that the following year scoring 25 league goals in 33 league games.
In 2005 he was at it again notching 30 goals across all competitions, including five Champions League goals during our unbelievable run in that competition.
In 2006 his goals fired Shelbourne to another title, bringing his goal tally to a truly amazing 83 goals in 122 appearances.
He topped the goal scoring charts in those four consecutive seasons - another record he is the proud holder of.
Those kind of figures during that spell would stand up with any striker across Europe and I firmly believe that if he hadn't been with Shelbourne during those amazing years they wouldn't have been as successful as they were.
It will be interesting viewing to see how many he actually does score this season. He is now back at Bohemians playing under a friend and a manager who knows him inside-out.
Owen Heary will wrap him in cotton wool when he needs to and also unleash him when that's needed. If he remains injury-free I see no reason why he won't break the double-figure barrier again this year.
The man is guaranteed goals, that's probably the best way to describe him, and there are not many you can give that description to.
Another man who is guaranteed goals and deserves as equal a mention is Declan 'Fabio' O'Brien.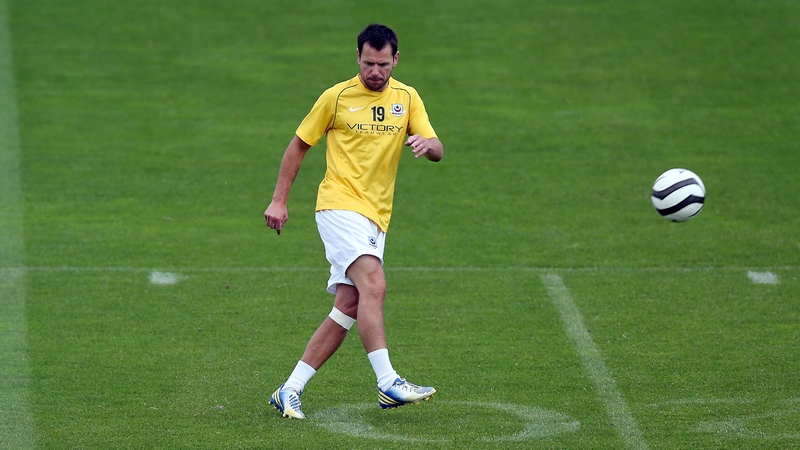 I also had the pleasure of playing with Declan and getting to know him and just like Byrne he too looks after himself extremely well and lives for scoring goals!
He has done it consistently for years now and he too notched on opening night for the club he loves so much, Drogheda United, where he has cult hero status and rightly so. I also see no reason as to why Fabio can't break the double figure barrier just like Byrne.
I can't emphasise enough how brilliant both these players' achievements are because the hardest thing to do in football is to score goals but these two make it look easy. How long more they can do it for is anyone's guess but as long as they are lining out for their respective teams they will score goals.
In recent years in the League of Ireland we have had a number of top-class strikers who guarantee goals and who have made such a difference to teams winning and losing.
Glen Crowe was a superb goalscorer during Bohemians' glory years, also John O'Flynn was so clever in and around the box for Cork City. Most recent was the exploits of Gary Twigg for Shamrock Rovers - a top class finisher.
When I look around the league I don't see too many who can live up to the goal-scoring achievements of the players I've mentioned. Rory Patterson at Derry and possibly Danny North of Sligo would be the two closest I'd have in mind but I'm not sure even they do it as consistently as those mentioned previously.
Pat Hoban of Dundalk has the potential to reach that standard but he is still very young and learning. After that it's still Byrne and O'Brien who remain the most deadly marksmen around, quite remarkable really but it's something I appreciate greatly and it's something all football fans should appreciate.
Until next week,
Alan Cawley.