By Rob Wright
It's been a long time coming but there is a finally a real sense of optimism surrounding the Ireland national team.
The grey and dreary Trapattoni era shuddered to an inevitable halt with a defeat to Austria on a September evening and with it, morale in Irish football reached one of its lowest points in decades.
In truth, it should never have been allowed to go on that long and the FAI made a major mistake in not removing Trapattoni after a dreadful Euro 2012 campaign.
When the veteran Italian manager eventually parted company with the Irish team, he was replaced on an interim basis by Noel King, a manager who has never been able to achieve anything above mediocrity with the Republic of Ireland Under-21s in his three years in charge.
Hopes weren't high. Indeed, there were suspicions that, despite John Delaney's denials, had King been able to get a result against Germany, he could have been offered the job on a permanent basis.
The FAI has appointed a man who they believe will be able to put together an Ireland team that's more than the sum of its parts.
The immediate relief felt among Irish supporters with the exit of Trapattoni slowly turned to concern as the weeks dragged on without a permanent replacement being named.
Names were linked and discounted, and when John Delaney and the FAI farmed out the process of replacing Trapattoni to Ray Houghton and Ruud Dokter, there was a real worry that we'd see a repeat of Steve Staunton's appointment.
However, Houghton and Dokter stuck to their task, identified Martin O'Neill as their main target, and aided by the deep pockets of Denis O'Brien they were able to convince the man who was the first choice of the majority of Ireland supporters to take the reins.
"The FAI has appointed a man who they believe will be able to put together an Ireland team that's more than the sum of its parts"
He did it at Leicester City, he did it at Celtic and he did it at Aston Villa – a team he took to three top-six Premier League finishes.
That ability to get players performing above themselves and to motivate them will be crucial, given the inherent limitations in international football.
O'Neill's first role will be to install a new mental strength in a group of players who have seen the crowds and support slowly ebb away since the highs of qualifying for Euro 2012.
Against Latvia the manager will have the perfect opportunity to help the team reconnect with an Irish sporting public who became jaded with disappointing performances, negative tactics and the former manager telling them just how poor a pool of players we have.
Since the appointment of O'Neill and Roy Keane, this fixture has taken on an importance that few would have expected when it was originally announced.
It's hardly a glamour tie against a team of household names, but given the optimism and positivity surrounding the team this week, it's important that the new boss starts with a win and a decent performance.
The players have responded in the right way so far, saying all the right things and the sideshow surrounding the appointment of Keane as assistant manager has taken much of the spotlight and pressure off them.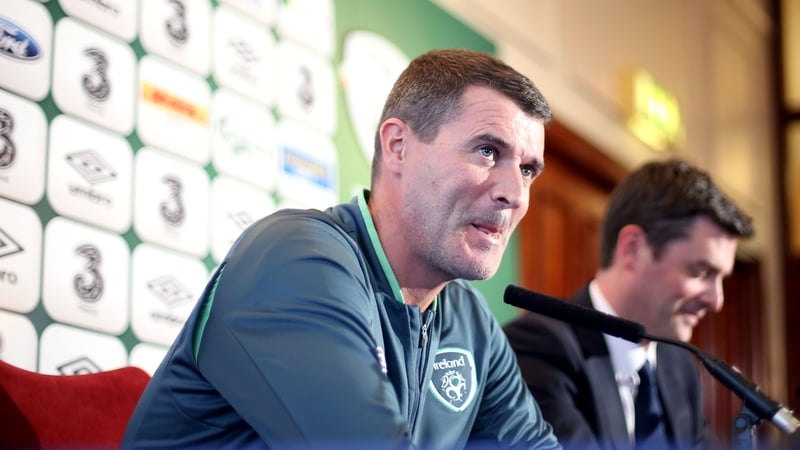 Nevertheless, against Latvia they need to perform and help win back what can be a fickle Irish fanbase.
O'Neill is aware of all this of course and is expecting a big performance from his squad in the game with Latvia and the follow-up trip to Poland.
"I don't want the players to treat these like friendly games. I told them that last night.
"They became big games because I have to make judgements on players. That's exactly how I see these games coming up. They may not be competitive in terms of picking up points, but they are very important."
As well as using this two games to decide on his players O'Neill is canny enough to be aware that he can send a big signal of intent and go some way to winning fans back at the Aviva by putting out the right team - a team set up to take the game to Latvia and dictate things.
To that end, expect to see James McCarthy anchor the midfield. Keane, in particular, has been full of praise of McCarthy, admitting that he sees something of himself in the Everton player, saying: "He probably plays a little like me. Maybe not as aggressive and possibly looking to mature in terms of his personality on the team over the next few years, but that will all come."
With Robbie Brady injured and Anthony Pilkington doubtful with a dead leg, Andy Reid could be given the chance to impress in midfield. Having already been given the thumbs-up by his new international boss to bring his infamous guitar out of retirement, Reid looks to be in line to start against the Latvians.
Robbie Keane has been maintained as captain for these two games at least and therefore is expected to start against Latvia, but elsewhere it becomes more difficult to predict what team O'Neill will opt for in Dublin.
Unlike Trapattoni, who tended to announce his starting line-ups well in advance of a game, the new Ireland manager is playing his cards closer to his chest and has already signalled his intention to give everyone a chance to prove themselves. Don't be surprised if the likes of Anthony Stokes, Alex Pearce of even the uncapped Rob Elliott get the nod.
Whatever team O'Neill does go for tonight, they should have enough about them to beat Latvia.
The visitors had a Euro 2012 qualifying campaign that they'll be keen to forget in a hurry, finishing second from bottom, winning just two games and failing to beat perennial whipping boys Liechtenstein away from home.
Now managed by former Southampton striker Marian Pahars, Latvia have won just one of their last ten matches, and have struggled to make an impact on the international scene in recent years. With few youngsters coming through and a squad comprised mostly of domestic players, there are not many familiar faces in the squad.
Veteran Kaspars Gorkss plays alongside Alex Pearce and Stephen Kelly at Reading and is his country's most experienced and reliable defender, while up front former Dynamo Kiev striker Maris Verpakovskis is Latvia's top all-time goalscorer with 29 goals. However, at the age of 34, his best days are firmly behind him.
The trip to Poznan on Tuesday to take on Poland will be in O'Neill's mind when he selects his team to take on Latvia and while he may well give more fringe players a chance to impress at the Aviva, it's crucial that whoever he picks, he sets them up to attack and take the game to visitors.
There's little that Ireland have to fear from Latvia, so the manager can afford to take risks and maybe even offer "a little style and a little panache" as he promised at his first press conference. A win, and a win playing the right kind of football, will go a long way to help bring back the feel-good factor to the Ireland team.
Tickets can also be purchased from 2pm until kick-off, 7.45pm, from the ticketmaster outlets in the car park of the Ballsbridge Hotel (formerly Jurys) and on the corner of Lansdowne Road and Northumberland Road. Tickets are available from €10 for children (Under 16s), €20 for adults and €50 for a family ticket (two adults and two children).
Live radio coverage of Republic of Ireland v Latvia from 19:00 on Friday 15 November on Game On on RTÉ 2fm and RTÉ.ie (Worldwide). Television highlights from 22.40 on RTÉ Two and RTÉ.ie (RoI only).