Ireland centre-half Damien Delaney has heaped praise on interim manager Noel King despite going down 3-0 to Germany in Cologne on Friday night.
The Crystal Palace defender made his first competitive start in the green jersey at the Rhein Energie stadium and felt that Germany were a very tough side to play against.
Delaney admitted that Germany's style of play combined with the fact that the Ireland defence had never played together made the trip to Cologne a very difficult assignment, however, he paid credit to King who had the tricky task of trying to devise a way to nullify the German attack.
Speaking to RTÉ Sport after the game, Delaney said: "They were a very good side. It's difficult to play against a side that doesn't play with a centre forward. It's more a mental battle more than anything else. People are coming in and out of space, the way they rotate the front players and midfield players is something special. It was an eye-opener.
"You have got to give Noel King a lot of credit in the week that we had. He started working on the game plan on Tuesday and I think he has been superb, and I genuinely mean that.
"The levels of professionalism that he had in everything that he has done in and the levels of communication have been absolutely brilliant with the players, in terms of on the training pitch and putting a game plan in place.
"He boiled down our job for us and everyone had a job to do, and when you have that, you know what you are doing and you look relatively organised. And we played some decent football, at times."
"You have got to give Noel King a lot of credit. He has been superb, and I genuinely mean that." - Delaney
Delaney, who plies his trade in the English Premier League, also admitted that the style of German play was something that he had never encountered before, but felt that he learned a lot from the experience.
"It was something that I never experienced before. Teams that don't play with centre forwards seems to be the way football is going at the moment. Week in week out in my career I've been used to having people up against me, and you can play against that. It's all part of my development as a player and as a person and I thoroughly enjoyed it."
And while Delaney also conceded that Germany were by far the better team on the night, he felt that Ireland were unlucky not to get something out of the game.
Delaney added: "We had chances but you breach their rearguard and then you look at that fella (Manuel Neuer) in goal and my God, he's a monster. You get past their rearguard and you're faced with him and he's a top keeper."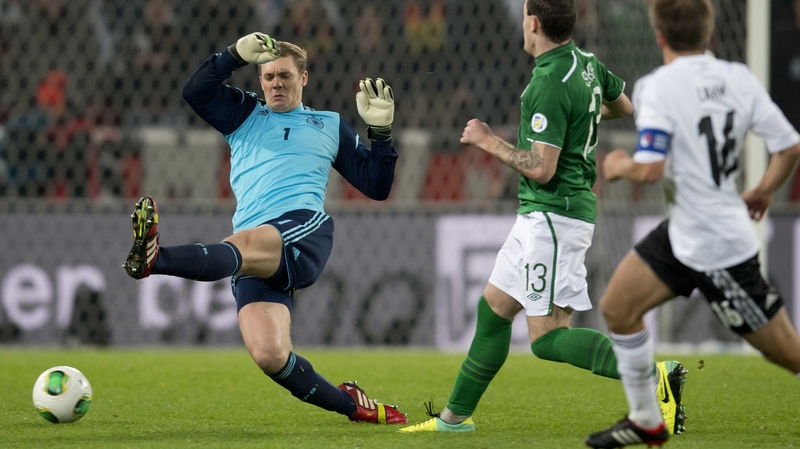 Looking ahead to the the final World Cup qualifier on Tuesday as Ireland entertain Kazakhstan, Delaney fully expects regular centre-halves John O'Shea and Richard Dunne to return to the starting eleven.
But Delaney has now got a taste for more high-profile games for Ireland and believes his club form will dictate how much he will be involved in the international set-up in the future.
Delaney said: "I'm fully aware of where I am in the pecking order and when Josh (John O'Shea) and Dunney (Richard Dunne) come back in they will fully expect to start and I've got no problem with that.
"I'm just happy that I got my competitive debut tonight. It's just up to me to continue my club form and if I get a chance again through injury or suspension, I'll be ready to get a night like tonight because it was really special."
Live television coverage of Republic of Ireland v Kazakhstan from 19:00 on Tuesday 15 October on RTÉ Two and RTÉ.ie (ROI only). Live radio coverage on Game On from 19:00 on RTÉ 2fm and RTÉ.ie (Worldwide).