Shay Given feels the Football Association of Ireland cannot afford to wait to appoint a new manager and believes Roy Keane or Martin O'Neill would be a good fit for the role.
The former Republic of Ireland goalkeeper expressed his belief that the FAI must act quickly to build momentum for qualifying for Euro 2016 and also give a potential new boss time to find his feet in the job.
Financial constraints make a move for a manager currently tied to a club unlikely in Given's opinion, and either of the out of work pair could fit the bill.
The 37-year-old told RTÉ Sport: "There are lots of different candidates flying around. It is well known that the FAI are not blessed with money at the minute so it will be difficult to go for Mick McCarthy or Chris Hughton and pay the certain clubs off.
"You would be looking at a Roy Keane or a Martin O'Neill that are not actually managing at the minute.
"Both are good managers and Irish which I think is important as well. I'm not the one who picks the manager.
"Whoever the FAI do pick, there will be people saying it is brilliant and people who say he should have never got the job.
"That is the nature of the beast and you wish the FAI well.
"Next September is when qualifying starts for the European Championships but the other end of it is if we finish the last couple of games off with a whimper and low down in the table that we're in, it toughens your draw for the next championships.
"I think the sooner it is done the better and make a decision as quick as possible.
"Get the new manager for these games next month and he can look at players that are there already, freshen things up and bring some of his own ideas and new players in.
"It is all well and good doing that in friendlies but I think it is even better if a new manager can do it in competitive games. I think it is important we don't finish with a whimper, that we get good results and try and finish as high as we can."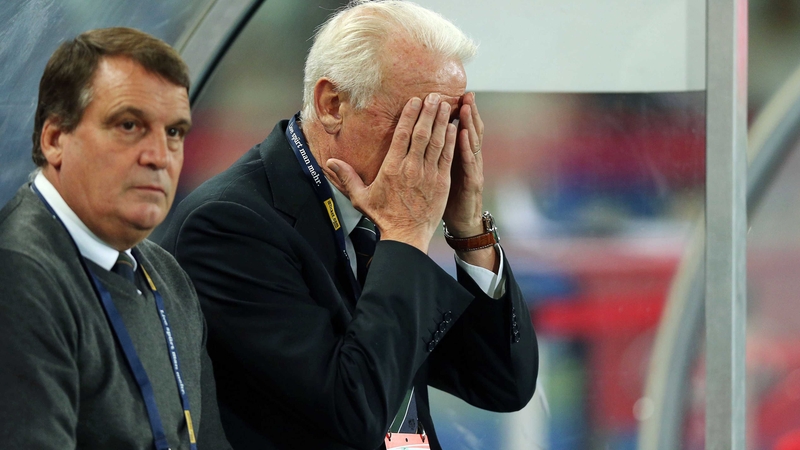 Given featured under former manager Giovanni Trapattoni in the final years of his international career, holding the number one jersey until retirement after Euro 2012.
Reflecting on the tenure of the manager, the Aston Villa man thinks the positives of the five-year reign should stand out.
"Personally I think people should be grateful for what he did. From day one, he said the most important things was the results and he wasn't overly bothered with how we play.
"We can't all play like Barcelona and the most important thing is results and qualification. It was 10 years since we qualified for a major tournament and Trapattoni got us there.
"He has to be remembered for that. We missed out in Paris that night, we qualified for the next one and this one has been disappointing and he lost his job. I don't think we should be too negative.
"I think we should be thanking him for the job he done. He even admits himself it is the right time for him to step down and freshen it up and we move on to the next chapter."
"I am not really bothered about what division it is in or what country it is in. I just want to get back playing." - Shay Given on trying to leave Aston Villa
The goalkeeper's club career is uncertain after missing out on a deadline day move to Liverpool.
With Brad Guzan commanding the number one jersey at Villa Park, Given is hoping for a change to the situation and denied reports that issues over his wages scuppered the deal.
"I made the cutbacks to go to Aston Villa in the first place and I tried to make them last week. It is nothing to do with money, it is about playing football.
"I am not really bothered about what division it is in or what country it is in. I just want to get back playing.
"People can write and read what they want. I know what happened last week and it is important I get playing again. For whatever reason, the two clubs didn't come to an agreement and that was purely out of mind hands, so there was nothing I could do about it.
"It was disappointing because I thought it was going to be done. These things happen, it's a bit frustrating obviously training every day and not having a game at the end of the week. But I have to keep working hard.
"Things can change in football really quickly and hopefully I can get back in the team or get a move come January and get playing again to show everyone that I am still really fit, which I feel. That would be fantastic."