Alex Ferguson has confirmed Manchester United striker Wayne Rooney has asked for a transfer.
The England international was left out of today's squad for the 2-1 win over Swansea at Old Trafford, because Ferguson - who retires from management at the end of the season - said the striker "was not keen to play because he has asked for a transfer".
Rooney, who joined United from Everton in 2004, has been linked with Paris St Germain and rivals Manchester City in the past.
The 27-year-old previously asked to leave the club before signing a five-year deal in 2010.
Rooney has often had to play second fiddle to Robin van Persie this season and has not scored for the club since the middle of March.
He was not even among the substitutes at Old Trafford this afternoon.
"I don't think Wayne was keen to play, simply because he has asked for a transfer," Ferguson told Sky Sports 1.
"I think he wants to think it through in his mind - I think that's a good idea. We're not going to let him go.
"I think maybe he is a bit frustrated. He has been taken off once or twice in the past couple of weeks."
"I think he wants to think it through in his mind - I think that's a good idea. We're not going to let him go" - Alex Ferguson
Meanwhile, Ferguson urged United's fans to stand by David Moyes next season.
Ferguson bows out next Sunday after securing a 2-1 win over Swansea in his final home game as manager.
After the victory, he addressed the crowd and told them to get behind his replacement.
"I would like to remind you this club stood by me in bad times, the players and the staff," he said.
"Your job now is to stand by the new manager."
Ferguson paid personal tribute to Paul Scholes, who started today's game and will also retire in the summer, and Darren Fletcher, who continues his recovery from a chronic bowel condition.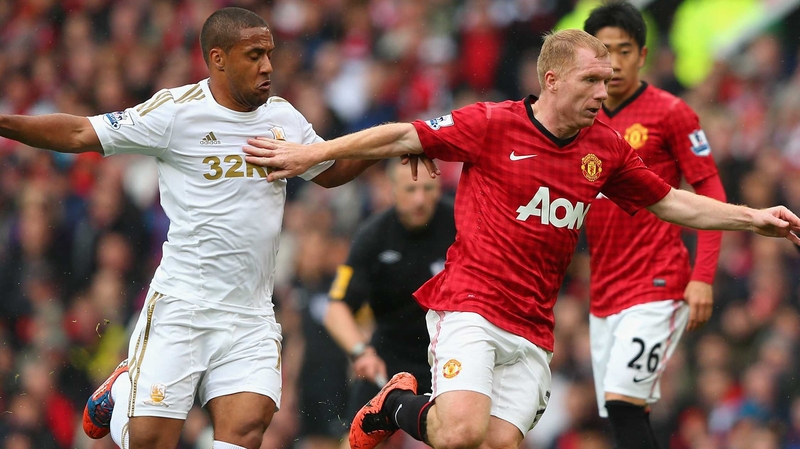 And he insisted he would still be a regular presence at Old Trafford.
"I will be able to go along and watch them rather than suffer with them," he said.
"Those last minute goals, the comebacks and even the defeats are part of this great football club. It has been an unbelievable experience."
"I have been fortunate to manage some of the greatest player in this country, let alone Manchester United," he said.
"They have represented our club in the proper way."
Ferguson said he had "no speech in mind" and would just "ramble on" before admitting at one point that he might start "bubbling".
"I wish the players every success," he said.
"I know how good you are. You know the jersey you are wearing and you know what it means to everyone here.
"Do not let yourselves down."
Ferguson began his address by thanking all the players, staff and supporters of the club and said: "You have been the most fantastic experience of my life."