British police have confirmed that a teenager was so angered with the referee's decision to send off Nani in last night's Champions League match that he called 999 to report the incident.
The 18-year-old Manchester United fan was watching the second-leg tie between Manchester United and Real Madrid at his house when he called the emergency services to report the 'crime'. He has since apologised for the call.
Nani was sent off for a second-half foul on Alvaro Arbeloa - at the time of the dismissal United were leading through Sergio Ramos' own-goal and 2-1 up in the tie overall.
Nottinghamshire Police Control Room Chief Inspector Ted Antill said:"While this recent example may be amusing, it illustrates the sort of insincere calls we have to deal with on a daily basis in the Control Room.
"They waste our time and they direct us away from genuine victims of crime, particularly if we dispatch officers out to something that turns out to be a bogus report.
"I would ask people to think before picking up the phone for emergency services. I would also advise parents to ensure your children are aware that prank calls and the reporting of made-up crimes is a crime in itself.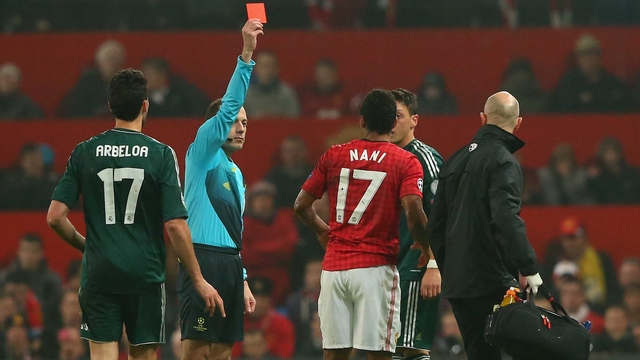 "There may be people out there in real trouble who need our help and they have to wait because we are tied up with calls like this one, reporting a referee from the television.
"It's no joke. In this case, the man realised his bad judgement and apologised and we decided not to pursue it further. But we can and we do prosecute people for wasting police time and making false reports."
Manchester United manager Alex Feguson later refused to speak to the media due to his anger over the decision.
Assistant manager Mike Phelan later faced the press and admitted Ferguson was "not in a fit state" to question why Turkish referee Cuneyt Cakir had sent Nani off.
In his post-match interview, Jose Mourinho claimed Madrid did not deserve to progress to the quarter-finals, saying: "Independent of the decision, the best team lost. We didn't play well, we didn't deserve to win but football is like this."