Borussia Dortmund will look to put the disappointment of losing their Bundesliga title behind them by reaching the last four of the Champions League.
Bayern Munich clinched the championship at the weekend, forcing Dortmund to hand the trophy over to them at the end of the current season.
However, there is still one piece of silverware Jurgen Klopp's side could win this season, and they host Malaga tonight after a 0-0 draw in the away leg, confident they can move to within 180 minutes of the final.
"Everything has been really positive so far, but we've got to be careful," the boss said.
"My feeling is we are going to continue to write this wonderful story. We are ready, we are motivated and we really love this competition.
"You either feel the pressure, or you feel the opportunity, and we see the opportunity."
"My feeling is we are going to continue to write this wonderful story" - Jurgen Klopp
Opportunity knocked a week ago in Spain, but a profligate attack saw Dortmund come away empty-handed, although a goalless draw nevertheless gives them a good position for tonight's return leg at the Westfalenstadion.
However, Klopp does not like the way the German media seem to be playing down the threat of Malaga, and turning last week's draw into a failure.
"I really cannot understand how you can expect one to just go to Malaga and win comfortably," he said at the pre-match press conference.
"They are strong opponents in a fantastic competition and we are right in the zone, which is all we need."
That zone is the intimidating black and yellow back backdrop provided by the largest terrace in Europe.
Although the 81,000 capacity is reduced for UEFA regulations on all-seater stadia, the noise will nevertheless be electrifying, according to Klopp.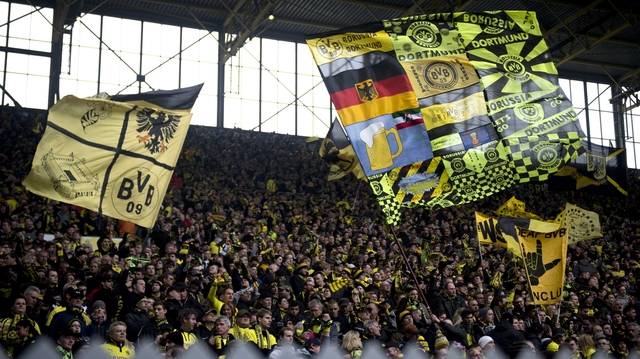 "Just imagine that this could be the last time for a long time, so we've got to give it our best to make sure it isn't," he said.
"We've got to keep our calm and we need the fans for that. I would like for everybody who comes here to bring more positive energy than they have ever had in their lives.
"Then we are truly uncomfortable opponents."
Klopp rested seven members of his regular side at the weekend, but he will pick his strongest XI with defender Mats Hummels a candidate again.
Full-back Marcel Schmelzer will also be involved, even if he broke his nose in the fist leg.
"This is something unique," said the Germany international. "None of us have ever reached the quarter-finals, let alone the semis.
"We have come through a difficult group and for every one of us, playing Malaga for a place in the last four is the biggest thing which has happened to us."
Bidding to stop Dortmund is former Bayern Munich defender Martin Demichelis, who knows exactly what to expect in Dortmund.
"I know the atmosphere here, but that shouldn't faze us," he said.
"Anybody who thinks Dortmund are already through is mistaken."
"Anybody who thinks Dortmund are already through is mistaken" - Martin Demichelis
Indeed, rather than being intimidated by the atmosphere, Malaga midfielder Ignacio Camacho believes they can use it to motivate them.
"Nobody likes playing in front of empty stands," he said. "It's like a final for us. I think the atmosphere's going to help us."
Malaga coach Manuel Pellegrini was not in Dortmund as he returned to his native Chile after his father passed away at the weekend.
He is due to arrive in Dortmund in time for kick-off, and will find a team ready to go the extra mile for him.
"We're all sad," said Demichelis. "We want to win this for him. He will be with us and we will try all we can to go through for him."