Release: the act of setting a person or an animal free; the state of being set free
For 95-plus minutes of football in Glasgow, the Republic of Ireland coiled themselves into a unit to thwart Scotland.
Pedro Martinez Losa's side were ultimately driven to despair as all of their efforts were absorbed by an orange sponge.
And then, when Swiss referee Esther Staubli blew the full-time whistle, the release.
Having been battered and shaken by the desperate hosts, Ireland exploded as a historic World Cup qualification was sealed.
Family members spilled down towards the pitch; Vera Pauw was lured away from post-match interviews by the players chanting her name; any semblance of routine was scrunched up and tossed into the wind.
And yet in the chaos, the Irish players seemed intent on putting the achievement into context; brushstrokes of serenity amid a backdrop of wild, unbridled joy.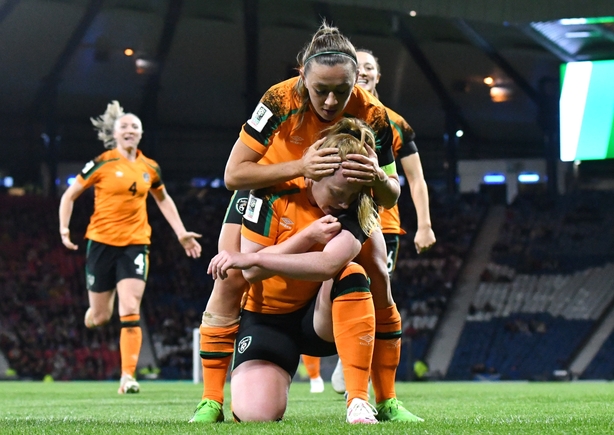 Goal-scorer Amber Barrett delivered a remarkably composed post-match television interview in which she paid tribute to those who lost their lives in the Creeslough service station explosion.
"I know Creeslough like the back of my hand," said Barrett, draped in the flag of her native Donegal.
"Both my grandparents were Creeslough-born and bred, and I spent my whole upbringing there in the summers and Christmases.
"I know people who died in the tragedy, I know people who were affected by the tragedy, I know people who were first at the scene at the tragedy and I've not been able to put it into words.
"This is for Creeslough, this is for Donegal, this is for Ireland."
Midfielder Lily Agg took the opportunity to reflect on her late grandmother, who hailed from Cobh.
"I've got a little tattoo here [on her leg] for my grandma with my rosary beads. Every night before bed with my grandma, we used to kneel down, we used to say our prayers… I remember that with her, and to be honest, that stays with me.
"God has a funny way of figuring out life and where we are, and I do believe everything happens for a reason.
"I said to my mum earlier, 'I've got to do this for grandma'. All you can do before a game is say to yourself, 'You're going to work hard, you're going to give it your all' - look, you're going to make mistakes, you're human, but as long as you know you're going to run your socks off, give it your all, put your heart on your sleeve… hopefully I did that tonight, I know the other girls did. Like I say, that's for my grandma."
"The values that we carry is that we have respect for everybody."
Meanwhile Pauw made a point of returning to a huddle of reporters after she'd gone to the stands to get a selfie with a young fan.
"I want to pay tribute to all the coaches before me, all the players before us because without them we would not have been here," she said.
"I truly mean that. I feel it very deep down inside. I really wanted to add that because to me that's very important."
The manager was wiping the sleep from her eyes on Wednesday morning after only getting two hours of shuteye - "we had a fantastic party" - but she did not shy away from the controversy that soured those celebrations.
A video circulated on social media appeared to show the team in the dressing room after the game singing 'Ooh ah, up the RA' - a song associated with support of the IRA.
"The values that we carry is that we have respect for everybody," she said. "The first meeting with the players was about having respect, that's how we work."
Aine O'Gorman and Chloe Mustaki both echoed those sentiments, expressing the collective regret the squad had for what Mustaki described as "a lapse in judgement... we are extremely sorry and hopefully we can move past it".
After facing the media, O'Gorman cradled 11-week-old son James, who'll be heading Down Under with his mam next July for the biggest adventure of both of their lives.
Two years ago O'Gorman was disconsolate after her own goal lost Ireland the game against Ukraine and effectively ended their chances of making it to the Euros. On Tuesday night she earned her first competitive start in almost a year, delivering a solid showing to help Ireland see it out at Hampden Park.
"It's colossal," she said. "I think every interview I do since I don't know whatever age I was, when we started doing interviews are saying the next step is to qualify for a major tournament. We have to qualify for a major tournament. Now we've done that."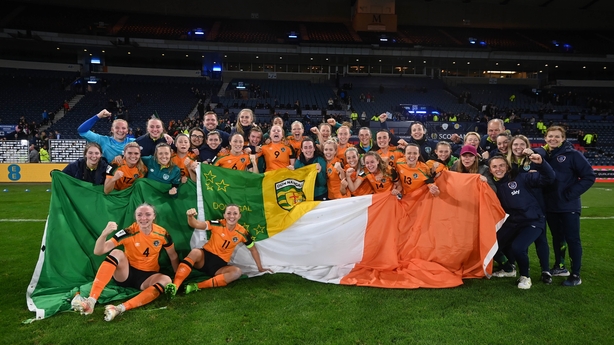 The World Cup draw takes place on Saturday week in Auckland, New Zealand (7.30am Irish time) and it will be all eyes on Pot 3, where Ireland will be placed.
They could be grouped with the USA and Brazil, the nightmare scenario. Then again, does it really matter?
"I will take anyone at this point," said Heather Payne.
And that's the bottom line. Ireland have made the breakthrough; they've defied the odds and have already changed the face of women's football in this country with their legacy assured.
Pauw is a pragmatic coach who has organised the team, and harnessed the natural willingness of the players to give every ounce of themselves to the cause. They're not exactly the great entertainers, but the approach has taken Ireland all the way to the biggest stage there is.
They've had to fight tooth and nail to inch themselves into the limelight, bashing down barriers along the way. Now it's time to enjoy the release.