Jamie Finn says the Republic of Ireland hold no fear of the big stage ahead of their World Cup play-off showdown on Tuesday.
Vera Pauw's team will take on either Scotland or Austria - who clash at Hampden Park tonight - for a place at next year's finals in Australia and New Zealand.
If the Scots win they will host Ireland at Hampden, where the men's team recently collided in the UEFA Nations League.
Finn was suspended for the win in Slovakia that sent Ireland straight to round 2 of the play-offs but she's available for selection again, and desperate to make the most of a massive opportunity.
"I was watching [the men's match] and the atmosphere looked amazing," she said.
"We'll see if it's at Hampden or in Austria, we'll go out and hopefully try to get the win.
"I think this team have adapted to playing at bigger stadiums, bigger atmosphere, bigger crowds, I think we've adapted well. But we need to control what we can control and that's ourselves.
"When I was growing up, I always imagined playing at a World Cup for your country. That would be amazing. And I think all the girls are on the same page so fingers crossed we can do that."
Finn's return is a very welcome boost for Pauw who has been hit with a slew of injuries in the run-up to the play-off, with Jess Ziu [knee], Megan Connolly [ribs], Ruesha Littlejohn [foot], Leanne Kiernan [ankle] and Ellen Molloy [knee] all unavailable.
The versatile Finn is highly likely to go straight back into the side. Exactly where remains to be seen, but she may act as a replacement for Ziu on the right.
"It's never nice to get injuries on and off camp," the Birmingham City player said.
"That's obviously part of professional football and obviously speedy recoveries to those girls, but I think it's just a testament to the coaching and backroom staff that we have depth in the squad now and that's improved and we can call upon players to come in and potentially play their part.
"It's never nice to be suspended and I don't ever want to be in that position ever again."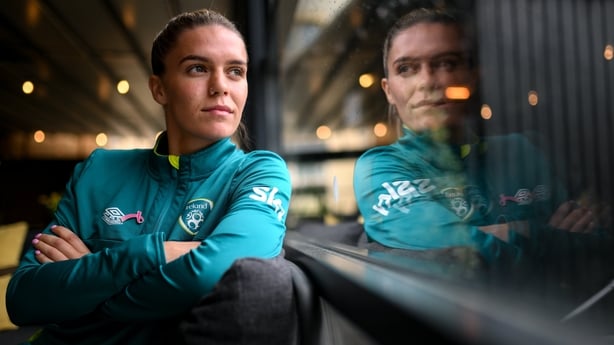 Ireland will sit down as a squad to watch the Scotland-Austria game tonight and, on Friday morning, ramp up preparations for the big game.
Pauw will have three scouts in Glasgow: one to focus on the hosts, one to focus on the Austrians, and assistant boss Tom Elmes to do an overall analysis.
"It is a bit weird not knowing [who the opponent is yet] but we'll be prepared for both teams," added Finn.
"To be fair, I think they're both tough opposition, we'll see what happens.
"As a group I think we just take it game by gam e. When those games come, we give it 100% and I think that's shown throughout this campaign. We've gotten big results throughout this campaign."
It's just over a year since Finn made the move from Shelbourne to Birmingham. She's not the only Ireland player who has aired her desire to see the Women's National League become semi-professional, with World Cup qualification - and the financial rewards that could bring - representing a chance to tangibly improve the grassroots game in this country.
"You'd want it at least to get to a semi-professional level at some stage," said Finn, who worked as a personal trainer before moving to England.
"You would want to get it fully professional [eventually]. The money is an issue, but I think the players are there to get to that professional level. They obviously want that and in my time when I was in the league, you see the players want that professional level. But it just comes down to money I suppose.
"If we can qualify, hopefully that will inspire things like that to happen. So fingers crossed that can happen."
Asked about a return to Shels at some stage, Finn replied: "I would love to. I saw a tweet that I was at a hundred and something caps for Shelbourne. I would like to see that maybe at 150.
"But obviously I would like to be in a professional environment for as long as I can."
Listen to the RTÉ Soccer podcast on Apple Podcasts, Spotify or wherever you get your podcasts.