Shamrock Rovers manager Stephen Bradley praised his side's professional performance against a "cynical" Hibernians team in Tuesday's goalless draw in Malta but acknowledged the next round against Bulgaria's Ludogorets would represent a significant step up in quality.
With a three-goal cushion from the first leg in Tallaght, the Hoops easily navigated the challenge from the abrasive Maltese champions, conceding precious few clear-cut chances and managing the game with little fuss.
"I thought in the first half, we were a little bit sloppy in possession. But in the second half, we were excellent," Bradley told reporters after the game.
"We managed the game really well, looked really comfortable and possibly should have scored on the break. So, a really professional performance and really comfortable in the end.
"We did our work last week. It meant that we came here with a different gameplan. We knew how they play and I thought we managed it really well. I don't think they had any real dangerous moments, they'd a lot of shots from long distance.
"We played within ourselves in possession. But we were fine with that because we wanted to protect rather than go and win the game. So, we limited our options in the attacking side of the pitch, which we knew we would. But the job was done last week.
"Like you said, it was a poor game. But we were happy with that. Keep it quiet and go away with the win."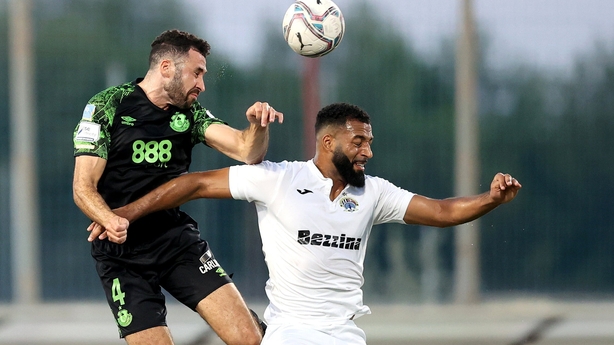 Shamrock Rovers now progress to the second qualifying round where they will face Bulgarian side Ludogorets, participants in the Champions League group phase twice in the past decade, who overcame Sutjeska last night.
Aside from the side of the task in a footballing sense, Bradley admitted the next week's first leg in Razgrad in northern Bulgaria presents significant logistical challenges.
There are currently no chartered flights available and a number of alternatives are currently being examined. Rovers already had a slight roundabout trip to last night's tie, travelling out of Shannon Airport rather than Dublin.
"It looks like it's going to be really tricky. It doesn't look like there's any charters available," said Bradley.
"We're hoping over the next day it becomes a bit clearer but right now, it looks really, really tricky."
Bradley acknowledges the sharp uptick in quality from the challenge posed by Hibernians but says the team will relish the opportunity.
"It's definitely a step-up. Their pedigree in the last few years shows you that. They're a team that's really going to test us. But that's what we want. We want to play at that level. We're going to do our homework and we'll be ready for next week.
"This is what we've been working towards the last few years. We've improved our seeding and it's paying off for us this year. We've given ourselves a really good chance. Still a lot of work and tough games to come but we've given ourselves a chance which is what we wanted."
Regardless, the 3-0 aggregate victory over Hibernians opens us huge possibilities for the 2022-23 European campaign, with a number of cracks at reaching the group stages of a major competition looming on the horizon. As it stands, they are guaranteed at least three more European ties.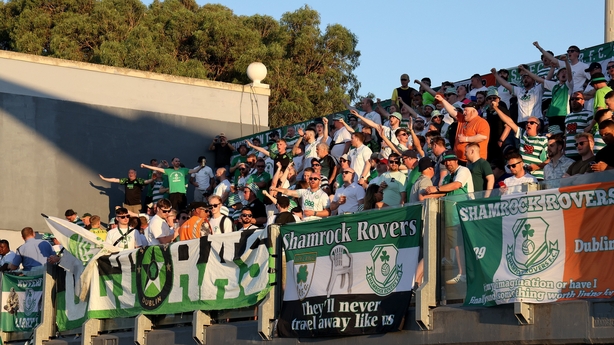 Even if they fall short against Ludogorets, they will enter the Europa League at the Third Qualifying Round, with defeat there leaving sending them to the Play-off Round of the Europa Conference League.
"This game is massive, it opens up so many routes for us. But I don't think the players have played with any fear or apprehension in this tie.
"I thought the players managed that pressure, that expectation very well in the two ties. We're not blind obviously, we knew that winning this round was so important for the club and the path.
"We've won a tie, a tie we expected ourselves to win. We're not off celebrating, going around, drinking. We'll travel home tonight and focus on Bulgaria next week and get ready to go. There's no wild celebrations. We're a team that's used to winning now. We expect to win. Another win and we move on.
"We'll do everything possible to win the next tie (against Ludogorets). That's our aim. We've put ourselves in a really strong position.
"But we're not going to look at it as if we have fallbacks, we're going to win the tie. We know it's tough and a step-up. But we'll do everything possible to go through.
"We know we have really big games coming up for the next month at least. The crowd in Tallaght is going to play a big part in that. Because we know the next round is going to be a step-up in class.
"We're definitely going to need the crowd, they've been brilliant all year for us. Hopefully, there's going to be many more special European nights to be had."
The game itself on Tuesday was a remarkably drama-free affair, distinguished mainly by the home side's propensity for rash challenges.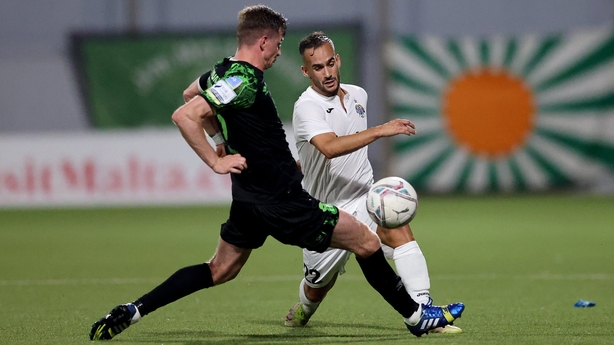 We were also treated to the bizarre spectacle of Graham Burke being booked despite not getting on the pitch - the ref taking umbrage at the Rovers attacker warming up behind the goal in the first half. Bradley admitted that this was decisive in his decision not to use Burke on the night.
"I would have brought Graham on. I wanted to get him minutes. But with the way the game was going, in terms of them being so cynical, I just felt all it took was a mistimed tackle and someone to dive on the ground and he gets booked.
"That definitely played a part in the decision because I wanted to get him on the pitch."
Jack Byrne also returned to the fray after a spell out with injuries, impressing during his 15 minute cameo.
"Jack was fine, he did really well. He looked really good in training yesterday. Did really well. He got a few kicks (from the opposition) but nothing major so really happy with that."