The European season finished just over two weeks ago but the new campaign is very much on the minds of clubs in Ireland ahead of first-round qualifying draws today.
Four Irish sides will enter competitions, all dreaming of lucrative rewards and possible group stage qualification.
Shamrock Rovers will compete in the Champions League, while St Patrick's Athletic, Sligo Rovers and Derry City will be in the Conference League.
Pat's are the only Irish side which will not feature in Tuesday's draw. Due to sanctions on Russian clubs, the Saints were bumped up from the first round into the second.
Here we explained the benefit for Pat's, including financial and being one step closer to the group element.
The other major positive for the Irish sides is a seeding for Shamrock Rovers. It represents a major opportunity, but as always, depends on the luck of the draw.
Champions League - Shamrock Rovers
The seeded sides in the first round would contain the likes of Malmo of Sweden, Slovan Bratislava who knocked out the Hoops last year and Qarabag (Azerbaijan).
Stephen Bradley's side will avoid the likes of those sides as they just snuck inside the seeded sides, with Linfield narrowly missing out.
However, there is still tricky opposition in the unseeded category.
This morning it was narrowed down to five possible opponents.
Zrinjski (Bosnia-Herzegovnia)
Lech Poznań (Poland)
Hibernians (Malta)
Shkupi (North Macedonia)
Dinamo Batumi (Georgia)
Lech Poznan are certainly the biggest name among the unseeded sides and the most difficult draw. It's unfortunate for the Premier Division side to be in their grouping.
Several of the other teams represent a lot of travelling but there are certainly winnable games for the Premier Division champions.
Undoubtedly, Hibernians of Malta is the plum tie from a Shamrock Rovers point of view.
What can they get – progress and financial
The crucial aspect of the draw is Shamrock Rovers are on UEFA's 'champions' route. Hoops are guaranteed over €800,000 by being Ireland's Champions League representative.
The figures are based on UEFA's last publication of prize money and assuming there are no changes from last season.
One win would guarantee a place in the Europa League third round and a minimum of a play-off for the Europa Conference League. Financially it's a haul of over €1.4m.
An exit bonus for champions of countries failing to make a group phase makes up a big portion of this cash.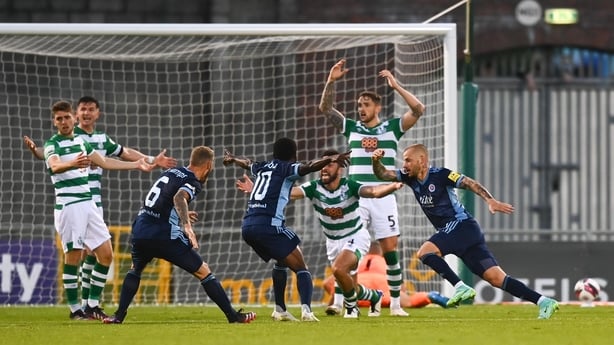 Two Champions League wins would guarantee Europa Conference League group stage, a pot of close to €2.9m.
Defeat in the first round of Champions League qualifying would move Shamrock Rovers to the Europa Conference second round. Last year they did receive a bye to round three, it's unlikely that would be repeated. Crucially, there would be a seeding that comes with it.
Last year the Tallaght outfit bagged €1.5m in prize money as they exited at the Conference League play-off round.
It left them ruing a missed opportunity and group stage qualification is the major target.
Stephen Bradley and his troops will also know their possible second round opponents with that draw being made on Wednesday.
Europa Conference League - St Pat's, Derry City and Sligo Rovers
Due to Ireland's low ranking on the European club stage, League of Ireland sides no longer feature in the the Europa League. As mentioned above, Derry City and Sligo Rovers will be taking an interest in Tuesday's first round draw for the Conference League.
St Patrick's Athletic have an extra 24 hours to wait to find out their second-round opponent with the draw scheduled for Wednesday. Derry and Sligo will both be in that draw.
All Irish clubs will be unseeded in their respective draws.
Derry and Sligo's possible opponents totalled at 30 but are now narrowed down to five each.
Derry City's possible opponents:
Pogon Szczecin (Poland)
Flora Tallinn (Estonia)
Crusaders (Northern Ireland)
Riga FC (Latvia)
HB Torshavn (Faroe Islands)
Sligo Rovers' possible opponents:
CS Fola Esch (Luxembourg)
DAC Dunajska Streda (Slovakia)
Europa FC (Gibraltar)
Breidablik (Iceland)
Bala Town (Wales)
If the Champions League has a 'luck of the draw' element, that applies even more so to the Conference.
Derry City potentially face two tough ties in Szczecin of Poland as well as Flora Tallinn, who qualified for the group stage by beating Shamrock Rovers last year. Riga FC are also a tricky opposition.
HB Torshavn progressed through a round last year before a heavy defeat to Maccabi Haifa. Finally, there is a potentially all-Irish class with Crusaders. A European game with just 90 kilometres between the teams would be a special occasion.
For Sligo, there is also varying degrees of difficulty.
DAC Dunajska Streda from Slovakia come from a stronger league, while Fola Esch of Luxembourg beat Linfield over two legs to reach round three.
With memories of a painful defeat to FH of Iceland last year, Breidablik sit top of the table with eight wins out of eight to start the season for a 100% record.
The Bit O' Red will hope their draw is more favourable. Bala Town of Wales were beaten 2-0 on aggregate by Larne last season.
Europa FC from Gibraltar have had good campaign in Europe, although exited in the first round last year.
What can they get – progress and financial
The Europa Conference League qualifying is four rounds. No Irish side has ever progressed through a qualification process where they won four ties. The Champions League and the potential dropdown to lesser competitions remains the most favourable and realistic route.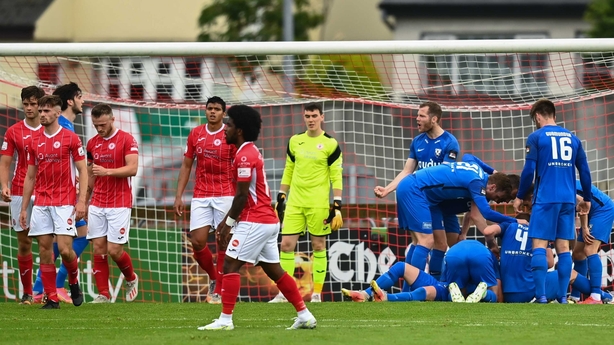 For the north-west clubs, they watched on with envy as Bohemians and Dundalk made it to round three and bagged over €800,000 last season.
Sligo fell as the first hurdle, which brings with it €250,000. They missed out on the money their league rivals accumulated.
The second round brings more recognisable names like Basel, Slavia Prague, PAOK (who Bohemians took all the way in round three last year) and Scottish side Motherwell.
Pat's have the guarantee of the boosted prize money but more so they'll be focused on a bustling Richmond Park and hoping for a favourable draw to repeat the feat of the Irish clubs last season.
The draws begin today at 11am and 1pm, with the second rounds on Wednesday.