Stephen Kenny recently signed a new contract with the FAI, however, just two games into the Nations League campaign, the manager was fending off questions regarding his suitability for the position.
A shaky start to his tenure, failing to win a game in his first eleven, while only registering one goal in the opening eight matches, Kenny finally started to gain plaudits with excellent performances against quality sides like Portugal, twice, Serbia and Belgium.
So much so that it prompted the manager to make a bold assertion that he was targeting promotion to the top tier of the Nations League as group winners.
Drawn in a group alongside Ukraine, Scotland and Armenia, the ambition remained as the side went into the competition brimming with confidence off the back of an eight-game unbeaten record.
Two games. Two defeats, one against the lower ranked Armenia, and suddenly, the knives were out, being sharpened right in front of the manager's eyes, as the media cared to question his leadership ability.
"I do, absolutely, without a shadow of a doubt," said Kenny, when asked whether he still believed that he was the right man to take Ireland forward.
"I've just a signed a new contract and I'm committed here until after the Euros.
"We've just lost two very very narrow games that we are disappointed to lose. We are getting ready for the game, and we're just fully focused on the game tomorrow."
Kenny enjoyed unparalleled success as a club manager in the League of Ireland with Dundalk, while also winning trophies with Derry City and Bohemians, however, there have been difficult periods as well, most notably at Shamrock Rovers in 2012.
And perhaps because of the Scottish connection with this weekend's game, Kenny's record managing Dunfermline was brought up in the conversation.
Kenny spent just over a year at East End Park, and while he guided the Fife club to the Scottish Cup final, the team were ultimately relegated and he parted ways early in the next season.
"When I took the job I was 34 years of age," said Kenny. "We beat Rangers, Hearts, Hibs, and Patrick Thistle. We took on all of Edinburgh and Glasgow to get to the final and lost a narrow game to Celtic.
"It was a great experience. I made mistakes. I definitely did. I learned a lot. That was part of my learning as a manager, and it was a good experience."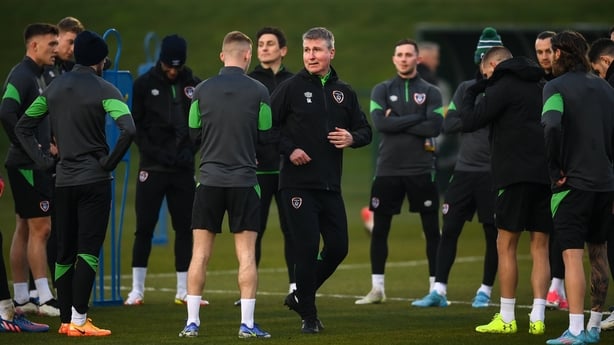 And while Kenny admitted that he has been learning on the job as national manager, he attempted to focus on the positives, and the potential that exists within this continually emerging squad.
"I've learned a lot, yeah. I have learned a lot," said Kenny. "I think we've got an awful lot of potential in this squad. We are looking to grow and get better and improve and at the moment we are just getting ready for tomorrow's game and making sure we are right."
And while looking ahead to the Scotland game, Kenny, no doubt, has trawled back through the footage of the first two games, where his side failed to score, a disappointing factor, considering the team bagged 23 goals in the previous 12 months.
The manager admitted that his side were lacking in the final third in those opening games, lamenting the fact that they were unable to capitalise on favourable forays forward and proved a touch impatient, looking to go direct quickly rather than build better from the back.
"We probably had more [chances] the other night than Ukraine, and we definitely had more against Armenia," said Kenny. "We were disappointed in the last half hour in Armenia with the amount of possession that we had regarding goalscoring opportunities.
"But I feel that we're not far wrong. We've conceded from a goal from right on the touchline that took a horrific bounce and went into the far corner.
"They have been very tight games, and that can change quickly. You just have to be ruthless in front of goal, we have to be better with our level of creativity in front of goal.
"There will be freshness and fresh impetus in our forward line going into the game tomorrow for sure."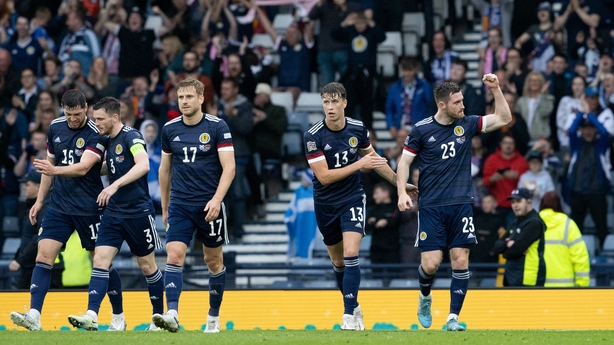 Scotland travel to Dublin on the back of a victory over Armenia, which helped the team bounce back from their World Cup play-off defeat to Ukraine.
And manager Steve Clarke is expecting a tough challenge in Dublin, knowing that Ireland will be "hoping to get a foothold in the group to make the games in September meaningful".
"They probably started the group with high expectations," said Clarke. "It hasn't worked out for them in the two games so far."
Previous games between the sides have tended to turn into derby-style encounters with form-books going out the window due to the high-octane atmosphere that the matches produce.
And while Kenny is expecting a physical aspect to the game, he is hoping that his team will still be able to maintain their shape and style to get some control of the game.
"We know that Scotland are a formidable team when they get everyone out," said Kenny. "We are going to have to be at our best.
"We are going to have changes in the back three. We have to be able to defend well and we have to cause a threat and try to get some control of the game in the way that we are capable of.
"I'm not sure in international football that there is much blood and thunder. At times it is very tactical now, but there will obviously be a physical element.
"They have a very experienced squad. But from our point of view, that doesn't matter. We have a full house, this is our home, the Aviva Stadium and we want to perform and play to the best of our ability and give them something to be proud of."
Follow Republic of Ireland v Scotland (Saturday, 5pm) via our live blog on rte.ie/sport or on the RTÉ News app. Watch live coverage on RTÉ2 and RTÉ Player commencing at 4.15pm, with live radio coverage on RTÉ Radio 1's Saturday Sport.
---
Follow Italy U21s v Republic of Ireland U21s (Tuesday, 5pm) via our live blog on rte.ie/sport or on the RTÉ News app. Watch live coverage on RTÉ2 and RTÉ Player commencing at 4.30pm
---
Follow Ukraine v Republic of Ireland (Tuesday, 7.45pm) via our live blog on rte.ie/sport or on the RTÉ News app. Watch live coverage on RTÉ2 and RTÉ Player commencing at 7pm