"It's in our hands now."
In the immediate aftermath of the Republic of Ireland Under-21s' pivotal qualifying win in Sweden at the end of March, it was clear that Jim Crawford's thoughts were already turning towards the time when the result could be built on.
Victory in Boras courtesy of goals from Ross Tierney and Tyriek Wright gave hope but it's the sixth page of the calendar that will be decisive when it comes to the Boys in Green's fate.
Ireland face Bosnia and Montenegro on 3 and 6 June at Tallaght Stadium - both games will be live on RTÉ2 and RTÉ Player - before a trip to group leaders Italy on the 14th.
As things stand, head coach Crawford's side are third in the standings, one point behind Sweden, but with a game in hand on the team they beat home and away consecutively. Italy are four points up the road but face Luxembourg and the Swedes.
Should a buoyant Irish side win the home games against the Bosnians and Montenegrins, then favourable results elsewhere could set up a clash a winner-takes-all clash against the Italians which could decide which of the teams qualify directly for the 2023 European Under-21 Championships and which one ends up in a play-off.
The first scenario is the ideal for Ireland with the aim of qualifying for a first major tournament at that age grade but a play-off would also mean the eventuality would remain very much alive.
With games in hand on those around them #IRLU21 will now feel more confident about getting a play-off spot for the @UEFAUnder21 championships in 2023 #rtesoccer #COYBIG | #WeAreOne pic.twitter.com/eg13kEoQly

— RTÉ Soccer (@RTEsoccer) March 29, 2022
"We're in a very good position at the minute. It's in our hands," Crawford, who succeeded Stephen Kenny as U21 head coach just over two years ago, told RTÉ Sport as he looked ahead to the crucial June triple-headers at the FAI's Abbotstown HQ.
"We're in a good place. We went to Sweden in the last window with a very encouraging performance, albeit more defensive than the attacking side of the game, but we're looking forward to the games that are coming up in this window and as I said it's in our own hands."
Citing group favourites Italy's close-run games against Bosnia and Montenegro during the qualifiers, he added that the two home fixtures against the latter two will be "unbelievably tough" even before the challenge of a "fantastic" Azzurri outfit.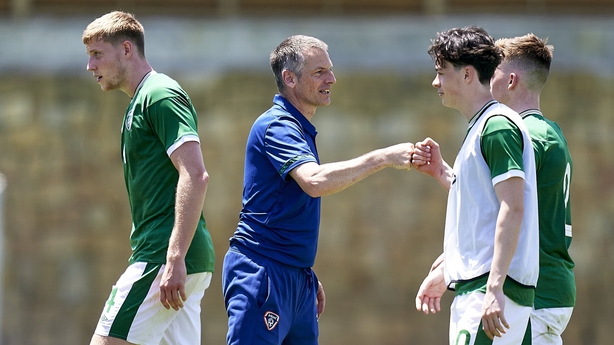 The triple-header nature of the June window also makes it challenging for Ireland when it comes to preparation and recovery.
The early summer of 2021 was deliberately used as a staging ground for that though. Fixtures against Switzerland, the Australia U23s and Denmark were arranged across the span of a week in Marbella to give an insight into how Ireland could approach the challenge of this June's triple header and Crawford is confident that exercise will prove invaluable.
"We knew last year that we needed three games in the June window just to prepare the players for this," he said.
"What was good for us was the quality of the opposition that we had in the last June window.
"But I think the real positive to come from that is to give the players a taste of what they need to do between the end of their own season and coming into individual programmes.
"It was a concern last June but it was a great learning curve for both staff and players. We all need to be all on the same hymn sheet in regard to the fitness programme."
'It was always in my mind that the League of Ireland players now have really good fitness levels compared to the last window'
That learning curve relates to the fact that players based outside of the League of Ireland will largely not be as match sharp given that their seasons have ended weeks before the June window begins and are coming off the back of demanding campaigns.
With squad selection looming, does the sizeable pool of domestic-based players like Andy Lyons, Dawson Devoy and Darragh Burns hold an advantage in his thoughts because they are right in the midst of the LOI season?
"It was always in my mind that the League of Ireland players now have really good fitness levels compared to the last window (in March) where they were really only getting going in their league," said Crawford.
"It puts them physically in a good position. So it's really up to the UK players and the other players in Europe to follow the programme that we've tailored individually for each player due to their position and when they finished the season.
"It does give the domestic players a real advantage because they've got that edge about their game playing week in week out. No decision has been made (about squad selection) but it does give them a real opportunity."
St Patrick's Athletic's Burns has been in excellent form for his club and was rewarded with a maiden U21 call-up in March, having made the switch from Northern Ireland's youth ranks.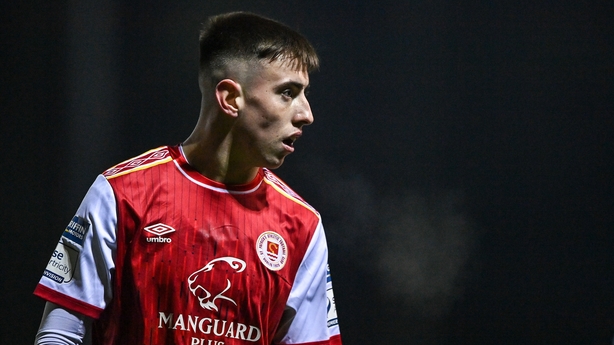 "We brought Darragh in for an Under-20s group and we brought in the Under-20s group because the 2002s were sort of neglected with the whole pandemic where a lot of the players were unable to put on a green jersey for a number of years, so we just said we need to get a look at them and make them feel there's no doubt we're interested in players whether it's home or abroad 2002s for the next campaign," said Crawford of the Meath-born winger, adding that his handling of the step up to training with the Under-21s has been such that the head coach would have been comfortable giving him some on-pitch invovlement in Sweden if it had been required.
As it happened, Burns did not make an appearance in March. But Ireland will be hoping to appear in Romania and Georgia in June 2023 when the U21 Euros tournament proper kicks off.
On one hand, history would be made by just being there. But Crawford is hopeful qualification would have long-term benefits for the players and Stephen Kenny's senior squad in the future, citing the experience of his assistant, former Manchester United and Ireland defender John O'Shea who was part of Brian Kerr's Boys in Green generation which graced major youth tournaments.
Crawford, who also holds dear the enduring bonds he himself built with players he shared a squad with for Ireland at the 1993 World University Games in Buffalo, New York, sees O'Shea's Under-16 and Under-18 tournament experiences as a template.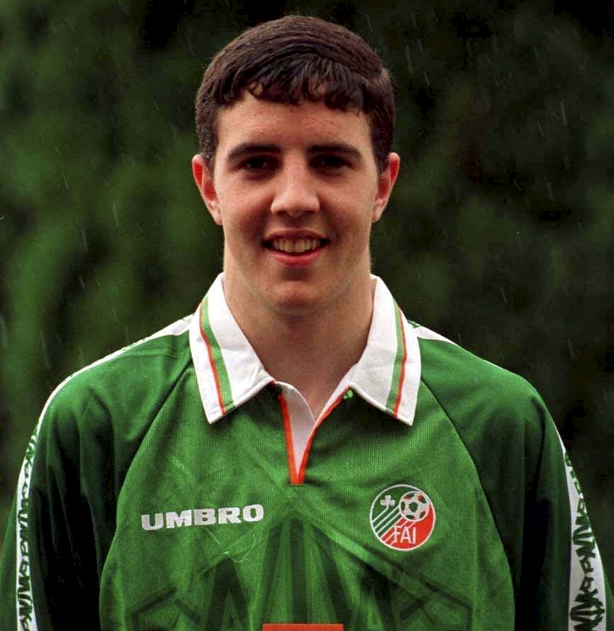 "There's no doubt about it we talk to John about those experiences in those Irish teams that did ever so well and how it acted as a springboard for his own personal career," he said.
"It was fantastic and I remember the razzmattazz around the whole country at the time when it was happening. It was fantastic and you'd like to repeat that again and have a really good news story for the Under-21s.
"But certainly from the players' perspective, there's no doubt about it, when you play in high pressure games against top quality European opposition, that's going to help you benefit as a player. It's certainly going to act as a catalyst for you to go and become the best possible player you can."
And for Crawford and his Under-21s, the aim is that the Bosnia game on 3 June acts as the first catalyst on that road.