A 19-year-old man has been charged with assault and throwing an item onto the pitch during Everton's Premier League game against Aston Villa on Saturday.
Roger Tweedle, of Cranehurst Road, Walton, was released on conditional bail to appear at South Sefton Magistrates Court on February 28, Merseyside Police said.
Two Villa players were floored by a bottle that was thrown from the crowd during their side's 1-0 victory at Goodison Park.
Former Everton defender Lucas Digne, who had only left the Toffees nine days earlier, and Matty Cash both ended up on the ground after being struck as Villa players celebrated Emiliano Buendia's first-half goal.
In a statement on their website after the match, Everton confirmed a supporter had been arrested after being identified using CCTV footage and that the club would "issue bans to any fans identified throwing objects".
The game was Duncan Ferguson's first in charge of his second spell as Everton caretaker manager following the dismissal of Rafael Benitez.
Ferguson said: "I never saw the bottles thrown, I've been told after and we don't want that, it is bang out of order. That is not the way to do things. It is totally wrong."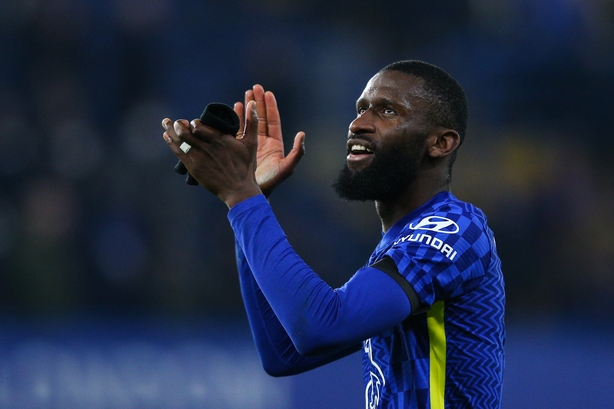 Meanwhile Thomas Tuchel has urged football fans to curb their risky behaviour to protect English football's "unique atmosphere".
Antonio Rudiger was struck by a lighter thrown from the away supporters as Chelsea toppled Tottenham 2-0 in the Premier League at Stamford Bridge on Sunday.
Hakim Ziyech's wonder strike and Thiago Silva's header handed Chelsea their third win over Spurs in the month, after victories in both legs of the Carabao Cup semi-final.
Chelsea boss Tuchel released a message this week after the Blues beefed up security and rules after several recent pitch invasions.
And, after Rudiger was hit by an object thrown from the crowd, the Blues' German boss admitted English football needed to safeguard its interaction between players, coaches and fans.
Asked if recent events had him concerned, Tuchel replied: "I'm not worried, but you are right, I sent the message to our fans - support us, we love to (have) them close to the pitch, we love a brilliant atmosphere (and) that they are not behind fences or nets.
"From there everybody needs to show respect. But in general I'm not concerned. Right now I enjoy the atmosphere.
"If this is a new trend we need to act together to make sure that it stops as soon as possible, to protect the fantastic environment and unique atmosphere of England."
On Rudiger being struck, Tuchel added: "I just heard it some minutes ago, I was actually not aware of all this during the match.
"I think it was during a corner or around the corner, but I have zero information on that."