Twenty years after Ireland were originally supposed to co-host the Euros, could we finally be getting our go?
The word now emanating from the upper echelons of the English FA is that the 2030 World Cup bid is dead, long live the Euro 2028 bid!
As per the Times report on Wednesday, it's been intimated to English officials that they'd be better off focusing on a European Championships bid on the basis that FIFA would rather award their tournament to anyone else.
It's their assessment that the British and Irish bid for 2030 would eventually be done down by "political deal-making" (an alien concept in these islands) and "FIFA's aim of taking the World Cup to new territories".
The chair of the UK's Digital, Media, Culture and Sport committee, Julian Knight, enthusiastically welcomed the news - Mr Knight last year described the 2030 bid as "utter nonsense" - saying today that "everyone knows" a World Cup bid is a "giant, expensive vanity project" and that it was best to aim for something "achievable".
In an appeal to national modesty somewhat unworthy of a Conservative MP in 2022, Mr Knight also urged England to "drop the 'we are the home of football' malarkey".
It's currently believed that a British & Irish Euro 2028 bid would stand a strong chance of succeeding due to the tournament's expansion to 32 teams and the desire of UEFA, in that context, to find a 'low-risk' host, meaning one with the requisite infrastructure already in place.
Remarkably, UEFA isn't sufficiently scarred by the lurid scenes which occurred both outside and inside Wembley at the Euro 2020 final last summer.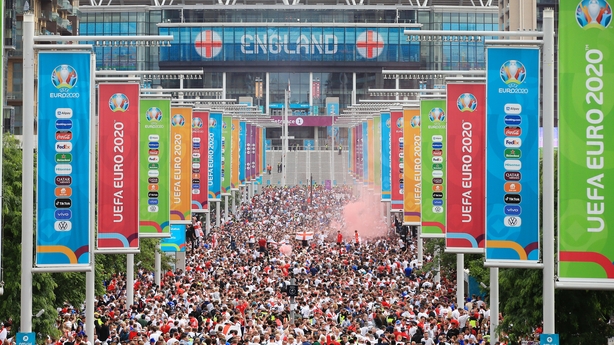 The Irish authorities evidently aren't scarred by our unfortunate (or fortunate, depending on one's perspective) past experience of bidding for major tournaments.
Who can forget the Scottish-Irish bid for Euro 2008?
It's 20 years this September since the bespectacled officials of UEFA were taken on a walking tour of a field in Abbotstown and shown a glossy brochure of a stadium which was never built in the end. The same day, they were ushered into the shimmering blue palace of Croke Park, which was still, alas, a deliberately inhospitable place for soccer men at the time.
The Scots, who were determined to go it alone until infrastructure costs and a change in political leadership forced them to engage their Celtic brethren to the south-west, grew increasingly concerned about the Irish stadium situation.
Despite all the mortification and self-flagellation at home, the Celtic soul brothers bid actually remain one of the favourites until the closing stages and performed strongly on UEFA's technical report stage.
However, it wasn't to be, despite the English FA voting in our favour. As Emmet Malone told this writer a while back, the Austrians and the Swiss - the eventual winners - went into their final presentation and made the pithy observation that the Scotland-Ireland bid consisted of one city with three stadiums (Glasgow) and another city with none (Dublin).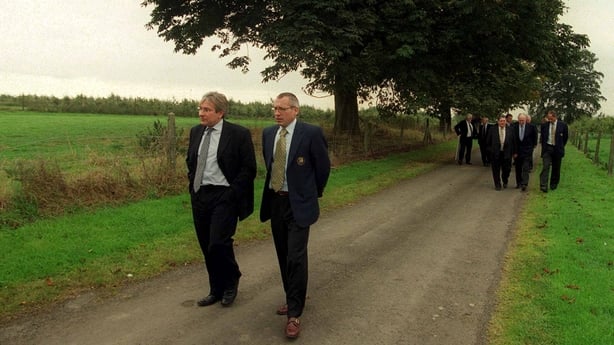 Then there was the 2023 Rugby World Cup bid, about which many were so blithely confident beforehand.
All the soundings were positive until the hammer-blow that arrived with the publication of World Rugby's technical review, in which the assessors had some rather uncomplimentary things to say about the technological infrastructure available in some of our premier provincial GAA stadiums.
After it was done and dusted, and Wales and Scotland were revealed to have stabbed us in the back, Fianna Fáil senator Terry Leyden wound up then senator Neale Richmond of Fine Gael in the Seanad by saying the government "couldn't negotiate a piss-up in a brewery" and lamented "what kind of amateurs do we send out anymore?"
"When we were in power, we could negotiate for world events. And I've Scottish connections, I wouldn't lose the Scottish vote or I wouldn't lose the Welsh vote!" added Leyden.
The FAI did succeed in winning the bid to host four games in Euro 2020, though fate intervened once more, as if it was determined to wash away all traces of John Delaney's legacy. Ireland's cautious stance on Covid-19 restrictions meant it was only host country unable to commit to a minimum 25% capacity for games in time for the deadline in late April last year.
Given that we were only losing games involving Sweden, Poland and Slovakia - and the England-Germany last-16 game as it happened - the level of public outrage was rather muted.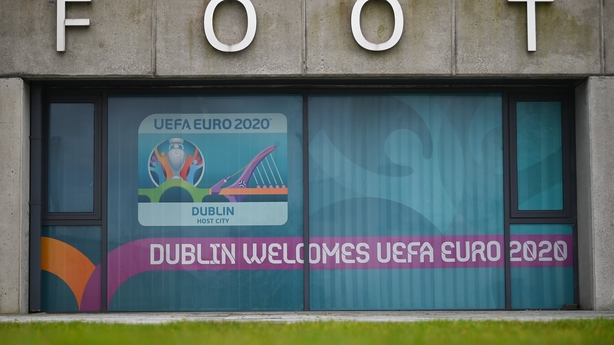 As it stands, the Euro 2028 bid could be fairly classified as 'England and friends'. Four of the eight groups would be held in England, with the other four football nations getting a group each. The island of Ireland, in this envisioning, will have two groups, one held on either side of the border presumably, though Windsor Park only holds 18,000 currently.
The final, unquestionably, will be held in Wembley, and probably both semi-finals.
Winning the Euro 2028 bid would be no guarantee of participation. The five host nations - England, Republic of Ireland, Northern Ireland, Scotland, Wales - wouldn't be offered guaranteed slots and would have to navigate their way through qualifying, as with everyone else.
The anglo-centric Times report which broke the story said that this "would suit England, who would see little benefit in playing only friendlies in the run-up to the tournament", though didn't speculate whether it would suit the other host nations, a couple of whom might at least be in some danger of not qualifying.
Last summer, Covid-19 restrictions meant that Ireland missed out on joining Azerbaijan and Romania as the only countries ever to host a European Championship finals in which they were not participating.
Hopefully, unless our footballing fortunes have taken a further nosedive, this won't be a problem in 2028, by which time it would be officially easier to list out all the countries who are not competing in the finals than those who are.
UEFA evidently have decided that having 24 spots available for a major finals tournament was a bit too stingy and exclusivist and so 2024 will be the third and last Euros to be so constituted.
There are currently 55 affiliated UEFA members with 32 lining out at the starting gate in June 2028. The one saving grace is that 32 teams makes rather more mathematical sense than 24.
To illustrate how small an order qualifying for this 32-team jamboree would be, Ireland's performance in last year's World Cup 2022 qualifiers would likely have seen us through, right enough.
To think that in 1982, the arch-purists - including Brian Glanville - bemoaned the increase in World Cup participants from 16 to 24, regarding this as unconscionable bloat.
It seems incredible to recall that the Republic of Ireland managed to reach an eight-team tournament 34 years ago.
It all seems very quaint compared to the era into which we're about to enter, which will put one in mind of the old joke about it being harder to get off the Irish rugby team than to get on it.
Over time, the thrill of qualification will be diluted but no doubt people will still enjoy the summer party.
We need your consent to load this rte-player contentWe use rte-player to manage extra content that can set cookies on your device and collect data about your activity. Please review their details and accept them to load the content.Manage Preferences