While most of our hope is pinned on Ireland's younger crop, two of the strongest performers in the autumn came from an older vintage.
Matt Doherty, with his permanent clapped-out hangdog expression, was exceptional in both defence and attack in Faro, despite reporting afterwards that his body "shut down" in the second half.
Jeff Hendrick, meanwhile, a popular target for criticism in latter years, delivered a bravura display in midfield against Qatar, following on from an impressive effort against Serbia a month previously.
Since shining in the Euro 2016 qualifiers and then emerging as one of Ireland's finest players in the tournament proper, it appeared that many Irish fans had grown weary of looking at Hendrick in the starting line-up.
His status as a near-constant presence since Euro 2016 has probably not helped him here. He's become a popular scapegoat after bad Ireland results, often unfairly, and partially, one suspects, because supporters are loath to attack the newer players (at the Serbia game, a furious fan in my vicinity launched a tirade of abuse at Hendrick after Adam Idah had given the ball away).
Doherty, by contrast, missed out on the uplifting Euro 2016 journey and didn't get a proper run in the international team until Martin O'Neill was shunted out the door. His early displays for Ireland, usually playing in a shape ill-suited to his abilities, were lethargic and underwhelming though he eventually announced himself with a marvelous performance at home to Denmark in Mick McCarthy's stirring final game in charge.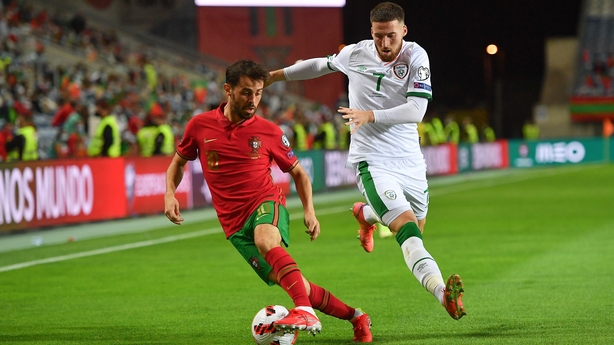 Doherty has a languid air on the pitch, though his class is evident and he's adept at cutting inside and shimmying through gaps with subtle feints. Ireland's adoption of a 3-5-2 shape clearly suits him. Indeed, it was adopted partly to suit him.
Largely ignored by O'Neill and used in fits and starts by McCarthy, Doherty's experience under Kenny has been radically different. Alongside Shane Duffy, he has the most appearances in the Kenny era, with 16. Hendrick, despite being omitted on a couple of high profile occasions, sits third on his own with 12.
Ironically, both are flourishing at international level at a moment when their club careers have stalled.
Though he banged in a goal against Wolves last month, Hendrick didn't even make the matchday squad for Newcastle's recent games against Chelsea and Brighton. Given that a petro-dollar funded buying spree is in the offing, one assumes Hendrick will have to hightail it to another club soon.
Stephen Kenny observed last week that Newcastle were picking on last season's form by excluding Hendrick from match-day squads.
Doherty did at least come on as a sub in Spurs' 0-0 draw at Everton, Antonio Conte's first game in charge. It was his first Premier League appearance since they played Man City at the start of the season. Bizarrely, he failed to get a look-in under Nuno Espirito Santo, the manager under whom he took wing at Wolves. Niggling injuries could be a mitigating factor here.
Fortunately, there is a rich history of Irish players thriving in a green shirt while enduring turbulent times in their day-to-day club career. Just as well too, given that we are increasingly reliant on players' hovering around the fringes of their club teams.
The most famous example is Jason McAteer, who, when he fired home the winner against the Dutch in September 2001, was persona non grata with his club manager Graeme Souness at Blackburn. That, by all accounts, would be understating the situation.
The pair had a spectacular row in Souness' office in Blackburn, leading to McAteer being frozen out. According to McAteer, it ended with the player asking his manager for a transfer when the latter had just emerged from the shower and was seated with his feet on the desk wearing only a tea towel.
In his euphoric post-match interview, Mick McCarthy promised to "bare" his "backside in Burton's window" if McAteer couldn't get a club, one of his great post-match Barnsley-isms, alongside the backside and the bacon slicer.
Fortunately for the employees of Burton's, they were spared the sight of Mick's naked rear end as McAteer was soon snapped up by Sunderland, the future Irish footballing embassy in the north east. Mick, as it happens, would soon join him.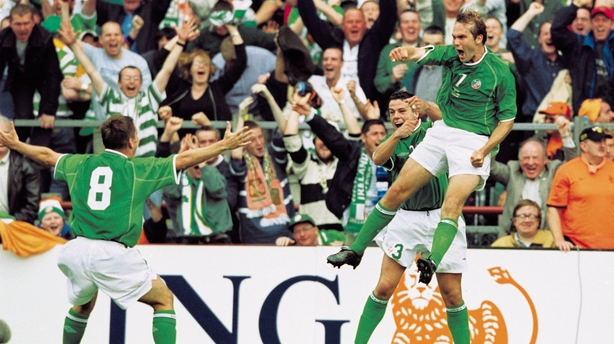 Glenn Whelan is another whose international exploits greatly enhanced his standing within his club. Trapattoni's favourite son was lobbed straight in the Ireland team as soon as the Italian clapped eyes on him and remained there for the guts of a decade.
He was out of favour at Stoke, trapped in the reserves, when he made his competitive debut for Ireland against Georgia in front of a tiny crowd in Mainz (the game was re-located due to a conflict between Georgia and Russia). Like McAteer in rather grander circumstances seven years earlier, Whelan scored on the day, although the goalkeeper's poor handling has to take most of the credit.
Whatever was the Italians' version of Burton's Window, Trapattoni did not have to issue any mooning threats. Soon, Whelan would break back into the Stoke team and would hardly fall out for the next seven or eight years. He made a whopping 291 Premier League appearances for the side until 2017.
The pair had a spectacular row in Souness' office in Blackburn, leading to McAteer being frozen out. According to McAteer, it ended with the player asking his manager for a transfer when the latter had just emerged from the shower and was seated with his feet on the desk wearing only a tea towel.
Darren Randolph could also be instanced as who used the international game to alert his own club to his prowess. Such is the lot of the sub keeper, he'd only been playing in dribs and drabs for West Ham when Shay Given went down with a knee injury in the first half of the famous Germany game. Randolph seized the moment like no other, ended the match with a clean sheet - and an assist.
He never looked back, immediately nailing down his spot as Ireland's first choice keeper for the next half-decade.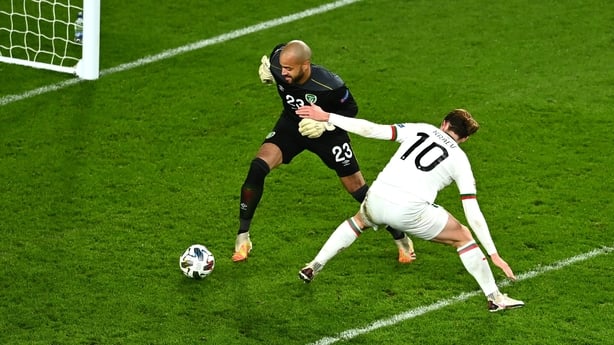 Even Robbie Keane - at a push - could be cited. Ireland's greatest ever striker experienced upheaval at club level between 2008-2011 after his move to Liverpool ended in failure and a swift return to Spurs. He was subsequently farmed out on loan to likes of Celtic - who were struggling at the time - West Ham and Aston Villa, a period which inspired an endless proliferation of 'boyhood dream' jokes.
Through it all, the goals flowed more freely than ever at international level. He mustered six in 10 games in 2009 and a whopping eight in 11 games in 2011. This heavy burst of scoring for Ireland occurred at a time when his club career was tapering off in the UK.
Ireland currently operate in an arena where they're picking from Championship and Scottish Premiership starters and Premier League bit-parters. As of late 2021, Shane Duffy is the only Premier League regular we can call upon. Picking players who are struggling to get minutes at club level in the top flight is our reality at the moment.
One would wish it was otherwise but history indicates it isn't a doomsday scenario either.
Follow the Republic of Ireland v Portugal via our liveblog on RTÉ.ie/sport and the RTÉ News app, watch live on RTÉ 2 and the RTÉ Player, or listen to live radio commentary on 2fm's Game On.