There are few things more important to a manager than a confident striker and Vera Pauw will be hoping that Leanne Kiernan's red-hot club form transfers to the Ireland team for tomorrow night's World Cup qualifier against a mean Swedish outfit.
Not only do Peter Gerhardsson's side rarely cough up goals, but even getting opportunities against the world's number two ranked side can be a challenge.
That has certainly been the case in Group A so far as Sweden racked up a 1-0 win against Slovakia and a 4-0 victory over Georgia. Across those two games they gave up just eight shots, with all of those coming against Slovakia.
Whoever Pauw opts for in attack will therefore have to be at their clinical best and if Kiernan gets the nod from the start or comes in off the bench, she has a decent body of work to call on this season already.
Since signing for Liverpool in the summer and being handed the number nine jersey, the Cavan player has impressed and has three goals in her last two games in the FA Women's Championship. Kiernan also scored the equaliser in the Continental League Cup game with Aston Villa last time out, with the Reds eventually knocking the WSL side out on penalties.
The fact that fellow Irish player Niamh Fahey is also with Liverpool has been a big help.
"It does help when you know some of the girls coming into a new team," the player said. "It's just been really good.
"A lot of the thing is about the environment you're around and my environment is great at the minute. It does help when you're winning.
"A lot of people ask me what it's like playing professional football and it's obviously your job. Listen, if I didn't enjoy the game I would be back at home on the farm in Cavan," she continued.
"I'm just enjoying it and when you enjoy things like this it brings out the best in you as a person. You start playing well when you're smiling and when your personal life is good it kind of falls into place."
Kiernan is hoping that a partisan home crowd of 4,000 can help them cause a major upset against a side that took silver at the Tokyo Olympics.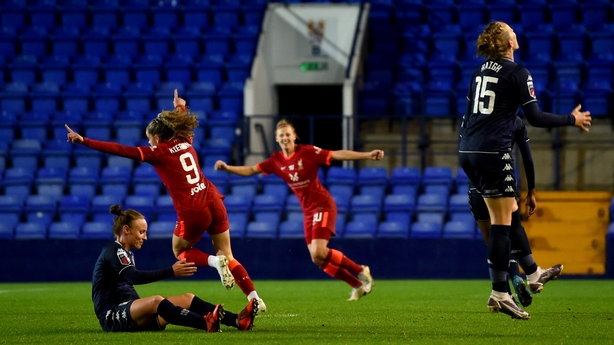 If the game had taken place 24 hours later there may have been avenues available for increasing that attendance after the Government announced that full stadiums would be allowed from Friday, but the player said that she was grateful that there will still be a vociferous crowd present.
"We respect how good Sweden are and we know that they're top two in the world at the moment. We'll focus on our game-plan and we'll work during the week in training and try and catch them on their weaknesses. Being a top two team in the world, they're not going to have many of them.
"We know what we're about and we're looking forward to a full crowd in Tallaght screaming.
"We're still in a pandemic and we're still in Covid restrictions so we do realise that. Unfortunately we can't fill a full stadium but we respect the Government's decision."
The fact that Kiernan is able to train and play currently without injuries hanging over is a major relief to the player.
Her final season with West Ham was essentially a write-off as a hamstring injury and shin splints considerably limited her game-time.
"It has been tough, I was out for maybe nine months last year and it's just frustrating," said the 22-year-old.
"Mentally it made me stronger and I'm definitely a better person from it. Obviously it's not a nice thing to go through but hopefully it will be for the better now, hopefully I can keep banging in the goals.
"I'm still quite young and you're seeing people my age who never get injuries and you're like 'why me?'
"It was the first game of last season when the shin splints came on and I'm quite ignorant – I want to run through the pain until I can't run anymore but that doesn't help either. I have learned from that situation.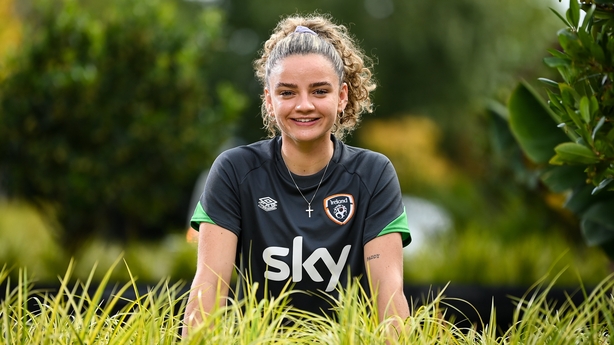 "It's not nice. You're stuck in a gym every day and you're looking at yourself in a mirror and there are only so many times you can listen to songs.
"It makes you stronger in the end and hopefully now I can stay injury free and keep doing well with my club and country."
Follow the Republic of Ireland v Sweden via our liveblog on RTÉ.ie/sport and the RTÉ News app, watch live on RTÉ 2 and the RTÉ Player, or listen to live radio commentary on RTÉ 2fm's Game On.