Irish captain Katie McCabe has said that she will raise the issue with team-mates of a potential on-field protest at sexual abuse problems in the women's game as Vera Pauw's side continue preparations for Thursday's World Cup qualifier against Sweden at Tallaght Stadium.
The manager has already said that the build-up for the game will involve a players' discussion on the issue after allegations against North Carolina Courage coach Paul Riley.
Riley was removed from his position in the aftermath and earlier this month, teams involved in fixtures in America's National Women's Soccer League (NWSL) linked arms together in the sixth minute of their games to form a powerful image in the centre of the field.
The protests received standing ovations from supporters with some fans holding up banners in support of players Sinead Farrelly and Mana Shim who made the allegations against Riley.
LISA FALLON: PAINFUL ABUSE STORIES MUST BE TOLD
FIFA, the NWSL and the US Soccer Federation have all been investigating the claims and McCabe said that she would ask the squad – one that contains North Carolina players Denise O'Sullivan and Diane Caldwell – for their views.
McCabe has already taken part in a protest with her club Arsenal ahead of their match with Everton, and will discuss with her team-mates about whether or not one should follow at international level.
"It's something obviously we've not spoken about," she said.
"Within the WSL we take the knee in terms of the anti-racism, so it'll again be a conversation we'll have.
"We haven't spoken to Sweden or anything on it yet but it will be a conversation whether we choose to do it or not, we haven't decided yet.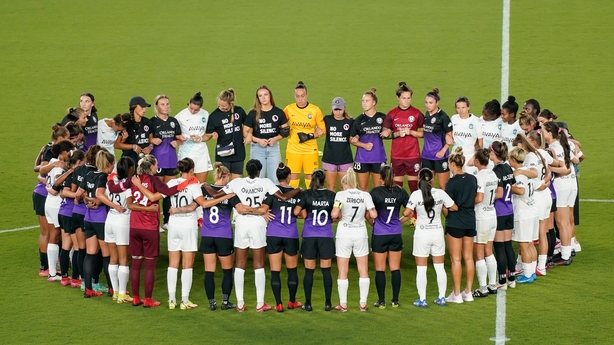 "You saw in the pictures that went around that weekend, we done it ourselves with Everton. It shows awareness and people are asking questions 'why are they doing it?' I think it opens people's minds up.
"I think it's important but something we haven't decided on just yet as a team."
Despite the serious nature of the allegations, McCabe said that the support shown to women's players over the last few weeks has been extremely heartening.
"Ever since the allegations have come out, I think it has obviously shocked the world.
"It's really terrible to see but I think what's more admirable right now is the solidarity that's shown within the women's game with players and staff and current organisations.
"Since it came out, we were originally at the club and the support Arsenal have shown us ever since has been fantastic. Obviously along with coming in (to the Irish camp) and the support has been there for us within our organisation here too.
"We haven't got our whole squad in yet so it will be a conversation for sure to be had.
"It's quite raw given that we have two current players that were coached under the accused.
"It's one to obviously be cautious about because of given how raw things are still, but one that we need to do in the correct manner. We'll be touching on it as a collective."
Follow the Republic of Ireland v Sweden via our liveblog on RTÉ.ie/sport and the RTÉ News app, or watch live on RTÉ 2 and the RTÉ Player.