Vera Pauw is ready to take on the tough challenge of a Scandanavian double-header, which marks the start of the Republic of Ireland's World Cup qualifying campaign.
Ireland will take on world number two-ranked Sweden in their opening encounter before travelling to face Finland in the second game of the upcoming international window.
Pauw's side take on group favourites, Sweden, at Tallaght Stadium on Thursday 21, before flying to Finland to face the side most likely to challenge Ireland for second place in the group.
Only the group winners are guaranteed a place at the 2023 Women's World Cup in Australia and New Zealand, with a play-off route also available for the second place side.
The fixture list for what should be a very competitive Group A was taken out of the FAI's hands and compiled completely by UEFA, due to the fact that the associations could not agree on scheduling, and as a result, Ireland will have a very good indication of their chances following the opening two games.
But Pauw's side will be buoyed going into those ties following last month's impressive 3-2 victory over Australia, and they certainly appeared to have benefitted from playing higher ranked teams in recent months.
"It's a very tough start," said Pauw, speaking to RTE Sport following the announcement of the squad for the two matches.
"But I'm always like 'it is better to have them at the start and keep going from there'. And maybe we can surprise one or two teams.
"It's such a challenge, but let's go for it and see how we will start, and we'll do everything in our power to put down a better performance than last time."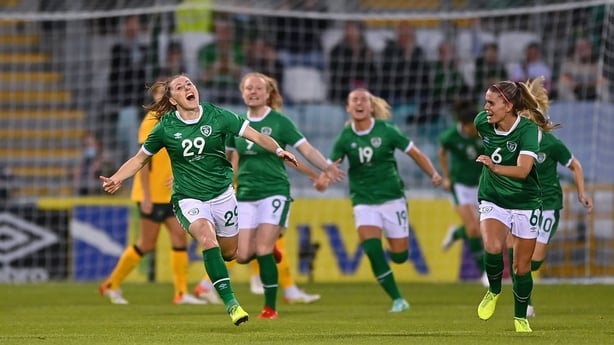 Despite the disappointment of missing out on qualification for the Euros, Pauw has always said that the team do not yet know how far they can go and there is no ceiling on their achievements, and she believes that they have been proving that on the pitch, getting better and better with each performance, without necessarily getting the results.
However, that victory against the much-fancied Australia side, who reached the semi-finals of the Olympics, has given the team real belief ahead of the Sweden game and it has got rid of the fear-factor going into such vital matches.
"Beating Australia gave such a different atmosphere. We always had the belief that we were on the right track, because in every single game, we have performed better and everybody has seen that.
"Of course, you need a win to boost that belief, so, having this win brings the energy to keep going the way we are going, and to be open for new things.
"And if there is any fear of failure, it gets rid of that. Because if you have any fear of failure, you will not succeed.
"We had the opportunities to play lower-ranked sides, but we said no, because we wanted to grow to another level [facing better teams]."