Gavin Bazunu - 6
Was caught in a poor position for the Andorran goal although the culpability for that incident stretches far wider than the goalkeeper.
Had a busier evening than we might have hoped for. Dealt reasonably well with a couple of aerial balls and his distribution was, usually, superior to that of the defenders in front of him - albeit with the proviso he was under less pressure.
Matt Doherty - 6
Had the odd good moment, notably late in the first half when he cut inside, evaded a couple of challenges before getting to the edge of the box but the move ran aground. Not a moment that would have attracted great notice in a half less desultory than the first one.
Was usually tidy on the ball but is inclined to be languid and lethargic on occasion. Gave the ball away in a dangerous area early in the second half but Ireland fortunately snuffed out the chance.
Dara O'Shea - 5
His distribution from the back was sloppy at times and he looked, like the rest of the defence, thoroughly uncomfortable on the ball when pressed by the Andorrans.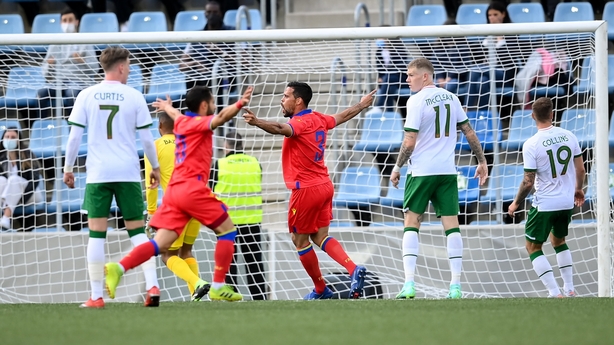 John Egan - 5
Hard to discern who exactly was to blame for Marc Vales' shock 52nd header. Egan, possibly, with some justification, appeared to believe that McClean was supposed to be picking him up. McClean evidently thought otherwise.
Like his central defensive partner, found the afternoon/evening a bit of a chore thanks to the energetic pressing of the hosts.
James McClean - 5
Has been a whipping boy for a sizable segment of Irish supporters for a long time. Answered his critics to some extent with a fine energetic performance against Qatar.
Those critics will likely have found their voice after the opening 45. Gave the ball away with a remarkably determined consistency. Wasted a number of promising situations through poor deliveries. On crosses, the first man was yet again pummeled into submission.
He was, to his credit, better and livelier in the second half. It remains the case that his directness can be an asset to Ireland from time to time, causing uncertainty in opposition defences.
Josh Cullen - 6
Again, distribution of the ball was patchy, at one stage in the first half, with players calling for the ball urgently on the wing, he inexplicably hoisted a high and harmless ball into the Andorran goalkeeper's arms. Subsequently, blazed a chance high and wide on 33 minutes.
Did play better in the second half and worked hard when Ireland didn't have the ball, breaking up Andorra attacks.
Jason Knight - 7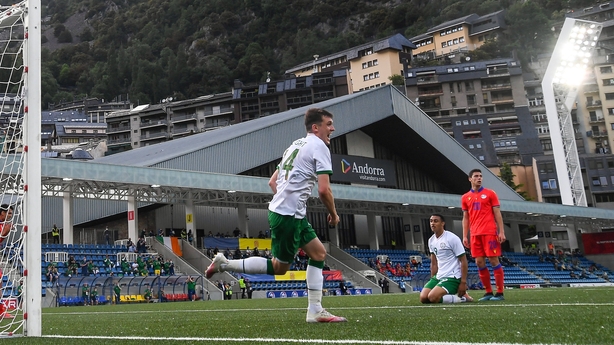 Played out of position on the wing and duly struggled for long patches of the first half. Nonetheless, was never less than lively and grew into the contest as it wore on. A fine cross on 36 minutes was laid on a plate for Collins was frittered away.
Showed great energy to dart in and gobble up the third goal, albeit he was helped in his cause by pathetically weak goalkeeping. Let out an audible roar somewhere between relief and excitement after scoring. Fine cross also for the fourth, returning the favour to Horgan.
Conor Hourihane - 6
Shuffled around midfield to limited positive effect in the first half. Based off his Swansea form and his perceived role as a creator, more should be expected from the midfielder.
Did curl in a lovely cross to the far post for Parrott's second goal.
Ronan Curtis - 5
The Derryman tried hard but, like Collins, there's little complimentary that can be said about his performance. Was largely sloppy and ineffective in possession, curling one shot from the edge of the box well over the bar in the first half.
His decisive moment arrived a minute after Troy Parrott's equaliser. The young Dubliner showed great composure to help a ball across the box for the arriving Curtis. The latter side-footed it wide of the near post. In mitigation, the goalkeeper got across well and - to be generous - concerns about the pitch may have handicapped him. But still a disappointing afternoon.
Troy Parrott - 8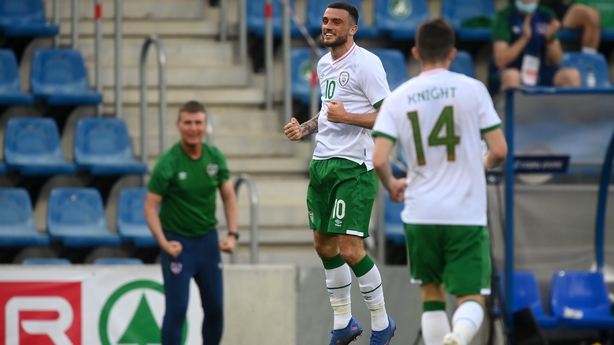 The man who may have saved the Stephen Kenny regime - for the time being at least. He coursed with confidence after brilliantly snapping up the equalising goal. Showed great coolness to lay on a chance for Ronan Curtis which was missed.
Even in the otherwise bleak first half, he was one of the few who looked nifty and stylish on the ball on the rare occasions he received some service.
James Collins - 5
Did well in the opening minutes to chase down an apparent lost cause and hustle an opportunity, centering for Ronan Curtis who just couldn't connect.
It was downhill after that.
Missed a sitter shortly after the half hour mark following a decent period of Irish play. Knight's cross gave him a free header on the edge of the six yard box but he fluffed it horribly.
Showed a poor first touch on a couple of occasions.
Subs
Adam Idah for Collins (65) - 7
Decent 25-minute showing from Idah, displaying good first touch and linking up well with an attack that finally began to click somewhat. A bit of a brainfart in his opening minutes on the pitch when he needlessly strayed offside when Ireland had found themselves in a promising position.
Daryl Horgan for Curtis (65) - 8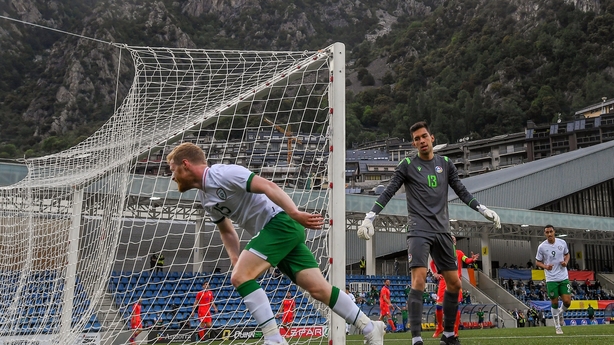 Centrally involved in both goals after coming on. Super cross for Jason Knight's goal on 83 minutes, albeit helped by poor goalkeeping. Possibly aided by coming on when the hosts were tiring.
Jamie McGrath for Parrott (82) - 7
Nice little cameo for the St Mirren player, snapping a shot away from a tight angle shortly after coming on. The second Meathman to play for Ireland after Darragh Lenihan.
Shane Duffy for O'Shea (85)
Ryan Manning for McClean (85)
Harry Arter for Hourihane (85)