Stephen Kenny will take his 27-man Republic of Ireland squad to Girona on Friday knowing a rare luxury awaits him in Spain: time.
Time to coach; time to assess; time - in his own words - "for an element of fun".
After landing, Ireland have six full days to sharpen up before they play Andorra at the Estadi Johan Cruyff in Barcelona. Five days after they go to Budapest to face Hungary, who'll be putting the finishing touches to their Euros preparations.
Eleven games into his tenure, Kenny has yet to taste victory as Ireland senior manager but he would not be drawn on how high the stakes are for these two friendlies.
Ireland manager Stephen Kenny runs through the attributes of the four new faces in his squad for the two June internationals. #RTEsoccer pic.twitter.com/VMnekHVkbN

— RTÉ Soccer (@RTEsoccer) May 24, 2021
"How would you define must win?" he replied when asked if next month represented a chance to break his duck that he has to take.
"Of course I'm disappointed we haven't won matches before now. I'm not going to try and paint another picture. Of course I am. We want to get a win, that's certainly the ambition.
"I get your point and we want to win the game. That'll be a big test for us. We want to make sure we put in good performances in the two games and get the results that we want."
What Kenny wants, first and foremost, is to get stuck into his squad on the training pitch where he'll continue to hammer home his vision of how he wants his team to play, with one eye on September's World Cup qualifiers against Portugal and Azerbaijan.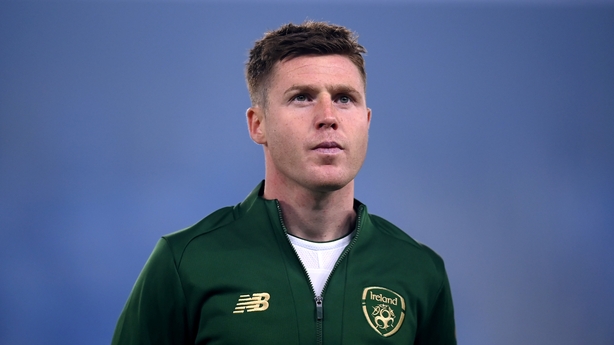 His camp in Spain will be missing a string of established players: Jack Byrne, Enda Stevens, Alan Browne, Kevin Long, Callum O'Dowda, Jeff Hendrick and Robbie Brady are all out due to injury, while James McCarthy - who played for Crystal Palace against Liverpool on Sunday - is getting an extended holiday.
"James has had a really tough season overall going back to last October, when he got injured against Slovakia - he tweaked his hamstring after an hour of that game," said Kenny.
"He's had a very, very tough season since and only recently he's got back into the team and he's played 70 minutes and nearly 80, and [at Anfield] he played 88 actually, and now he's out of contract. James is just trying to get himself right physically. We need him to get himself right and whatever club he's with next season, have a good pre-season and try to start the season and put himself in contention for September."
So the focus switches to the new boys.
Danny Mandroiu, Andrew Omobamidele, Chiedozie Ogbene and Jamie McGrath all come into the senior squad for the first time, with St Mirren's McGrath looking the most likely of the fresh faces to break into Kenny's bigger plans for September's qualifiers.
"It has to be fun when you're training and you're playing. You want an element of fun so people can enjoy themselves."
Still, it's a chance for everyone to stake a claim in what Kenny hopes will be a more relaxed environment.
"People can impress in training or the games.That's what you want, you want that level of competition. We have training time on the pitches which is critical. It gives us a lot of time on the grass, but also it's probably a more relaxed environment. We'd been sort of living in a Covid-induced window.
"It has to be fun when you're training and you're playing. You want an element of fun so people can enjoy themselves.
"Sometimes in a Covid environment that's difficult for people. I'm not saying we're out of the woods with regards to the Covid situation, far from it, but it should be a more relaxed environment in the training ground in Girona. We've a good lead-in time from the Friday to the following Thursday against Andorra. It's an opportunity to get some good work done."
This will be a rare opportunity for Kenny to spend a decent period of time with his players in a club-like environment. The nature of international football means there's a blink-and-you'll miss-us vibe to things sometimes, with coaching time trimmed and the players themselves occasionally going into games undercooked - an issue Kenny has raised a few times in the last six months.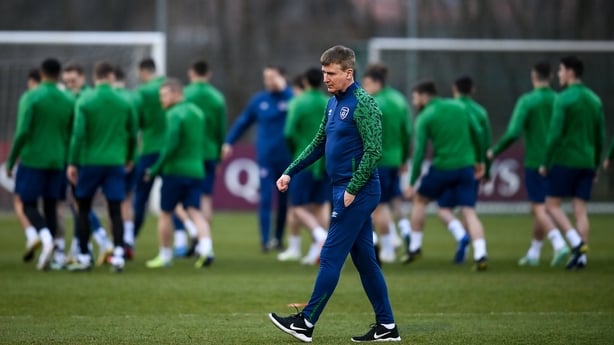 "There's been a big shift in international football to having three games in six days," Kenny added.
"It never ever happened before. Players used to come in on a Sunday, have five or six days, and have a lot of time to kill in those five or six days between Sunday and Friday or Saturday night.
"Now that doesn't exist. The Premier league have a lot of games on Sundays now, with five different kick-off times sometimes. They might only come in on a Monday because they might have been on an 8 o'clock match or a 6 o'clock match (on the Sunday). They're on a flight and they play Wednesday/Saturday/Tuesday.
"The dynamic has changed. Some players, if they're not playing regularly, they don't have the capacity to go with two games in three days.
"You might say, 'why not?'. Because they're going up a level into international football. You're reaching a level up against Serbia and then have to go again three days later. For some players who aren't playing, they find that difficult.
Ireland manager Stephen Kenny runs through the attributes of the four new faces in his squad for the two June internationals. #RTEsoccer pic.twitter.com/VMnekHVkbN

— RTÉ Soccer (@RTEsoccer) May 24, 2021
"So you do need a squad, particularly for say three games against Portugal, Azerbaijan, Serbia - the intensity of those games. You can't just put the 11 out for the three games."
Expanding on the point, the manager reflected on the fact that he's promoted 15 players from the underage teams already in his tenure, capping 13 of them.
It is, he says, a reflection on what's gone before him - Ireland's void of players in their early to mid-20s is down to previous regimes' reluctance, or failure, to consistently bring in new blood. Now they're playing catch-up.
"Some might feel it's too much change too quickly and I understand that viewpoint, but in my opinion that is necessary because we've had absolutely no development for about eight or nine years," argued Kenny.
"We've had one player through in nine years and nobody really looking at that, and then a huge demographic between players (who are) 29 and 30 and 20 - and very little in between.
"We have a bigger vision for what we want to achieve going forward by integrating these players. Not all of them will become top-class international players, but a number of them will.
"We've got a lot of talent and we want to see it develop, we want to give it the opportunity to develop and we want to see the team triumph. That's certainly what we want and we have a clear idea of how we want to do that."