VENUE
King Baudouin Stadium, Sunday, 6.30PM
ONLINE
Live blog on the RTÉ Sport website and the RTÉ News app
WATCH
Live coverage on RTÉ News Now channel and RTÉ Player.
ONCE MORE AGAINST THE ODDS
Though it ended in defeat, Vera Pauw and Niamh Fahey both struck a positive note in their post-match reaction following Thursday's game against Denmark in Tallaght.
An early goal from Everton's Nicoline Sorenson, which Grace Molony allowed slip through her legs, proved decisive on the night.
But after a sluggish and tentative first half display, Ireland emerged from their shell against the World No. 14 team and might have eked out a draw in the end, Katie McCabe thwacking the crossbar with a ferocious shot from distance early in the second half.
Though Ireland were more proactive as the game wore on, the Danes remained dangerous on the counter and, in truth, could as easily have won 2-0 as they could have been pegged back level.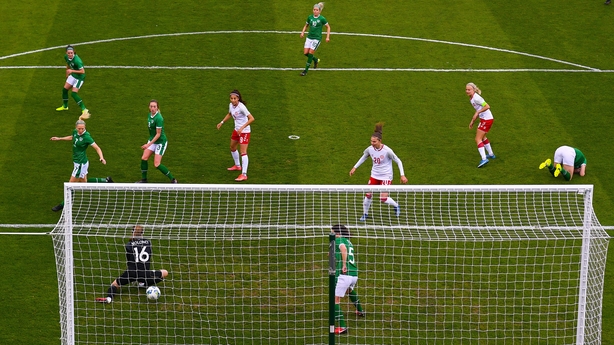 "It looked as if they were getting sharper and sharper as the game went on, they felt that they could play against them," said Pauw after the game.
"I'm especially proud that we are working on that now, and not just kicking the ball away. That only happened two times in the first half and then in the second half, maybe at the end."
Nonetheless, it is a fourth successive defeat for Ireland who haven't won since dispatching Montenegro 3-0 away from home on the eve of the original lockdown on 11 March last year.
Three of those losses - the home and away defeats to Germany and Thursday's friendly - they could live with.
That defeat in Ukraine remains the sickening memory of 2020, denying Ireland a shot at the Euro 2021 (now Euro 2022) playoffs.
Vera Pauw's decision to remain in her position was broadly welcomed, with many asserting that the team had progressed under her management, commending the style of play. However, there were dissident voices arguing that Ireland's progression had been over-stated, with a third place finish the ultimate result from the Euros campaign, as it had been under Colin Bell for the 2019 World Cup.
At least come the end of the month, when the draw for the World Cup qualifiers is made, they'll be able to get out from under that disappointment and cast their minds forward.
WHERE SIT THE BELGIANS?
In the midst of heaping praise on last Thursday's opponents, the Republic of Ireland manager issued a mild putdown of Sunday's foes.
"Belgium are only three places lower, a very good team also, but Denmark is by far better," Pauw told reporters afterwards.
Whether the hosts will be chided to hear the Irish boss compare them unfavourably to the Danes remains to be seen. Nonetheless, few neutral observers expect Ireland to triumph in Brussels this weekend.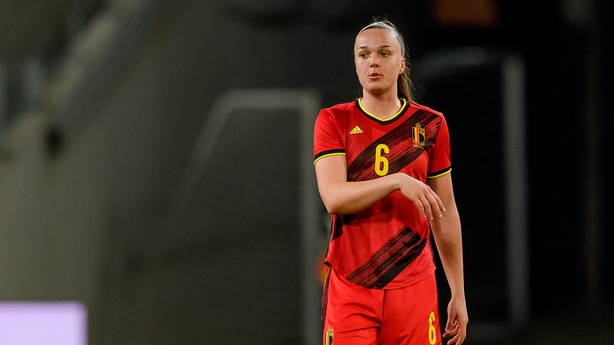 While Ireland were making a hames of things in Ukraine, blowing their shot at Euros qualification, the Belgians were in a straight tussle with Switzerland for the automatic qualifying spot in Group H.
The Swiss had pipped them in the semi-final of the four-way UEFA playoffs for the 2019 World Cup but the Belgians would gain a revenge late last year, an emphatic 4-0 win in the final group game seeing them overhaul their rivals and qualify for their second successive European championship.
The majority of Belgium's players are home-based, with champions Anderlecht providing nine members of the most recent squad.
Their top-scorer Tessa Wullaert just returned to Belgium following a two-season stint with Manchester City, where she picked up an FA Cup winner's medal and a League Cup medal. Wullaert, who has 49 goals for her country, also spent a number of years at Wolfsburg, being brought off the bench in two Champions League finals.
Her club team-mate Tine De Caigny, has 23 goals for Belgium, and scored a brace in that critical 4-0 demolition of Switzerland last November.
The third member of Belgium's potent attacking axis is Lyon's Janice Cayman, who picked up a Champions League medal in her first season with the French giants, albeit as a fringe player.
The 32-year-old attacker has made over 100 appearances for her country, scoring 36 goals.
Their showing against the formidable Norwegians indicated Ives Semeels' team are in rude health, creating numerous chances early on, before succumbing 2-0.
The last meeting between Belgium and Ireland was in January 2019 in Spain, Elena Dhont's first half strike giving the Belgians victory.
Home representation still prominent...
The home side used 15 players in total last Thursday.
Ireland started Thursday's game with one home-based player - Shelbourne's Jamie Finn - but finished the match with four current WNL footballers on the pitch, with the experienced Áine O'Gorman (Peamount United), Ellen Molloy (Wexford Youths) and Emily Whelan (Shelbourne) all introduced after the break.
Belgium squad
Goalkeepers: Nicky Evrard, Diede Lemey, Lisa Lichtfus, Justien Odeurs.
Defenders: Julie Biesmans, Laura Deloose, Laura De Neve, Isabelle Iliano, Davina Philtjens, Charlotte Tison, Amber Tysiak, Jody Vangheluwe, Silke Vanwynsberghe, Sarah Wijnants.
Midfielders: Feli Delecauw, Aster Janssens, Marie Minnaert, Kassandra Missipo, Lenie Onzia, Justine Vanhaevermaet.
Forwards: Janice Cayman, Tine De Caigny, Hannah Eurlings, Jarne Teulings, Chloe Vande Velde, Davinia Vanmechelen, Ella Van Kerkhoven, Tessa Mullaert
Ireland squad
Goalkeepers: Courtney Brosnan (West Ham United), Marie Hourihan (SC Braga), Grace Moloney (Reading)
Defenders: Keeva Keenan (Celtic), Claire O'Riordan (MSV Duisburg), Louise Quinn (Fiorentina), Niamh Fahey (Liverpool), Diane Caldwell (North Carolina Courage), Claire Walsh (Peamount United), Niamh Farrelly (Glasgow City), Áine O'Gorman (Peamount United)
Midfielders: Megan Connolly (Brighton & Hove Albion), Denise O'Sullivan (North Carolina Courage), Ellen Molloy (Wexford Youths), Jamie Finn (Shelbourne), Hayley Nolan (London City Lionesses), Ruesha Littlejohn (Birmingham City), Emily Whelan (Shelbourne), Alli Murphy (London City Lionesses), Katie McCabe (Arsenal)
Forwards: Rianna Jarrett (Brighton & Hove Albion), Amber Barrett (FC Koln), Heather Payne (Florida State University), Kyra Carusa (HB Hoge).