UK Culture Secretary Oliver Dowden is hopeful a large crowd will be able to attend the Euro 2020 final at Wembley but capacity is still to be determined.
The showpiece match of the delayed tournament is due to take place at the English national stadium on 11 July, almost three weeks after it is hoped the remaining lockdown restrictions in the country will have been lifted.
Yet that is no guarantee that sporting stadia and arenas will be able to operate at full capacity, with further restrictions still possible.
The roadmap out of lockdown in England allowed grassroots outdoor sport to resume today. The third step of the easing of restrictions on 17 May at the earliest would allow stadia to open with a 25 per cent capacity limit, up to a maximum of 10,000 spectators. The current plan is then for all restrictions on social contact to be lifted on 21 June.
Over 50% of the adult population in Britain have already received their first dose of a Covid-19 vaccine, far ahead of the European average.
Wembley is hosting seven Euro 2020 matches, including both semi-finals on 6 and 7 July and the final on 11 July.
Dowden, the Secretary of State for Digital, Culture, Media and Sport, said: "I am desperate to get people back into stadiums and arenas.
"The first major step, all being well, is 'stage three' from 17 May. People will be back in stadiums, socially distanced, subject to caps.
"Beyond that, if we continue to stick the course, we are hoping to further ease restrictions and get them back to a level where they can operate commercially viably – so a significant increase in numbers.
"For the (Euro) games before June 21, clearly they'll be subject to some restrictions. After 21 June, including the Euro final, I hope to get as many people in as we can – and significantly more than that – but only if we can do so in a safe way."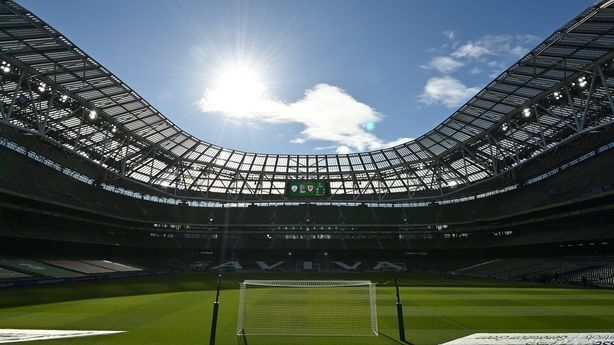 The Republic of Ireland failed to qualify for the championships but Dublin is scheduled to host three Group E games and a last-16 tie in June. That will depend on whether fans are allowed - a dealbreaker for UEFA - and plans to that effect have to be submitted soon.
The easing of restrictions in Britain is dependent on the continued success of the coronavirus vaccine rollout and further reductions in infection rates. Capacities at sporting events will also be determined by the success of a number of pilot events taking place from mid-April.
These will include the World Snooker Championship, an FA Cup semi-final and final but a full list of pilot events is yet to be published.
Dowden said: "They will look at all the different factors associated with hosting events like that, so the journey of people two and from the stadiums, the testing of people before and after to see where the spread risk is, behaviour and ventilation and so on.
"The aim is to get as many people back, and as safely as we can, from 21 June."
One of the FA Cup semi-finals (17/8 April) will serve as a test event for up to 4,000 spectators, made up of local residents and NHS workers, and it is understood the following weekend the Carabao Cup final could test an attendance of double that. There is the possibility of a small number of fans being among the 8,000 crowd.
The ambition for the FA Cup final is to welcome 20,000 spectators into Wembley.
While sporting facilities remain closed under level 5 restrictions in the Republic of Ireland, football and cricket pitches, tennis and basketball courts, outdoor swimming pools and golf courses are now permitted to reopen in Britain.
Some even opened at a minute past midnight. Neon golf balls were used at the Morley Hayes Golf course in Ilkeston, for example, so players were able to tee off seconds after the ban was lifted.