Celtic midfielder Callum McGregor insists the benefits of their much-criticised training camp in Dubai are impossible to recreate back in Scotland.
First Minister Nicola Sturgeon has questioned the purpose of Celtic's trip and whether they are complying with protocols around social-distancing.
Celtic managed to push back their home game against Hibernian 48 hours to next Monday night - against the wishes of their opponents - to facilitate their trip after going on good runs following visits to Dubai during recent winter breaks.
McGregor told the club's official website: "The camp lets us come away into the warm climate and have intense training, and that's the main benefit of the fitness work - it's something you can't replicate at home in the cold weather.
"The added benefit of the heat improves your fitness when you're working at that intensity, it gives you a different level of fitness when you go back, and it's pretty much impossible to recreate that back in the colder climate.
"The objective of the camp is to work as hard as we possibly can and take that into the next stretch of the season. It's slightly different circumstances this time, but the trip and its purpose is exactly the same: we come here, we train exceptionally hard, we hit the reset button and then we go again.
"The trip has been the same for the last few years, as have the benefits of that in terms of fitness work, keeping everyone at their sharpest and getting the boys who've maybe not played as much football up to speed.
"We come here, we train exceptionally hard, we hit the reset button and then we go again."
Nicola Sturgeon however believes Celtic have questions to answer over their Dubai trip.

Speaking at her media briefing on Tuesday, Sturgeon said: "As I understand it, the Scottish Government gave some advice to the SFA about the rules around elite training camps back in November last year. The world around the pandemic has changed quite a bit since November.

"It's not our role to sign off or agree or not agree on what a football club does in terms of training camps. We set out what the rules are.

"The rules have been - and they may need to change given the changing nature of the pandemic - that elite sports can go overseas for training camps if that's important in the context of their training for competitions.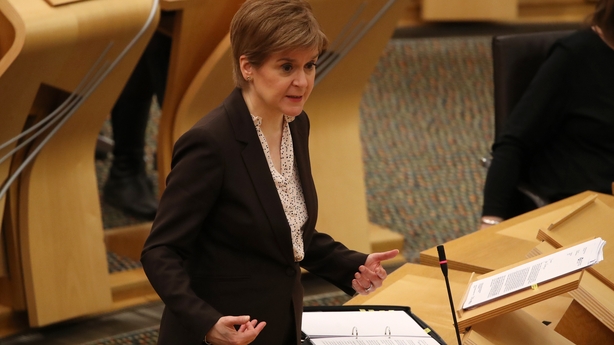 "For me, the question for Celtic - and I am trying to be diplomatic here - is not so much 'are they overseas at a training camp?'. It may be given changing circumstances that in future that won't be appropriate.

"But that's not really the question. It's 'what is the purpose of them being there?'

"I've seen a comment from the club that said it's more for R and R than it is for training.

"I have also seen some photographs - and I can only comment on what I have seen, I don't know the full circumstances - that would raise a question in my mind about whether all the rules at what elite players have to do in their bubble around social distancing are being complied with.

"So I think there are things there that should be looked into.

"Elite sport, and this is not just about Celtic or football, has been in a privileged position at many points over the past year, doing things that the general public can't do.

"We all want our sports teams and people to do well and be able to train properly, but as long as that's the case it's really important that they don't abuse it, that they use it for the purpose it's intended.

"And that applies to Celtic as it would to anybody else in that position."