In the dying moments of the Republic of Ireland's final Euro 2022 qualification campaign, veteran defender Louise Quinn was thrown up front as the hosts tried to claw back a 3-1 deficit against Germany, arguably the best team in the world.
It was a last roll of the dice from manager Vera Pauw but, really, there were too many cracks in the Irish dream by then to piece it back together.
That loss at Tallaght Stadium on 1 December was the final nail in the coffin; though it was the manner of the damage that had been done earlier in the campaign that made it so difficult to swallow.
Ireland had required a win in their final Group I qualifier to guarantee a place in the play-offs for the European Championships but Lina Magull's early strike and a Tabea Wassmuth brace put paid to that. Ukraine won in Montenegro to take second, while Ireland were left to rue some crucial, costly lapses.
Pauw's side fared well in their clashes with the supreme Germans, the world's No 2-ranked team but rated by Pauw as the finest around. They lost 3-0 away and 3-1 in Dublin, which compares favourably to the Ukrainians, who were hammered 8-0 twice by the group winners.
The frustration for Ireland, the cold reality which gnawed at them so painfully, was that they slipped up in two games they had been holding in the palm of their hand: Greece away and Ukraine away.
Their 2020 was a story of hope, genuine progress, and - ultimately - a huge missed opportunity.
---
Lessons in Athens, but optimism abounds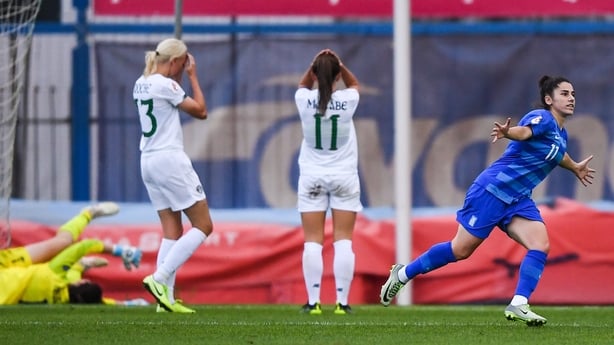 The Pauw era began with a 3-2 win over Ukraine in front of a record-breaking attendance of 5,328 in Tallaght back in October 2019.
The Dutch coach brought a confidence and pragmatism to the role that seemed to energise the players, which was evident in the aftermath of that thrilling win over their main rivals for second place in the group. There was more than joy that night; there was belief.
But Pauw's second match in charge, away to Greece in November, brought a brutal sucker-punch.
Ireland were without Megan Campbell, Megan Connolly, Courtney Brosnan and Claire Walsh and they would badly miss the extra steel and experience of those players.
Protecting a lead they'd earned through Amber Barrett's excellent first-half goal, the visitors sat deeper and deeper as the game ticked into injury time.
The pressure finally told, Anastasia Spyridonidou steering home an equalising volley to break Irish hearts. Greece, physical and tough, ground down their opponents through force of will.
"Everybody has fought their butt off and done everything they could, but it needs to be better," Pauw warned afterwards.
It would get better, but those two dropped points would have major implications. With Germany mauling every other team on the group, the margin for error was smaller.
Full-time: Greece 1-1 Ireland - Heartbreak for Ireland as an injury time equaliser from Anastasia Spyridonidou gives the hosts a 1-1 draw in Athens. #rtesoccer #GREIRL #20x20 pic.twitter.com/hUhmxd3PuN

— RTÉ Soccer (@RTEsoccer) November 12, 2019
Still, optimism was high as we entered 2020.
Having taken a fairly depleted squad to Athens, Pauw bolstered her panel by recalling experienced duo Aine O'Gorman and Ruesha Littlejohn, with Harriet Scott and Heather Payne also returning from injury.
"Everyone is doing so well at the moment, Denise O'Sullivan, Rianna Jarrett, Diane Caldwell, Louise Quinn, Niamh Fahey at Liverpool, so we are really confident," declared the boss,
A deserved 1-0 defeat of the Greeks followed - Caldwell tapping home the winner - and all was right with the world. Then, the world got turned upside down.
Just 24 hours before Ireland's crunch game in Montenegro, the Montenegro Ministry of Health announced it would be played behind closed doors due to the escalating coronavirus outbreak.
It didn't unduly affect the visitors however as they cruised to an impressive 3-0 win at Stadion Pod Malim Brdom in Petrovac - Caldwell, Katie McCabe and Denise O'Sullivan doing the damage.
"Job done," McCabe said afterwards as the Irish moved to the top of the group on 13 points with five games played, though with Germany [twice] and a trip to Ukraine still to come, the hard work was only starting.
Katie McCabe puts Ireland 2-0 up with a stunning free kick #MNEIRL #COYGIG Live on @RTE2 and @RTEPlayerv#rtesoccer pic.twitter.com/9erRzj4sGm

— RTÉ Soccer (@RTEsoccer) March 11, 2020
---
New plans, same goal
In April, it was confirmed that the Euros were being pushed back a year to the summer of 2022.
"It's great to have clarity on when it'll be played so that we can plan accordingly," was Pauw's reaction. Top of the group with three games to go, she was entitled to believe her side would be heading to England for those finals.
In August she vowed to remain as manager if Ireland qualified.
At this point Pauw had been at the helm almost a year. Denise O'Sullivan had matured into one of the best midfielders in the world, while the likes of Rianna Jarrett and Amber Barrett had moved on from Ireland's National League to professional set-ups with Brighton and FC Koln respectively; both becoming fitter, stronger players as a result.
Schuller extends the home lead to 3-0 #RTEsoccer pic.twitter.com/KlXA6Itdl7

— RTÉ Soccer (@RTEsoccer) September 19, 2020
The panel looked in good shape with the vibes positive heading into the refixed game against Germany in mid-September.
Pauw was reluctant to make any grand predictions before the trip to Essen to face a side who'd scored 31 goals without reply in their four previous games and she may have feared the worst when the hosts raced into a three-goal lead inside 41 minutes.
But an encouraging second-half display kept the home team at bay, with Ireland - ranked 32nd in the world - playing some intelligent, attractive football in the process.
"3-0 is not a bad result," Pauw told RTÉ Sport afterwards. "We can take a lot of heart from the second half. We need to take the best out of this game and I think that at times in the second half, we could show that we have quality.
"Next month against Ukraine we will be better prepared.
"Hopefully against Ukraine we can play the way that we played in the second half and because we don't have that strong of an opposition, we think that we can break through."
The mission had now been distilled to one task: avoid defeat in Ukraine and Ireland were heading for the play-offs.
---
The end game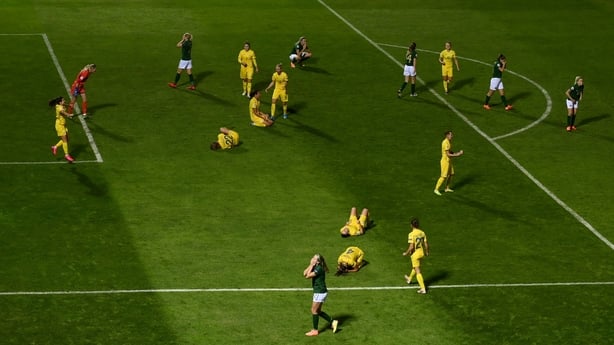 There was confidence in the Irish camp going into their biggest game in years but Pauw knew they would be in for an awkward evening.
Ireland had deserved their 3-2 win against the Ukrainians over a year previously but it wasn't exactly plain sailing either. Without playing particularly well, the visitors came back from two goals down to level it before an unfortunate Natiya Pantsulaya own goal swung it back in the hosts' favour.
"They underestimated us," Pauw said of that encounter.
"I think they were overwhelmed by our structure and the way we were approaching them. When I see how they played against Greece, which is their latest game, their perseverance to get as many goals as they could and the way that they did it, it's more that I've learned from that game than our first game with them."
On a tense night in Kyiv, Ireland started well. Harriett Scott had a go from range and McCabe clipped the crossbar with a free-kick as Pauw's charges bossed possession.
But in the 25th minute, disaster struck. O'Gorman, covering back to cut out a through ball, overcooked a backpass on the stretch that goalkeeper Courtney Brosnan - who was in for the injured Marie Hourihan - misread.
It was a fatal combination of errors. Ukraine were gifted a lead they would not relinquish.
McCabe's missed penalty on 33 minutes enhanced the feeling that it was simply not going to be Ireland's night, and while they poured energy into a desperate second half, Ukraine were able to dig their heels in and ride it out.
With one game to go, Ireland's hopes were suddenly hanging by a thread.
Disaster for Ireland as a mix-up between Aine O'Gorman and keeper Courtney Brosnan leads to an own-goal and Ukraine take the lead https://t.co/DCZgAvv4go #UKRIRL pic.twitter.com/Jl3XbdANoi

— RTÉ Soccer (@RTEsoccer) October 23, 2020
Pauw was honest in her assessment. "We will do everything we can to get a win, but we all know how strong Germany are. We feel that we have given it away here."
Ukraine now essentially had control of their fate. Two wins against Greece and Montenegro would almost certainly seal second, unless Ireland pulled off a monumental win over Germany.
With the bit between their teeth they swept past the Greeks 4-0 at the end of October and then held their nerve against Montenegro. A 2-1 win, coupled with Ireland's 3-1 defeat to Germany, sent them to the play-offs.
In the aftermath, Pauw batted away questions about her future. "Let's first see if the FAI wants me still, that's the first question," she said.
"And if they want, I need to go home, rest, talk with my partner and then look into what I'm going to do.
"But my heart is here. I just broke down... and it's because I'm so proud of this team. Such a bunch of tigers."
It was an anit-climactic end to a year that had promised so much.
But when the dust settled and Pauw had more time to gather her thoughts, she added defiantly: "We don't know where the ceiling is. This team will be at the World Cup 2023 if the draw is not too hard."