Dundalk are looking to end their season in style as they wrap things up with a Europa League Group B clash against Arsenal at the Aviva Stadium.
The Lilywhites come into the game already on a high having edged out Shamrock Rovers in extra-time on Sunday to lift the FAI Cup.
Silverware and securing European soccer for next season ensured that Dundalk finish the campaign on a high and they have one final chance to get points on the board in the Europa League, against a side who have already qualified for the next round as group winners.
First-team manager Shane Keegan will again be in charge against Arsenal with head coach Filippo Giovagnoli banned from the touchline and he is hoping to catch the Gunners off guard.
Keegan believes that his side have a 'free-hit' against Arsenal and with his side buoyed by their FAI Cup triumph, he's hoping to get a result in London.
"It would have been a pretty long and horrible lead into this game if we'd lost on Sunday," he said. "Everybody would have just liked the season to wrap up at that stage if the result hadn't gone in our favour.
"When it does go in your favour smiles are on faces, there's no talk of fatigue and everybody is looking forward to another crack at a super-club essentially.
"We will be disappointed if we come out the other side of this group with zero points and as big as of a task it will be to try and alter that, until it's impossible, it's possible.
"They have their business done, will they take their eye off things? You just don't know.
"From our side of things to a certain extent there is an element of a free shot, but a free shot that will really want to make sure we give our best effort too.
"Our tails are up, is probably the best way of putting it at the moment and I think that momentum and feel-good factor around the club will stand to us."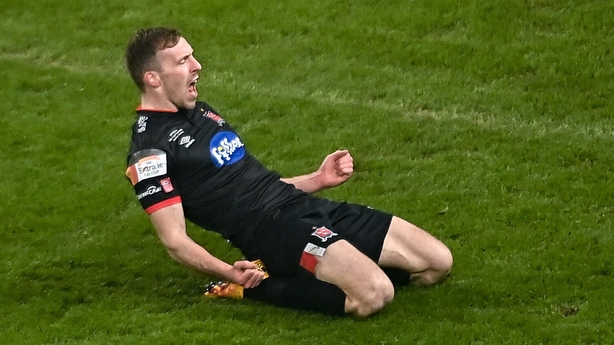 Dundalk will again be without Pat Hoban and Sean Murray but are hopeful that Stefan Colovic can be involved after he recently returned to full training.
Having already lost 3-0 to the Gunners at the Emirates, Keegan is aware of the magnitude of the task facing his side and he warned that even a perfect display from Dundalk might not be enough against the Premier League side.
"If you spend the entire game pressing against a team the quality of Arsenal then they'll likely open you up on a fair few occasions," he explained.
"If you try to sit on the edge of your on 18 [yard box] for the entire 90 minutes against a team the quality of Arsenal then the inevitable onslaught is going to result in a few goals. I think the best way for us is to try and mix that up as much as possible.
"We can only account for our own performance. If we go out and give a 9/10 or a 10/10 performance, then we have to be delighted with how we've done.
"That could mean we've beaten Arsenal, it could mean that we've drawn with Arsenal, it could mean that we've lost 2-0 to Arsenal.
"The scoreline is almost more dependent on if Arsenal give a 5/10 performance or a 10/10."
While Dundalk go into the game in high spirits, the same cannot be said of their opponents, who were on the wrong end of a 2-0 defeat to London rivals Tottenham at the weekend.
The Gunners were unable to lay a hand on Jose Mourinho's side and are in a wretched run of league form, with just one win in their last seven league games and for the first time, there are rumblings about the direction of the club under manager Mikel Arteta.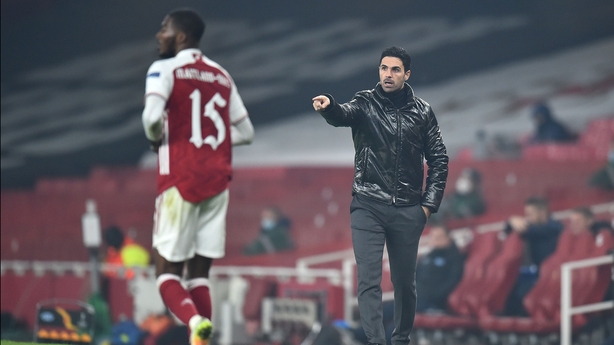 A lack of goals and creating goal-scoring opportunities has become Arsenal's most pressing issue with just 10 goals in the league all season, however they've had no such problems in Europe, winning all five of their group games so far and averaging more than three goals a game.
With the Gunners already assured of their spot in the next round as group winners, Arteta looks set to turn to the youngsters within his squad, with the more established players getting a night off.
Captain Pierre-Emerick Aubameyang has not travelled while Arteta confirmed that Thomas Partey will miss "the next few matches" after picking up a thigh injury in that defeat to Tottenham. David Luiz is expected to be rested but Nicolas Pepe is serving a three-game domestic ban and may start to keep his fitness levels up.
The likes of Joe Willock and Reiss Nelson are expected to start while Folarin Balogun and Emile Smith Rowe will be hoping they can force their way into the starting 11, having impressed off the bench for Arsenal in the campaign.
While Arteta admitted that he will be looking to blood new players in a game that is effectively a dead-rubber, he is still confident that his side will be able to keep their 100% record in the group stage intact,
"We have a few kids here, we left a few players at home as well," the Arsenal manager said.
"There are a lot of games and we need a complete training week as well, which I think is going to benefit us. But we're still going to have a very competitive team to play."