It's not quite mission impossible for Ireland as they welcome Germany to Tallaght Stadium for their crunch Euro 2022 qualifier, but manager Vera Pauw admits that her side will have to have the game of their careers if they're to cause an upset.
Up against the second highest ranked side in the world, who have already secured their European spot as Group I winners, it's a game that Ireland will almost certainly need to win to keep their qualification hopes alive.
With one game left in the group, Pauw's side sit on 13 points and in second place behind runaway group winners Germany. Ukraine are a point further back on 12 points but play bottom of the table Montenegro in their final game.
The equation is a simple one for Ireland, they have to match Ukraine's result, if they're to finish second and book a place in the play-offs.
While Ireland and the Ukraine are separated by just a point, there's chasm sized gulf between the standard of their opponents this evening.
Germany have qualified with a 100% record, scoring 43 goals in seven games and conceding none. Montenegro meanwhile have lost all seven of their games, scoring just once.
Pauw isn't expecting any big favours from Montengro but admitted that she will at least be keeping abreast of events in Kyiv.
"The question is, what is the bigger chance?" she said. "Of Ukraine losing points there or that we gain points from Germany? That's the big question.
"Of course, the ball is round, that's a cliché. We start at zero-zero, that's another cliché. We will do best to play our best game ever and we'll see where we end."
Pauw believes that Germany are even better than their ranking suggests and that they are the best team in the world without any obvious weaknesses that Ireland could exploit.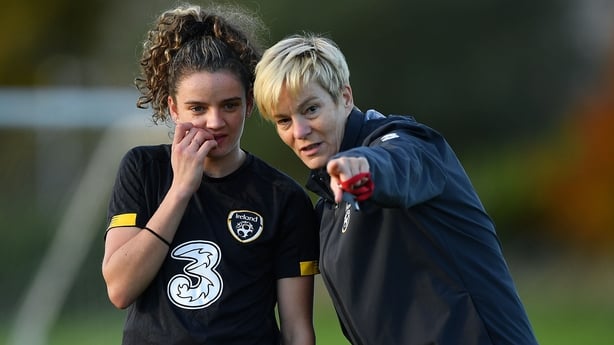 "They're not vulnerable but that doesn't mean that we don't have a gameplan," she said. "They will be at full strength against us. That is a compliment for us, but that is the harsh fact that we need to deal with. We'll make a good game of it and we're ready for it.
"We have players that can do something special. If it's enough to beat Germany, we can see. We'll only know after the game."
Part of the gameplan that Pauw mentions appears to be on curbing Germany's ambitions out wide.
The Ireland boss confirmed that Ireland are seeking to narrow what she calls the 'extremely wide' pitch at Tallaght Stadium in an attempt to force the Germans to play more through the middle.
"What we are going to do, and we're waiting for confirmation, is to bring the pitch size back to a normal size," Pauw revealed.
"The pitch is very wide and we will bring it back to 65 metres, which is a normal size for the international game. It's not a minimal size, it's a normal size.
"We're going to communicate that also with the Germans, we're very open about it. It's not like a trick but it is a realistic, normal action that we have.
"That pitch is extremely wide so it's more about not making it easier than it already is for Germany.
"We need to stop them from scoring to be able to win so of course there's plans on how we're going to do that.
"But I hope that everybody realises that we have to score ourselves. It's not only about stopping Germany scoring but of course if you open it up you get goals against, because opening it up would not be smart."
Pauw was handed a late setback in terms of getting that crucial goal with the news that striker Leanne Kiernan has returned to her club with a hamstring problem.
The West Ham attacker picked up a niggle and Pauw is not willing to risk it developing into a more serious problem by taking a chance and playing her against the Germans.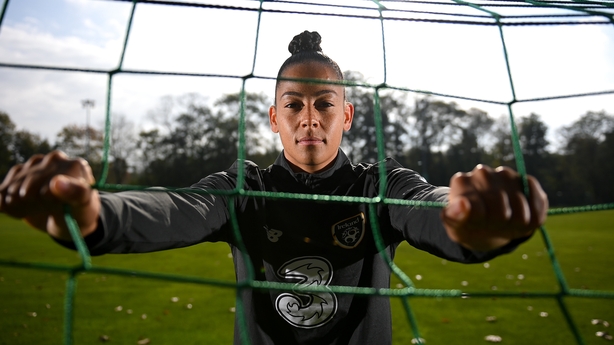 The Ireland boss was always unlikely to go with the same 4-3-3 formation that saw her side beaten 3-0 in Germany and with Kiernan out, she may well be tempted to set-up in a more conservative 4-4-1-1 with Rianna Jarrett leading the line and Denise O'Sullivan playing in behind her.
Whoever does get the nod to start tomorrow, Pauw is confident that they'll do the green jersey justice and she believes that even should her side fall just short time, there's something special developing within the Ireland squad.
"Whatever happens we want to make the country proud," she said. "We want to have this momentum to promote the game for little girls, that they're proud of their heroes on the pitch, that they feel that they can achieve anything.
"But we do know that Germany is Germany, ranked second in the world, best playing football team.
"We also know that we can do everything that we have in our capacity, that doesn't mean that it will go our way.
"We want to show that we give our all and that we make the country proud and that you feel the sprit and feel the enthusiasm of these players who are on the fringe of doing something special.
"If not now, we will do it in the next campaign."
Follow Republic of Ireland v Germany via our liveblog on RTÉ.ie/sport or the RTÉ News app or watch live on RTÉ2 and the RTÉ Player.