VENUE
Tuesday 1 December, Tallaght Stadium, 5pm
TV
RTÉ2 and RTÉ Player from 4.30pm.
Peter Collins is your presenter and joined by Stephanie Roche, Karen Duggan and Chloe Mustaki
Adrian Eames and Lisa Fallon will be in the commentary box and Tony O'Donoghue reporting.
ONLINE
Liveblog on RTÉ.ie and RTÉ News app from 4.30pm
WEATHER
A relatively calm, cool day is in store in Dublin. Cloudy with the chance of the odd shower, temperatures should be around 9 degrees at kick-off.
What do Ireland need?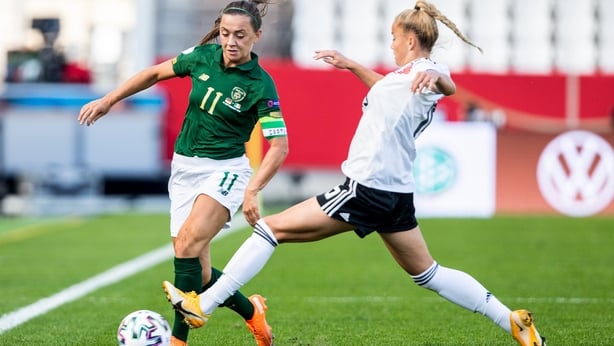 A win and a win only. The painful defeat in Ukraine has left Ireland in a perilous position where they must defy the odds against the far superior German side. Ukraine are likely to move above Ireland in the qualifying table on the final day against Montenegro.
A 3-0 defeat in Essen was not the worst outcome for Pauw's team.
Eight-times champions Germany scored all their three goals in the first half through Marina Hegering, Dzsenifer Marozsan and Lea Schuller, while restricting Ireland to chances from set-pieces.
So it puts it into context that a narrow defeat is not going to be good enough here.
Germany have won 70 of their last 72 qualifiers. Ireland need to do something spectacular, a breakthrough moment for the game.
Pauw said: "There's two things to consider. One is that everyone knows the difficulty (of this game). We're realistic and we've played them already.
"But secondly, our players are Irish. And Irish players go for everything. The finish line is after 90 minutes, plus injury-time, and we'll see after that.
"But we will prepare for a win, of course. Which starts with not losing. But it must be a win. A draw is not enough."
How to stop Germany?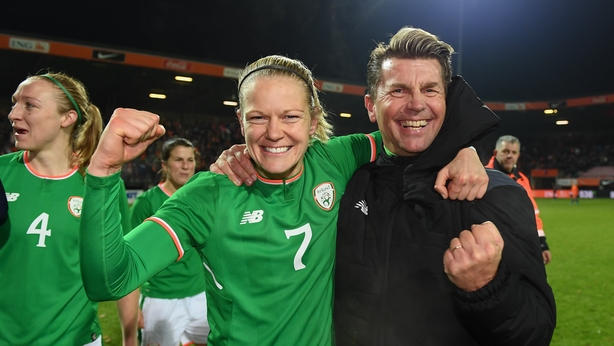 Ireland will look to their famous 0-0 draw with the Netherlands.
Luck went their way on the night, to say the least, as the girls in green soaked up an abundance of pressure from the home side
The Netherlands had several chances to break the deadlock throughout the 90 minutes, but wayward shooting, and some excellent defensive play, saw the game end level.
Ireland will try to sneak a goal on the break and soak up whatever Germany can muster.
Apart from that, there is no way.
Miracles are harder when alone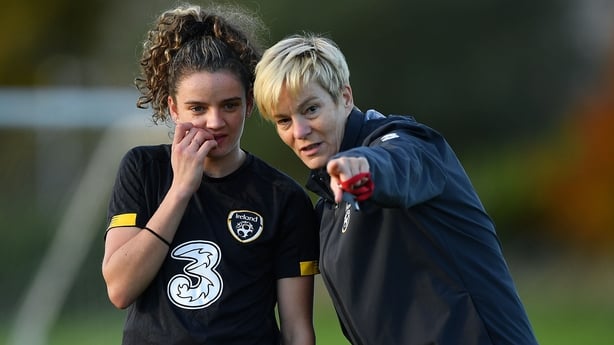 Ireland have been able to draw on a growing fan support in recent times but without the passionate backing it becomes even harder.
Defender Megan Campbell and midfielder Megan Connolly are ruled out due to injury, while Hayley Nolan and Alli Murphy are considered close contacts following a Covid case at London City Lionesses.
Kyra Carusa is unable to travel into Ireland due to Covid protocols in Denmark.
Leanne Kiernan (above) has left the group due to injury.
Final Covid-19 results will not return until matchday, potentially giving Pauw a headache.
Verdict:
The heartbreak of the defeat to Ukraine is set to cost Ireland. This campaign is set to end in failure, but the group is developing all the time.
Watch Republic of Ireland v Germany on Tuesday on RTÉ2 and RTÉ Player, kick-off 5pm. Coverage also on RTÉ.ie and the RTÉ News app.