On 1 December, a daunting home match against Germany provides a last chance for Republic of Ireland to try and claim second place in their UEFA Women's European Championship qualifying group and continue the journey to try and reach a first ever major tournament.
Last month's defeat in Ukraine, who will leapfrog Ireland should they beat Montenegro and the Irish side are unable to pick up a positive result against the Germans, means that dream of qualification may have to wait.
But head coach Vera Pauw is remaining optimistic about the long-term progress being made in pursuit of that goal.
She was in charge of the Netherlands when they made their first major tournament appearance at Euro 2009 and have since gone on to even reach the last World Cup final.
And having witnessed the growth within her own country, Pauw is keeping tabs on the structures being put in place off the field to help maintain a sense of progression for the Irish national side.
"The biggest thing is to get a top sport, an elite sport environment on a daily basis and we're working hard on that to see what we can do within the structure of Ireland," she told RTÉ Sport as she spoke to reporters.
"I would again stress that training with boys is the only way in a short-term basis to achieve that.
"We are in contact with the clubs but especially with the players that they have to train more outside the club training sessions and again I want to stress, outside their club training sessions. It will never come as a substitute activity for their clubs.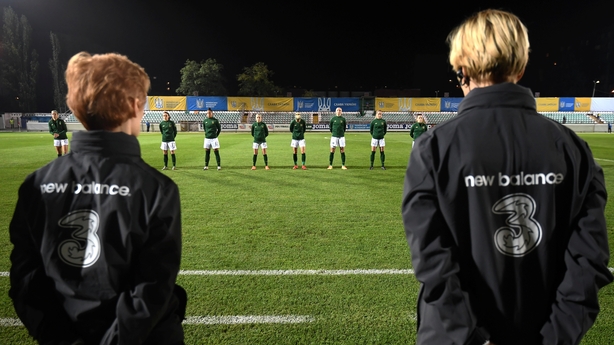 "So they train with their clubs and then what we can do extra to create a situation where everybody gets the load of a top athlete.
"We're forming a plan around it now but that plan needs to be connected to the whole base of grassroots, coach education, referee education, administrator education and recruitment.
"So we are busy with a holistic plan for Ireland and hopefully we can announce that in January.
"You can see there is a work plan based on the strategy plans for high performance and strategy plans for grassroots.
"But now with aims and targets, with tools connected to it, it's really related to where are we now, what are the most important things to work on, what steps do we have to take so that we get a few things sorted very quickly and from there we grow the whole game."
Pauw added that "it looks very bright to come up with a holistic work plan for women's football in Ireland".
But she also feels it is important to maintain a level of identity when it comes to the style of play.
"The players are Irish and they motivate each other with their hearts," she said.
"I remember once in the dressing room, [I said], 'Hey' because they were trying to play a different game, I think it was Ukraine at home.
"[I said], 'Hey, we're Irish, you are Irish. So don't take away your strength and your strength is that you always fight to get pressure and to then go forward.That is your strength'.
"So I relate it again to the task, to the limits and the capacities of the players. And Irish, from nature, play different to the other opposition like for example the Dutch who always like to be in control [of possession] and that can be boring and the Irish game is never boring."