Stephen Kenny stressed that his primary concern amidst the latest Covid crisis within the Ireland camp is for the players affected as a result of testing positive.
Matt Doherty and James McClean withdrew from the squad on Sunday following positive tests, while Alan Browne tested positive on Friday following the England defeat at Wembley. Callum Robinson tested positive at the start of the international window.
Doherty's club manager Jose Mourinho posted a remark on social media, somewhat sarcastically, suggesting that Covid protocols during international week had "total safety", before adding "Covid test results after matches been played, randomers running on the pitch while team sessions are taking place and much more".
"First and foremost, I'm sympathetic towards the players themselves," said Kenny, when asked about Jose Mourinho's comments regarding international football.
"Because it's quite traumatic for a player to get coronavirus in a situation like that and the effect on their families. I think that's lost sometimes. They put themselves out there, they sacrifice themselves.
"Secondly, yes, it isn't ideal for clubs, we must acknowledge that it's not ideal at all, and it's not ideal for international teams either. We all have to live with this situation at the moment."
The manager reiterated his belief that the protocols that are in place around the Ireland squad remain stringent, while admitting that it is difficult to manage the virus.
"To be fair the protocols are quite stringent. In the last camp, we didn't have many. We had two but obviously a further six were ruled out as close contacts," said Kenny.
"That was the reality. We were very strict in our adherence to the HSE guidelines, the two-metre rule, in a way that other countries don't have to because they have a one-metre or a 1.5m rule.
"We didn't have any more than anyone else, I would say, but we had eight ruled out, two with it and six with close contacts in the last camp. Obviously with this camp, we've had four ruled out with it.
"It's difficult to manage it. A lot of the protocols have been followed to a high standard, but just sometimes the virus doesn't discriminate."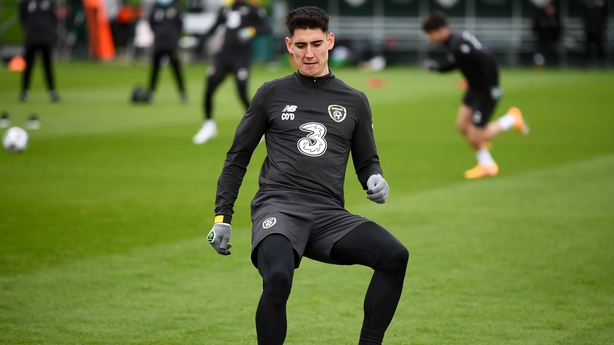 And Kenny outlined the reasons for taking the friendly game with England on Thursday, stating that it was one of only two options, the other being an away game in Bosnia. And the Ireland camp took the England game on safety grounds as a result of the game in Wales making it logistically logical.
"People said we could have taken this friendly or that friendly. We couldn't, we had two options," said Kenny.
"The agreement was to play Slovakia in the play-off, Northern Ireland were to play Bosnia and whoever didn't win were to play each other. That was the agreement. Then obviously the option came up to play England when their friendly was cancelled, or travel to Bosnia.
"We took the game against England and one of the main reasons we took it was for safety reasons, in that we wanted to minimise the risks, meet in England, travel to Cardiff and play in Wales, come to Dublin, minimise the travel time, cut out the close contacts on the plane, minimise all of that.
"Nevertheless, it's very difficult to contain if a player comes in with it and it can happen."
The Ireland manager also paid tribute to goalkeeping coach Alan Kelly, who withdrew from the squad ahead of the Bulgaria game due to health concerns.
"Alan is a great servant to Irish football. He is a terrific goalkeeping coach, he has concerns which he articulated and I've no issues with that. I respect that."
Looking ahead to the game, the manager confirmed that Callum O'Dowda was the only player struggling with an injury ahead of the home clash with Bulgaria on Wedneday night.
"The only concern is Callum O'Dowda, who just has a bit of a dead leg," said Kenny. So we'll see how he does over the next 36 hours, we'll see how he is."