Stephen Kenny admitted that his side were beaten by the better team in Wembley and the manager was not looking to make any excuses as Ireland lost 3-0 to a strong England side.
The manager said that he was disappointed by the way his side conceded, as well as the fact that Ireland failed to create chances throughout the game.
It was Kenny's sixth match in charge and despite not yet winning a game, it was the first time that his side were really outclassed by a team, having drawn with Wales, Bulgaria and Slovakia, while losing a penalty shoot-out, and losing two tight affairs against Finland.
Ireland started brightly against England, however, once the home side scored their first goal in the 18th minute, it was one-way traffic through to the 56th minute when Gareth Southgate's side scored their third of the night.
It was late in the game before Ireland worked a shot on target and by that stage the fixture between the near neighbours was over as a contest.
"We're disappointed to lose the game," said Kenny, speaking at the post match press conference. "We can't complain about the result in any way, shape or form.
"We are disappointed about the goals that we conceded because we have been very good defensively in the last window, so for us to concede three goals like we did was disappointing.
"Their first one hurt us. They scored off a second phase of a corner where it was cleared and put back in.
"So to concede from more or less their first chance hurt us and then we went two down, it was disappointing and that left us with a lot to do once that happened.
"England were very good. Their system is interesting and they played well."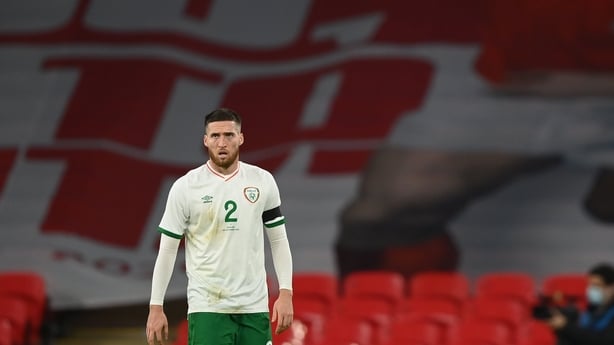 The manager said he was not looking to pick the positives from the game but did believe that his side started the game well, with front players like Daryl Horgan impressing and causing England problems.
He was also encouraged by the way his side finished the game and did not lose heart when they went three down early in the second half.
"We started reasonably well as Daryl Horgan was lively on the right and Alan Browne and Adam Idah got involved," said Kenny.
"John Egan marshals the defence well, he is an important player for us and he goes off and we concede shortly after.
"To concede so soon after half-time, the game could have gone anywhere really, so the fact that we got stronger, and the substitutes made us stronger, I think.
"We had passages with the ball but we didn't create chances. It's the first game that we didn't create chances but England were too good for us on the night."
Harry Maguire headed goal gives England a 1-0 lead at Wembley #ENGIRL #rtesoccer pic.twitter.com/qFpkjUS66q

— RTÉ Soccer (@RTEsoccer) November 12, 2020
Kenny said that despite the heavy defeat, his side are still looking forward to playing Wales in Cardiff on Sunday as they look to bounce back, before facing Bulgaria at home next Wednesday night.
"They learned a lot tonight and it's important international experience against England and it's good to experience it.
"Losing has a negative impact on you and of course getting beaten like that is not good. You don't take any pleasure out of losing.
"I'm not going to talk about looking at the positives, [but] you do get valuable experience playing against teams of that quality, so it benefits in that regard.
"We are looking forward to go to Cardiff and we are looking forward to playing Bulgaria at home. They are important games for us in the Nations League."
The manager was asked about Matt Doherty's comments after the game, where the Spurs defender indicated that he was embarrassed by the defeat, however, Kenny said it was not an issue and he would be more concerned if the players were not disappointed after such a result.
"I'd have to speak to Matt but that doesn't concern me. You'd be alarmed if you weren't disappointed.
"For us to beat England, we would need our absolute best team and then we would have to play really, really well to do that.
"Enda Stevens, John Egan and Seamus Coleman are three of the back four, but I'm not going to sit here and make excuses, we still had a good team out. England were a step above us on the night and they are a very good.
"A lot of players would have gained a lot of experience. And I learned a lot on seeing the players in that environment, individually, and I think that was interesting."