Almost exactly three years ago, on the night of Tuesday 14 November, 2017, Stephen Kenny headed for the Aviva Stadium to watch the Republic of Ireland's World Cup play-off second leg against Denmark.
He took his time, rambling through Ringsend and up towards Ballsbridge, stopping for food along the way. Kenny, then the Dundalk boss, was very much in fan mode.
The mood around Lansdowne Road was buoyant.
A large group of home supporters had arranged a short march from Beggar's Bush up to the stadium 20 minutes before kick-off, loaded with pyros and drums to whip up the atmosphere.
The Danes joined in too, both sets of fans bleeding into each other to create one green, white and red organism that snaked merrily past the scarf sellers.
The noise during the early period of that game was fierce; partisan and a bit angry.
It felt like a big night was on the cards, with home confidence energised by Shane Duffy's early headed goal. Ireland were 84 minutes away from going to the World Cup.
The subsequent collapse was swift and ugly; as if someone had pumped a blast of cold air into an oven full of souffles.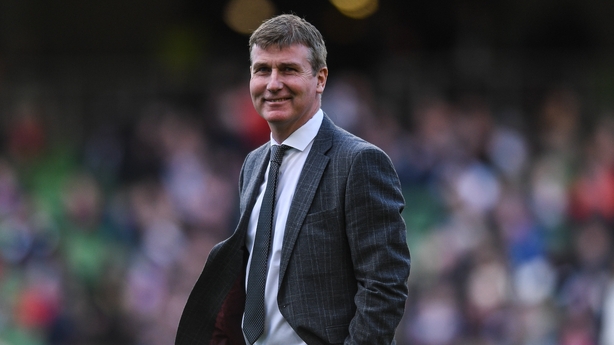 Still, the sense of togetherness prior to all of that stuck with Kenny.
On the way home he allowed himself to daydream about the prospect of one day being the man responsible for such optimism.
That dream, of course, is now a reality. But after a painful night in Bratislava last month, the optimism feels a little fragile.
The general consensus after the dust settled on the Euro 2020 play-off defeat to Slovakia was that Ireland had played with an encouraging conviction and authority when the chips were down.
As the game wore on and the stakes got higher, Ireland became bolder, Kenny's message seemingly being reinforced at half-time, full-time and again at half-time in extra-time.
Ireland's passing and decision-making was scratchy for the first hour or so but they never wavered from the basic Kenny blueprint and there came a point in the second half where something clicked. The accuracy improved; the tempo quickened.
These were good signs considering Kenny had, to that point, just four training sessions under his belt with this squad. The fact his team stuck so resolutely to his principles showed that not only do they understand his way of thinking, they are receptive to it.
Ultimately, Ireland failed to kill off the opposition and, with no finals to aim for, a period of transition is upon us.
Twelve of the squad involved in Bratislava on Wednesday will be over the age of 30 by the time the 2022 World Cup rolls around - and that's not including Seamus Coleman, Harry Arter, Kevin Long and Ciaran Clark. Long-term, they won't all be part of the new regime.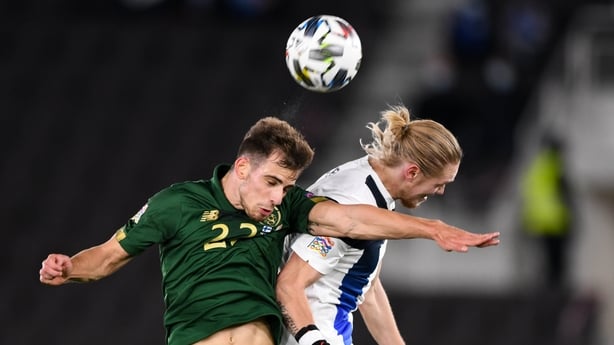 Change is coming.
And with a batch of highly promising young players potentially blossoming in time for the 2022 World Cup qualification campaign, fresher faces could be tasked with progressing this more ambitious approach.
Kenny is a bit of a romantic. He was genuinely moved by the vibe around the Denmark game, and spoke of the feelings of pride and patriotism the occasion stirred in him. He wanted to elicit that same response by leading this team into the Euros. That chance is gone.
There's no doubt Kenny's been an unlucky general so far. He lost Aaron Connolly and Adam Idah right before kick-off in Bratislava due to some massively frustrating Covid-19 confusion; he was hit with more disruption when Jack Byrne tested positive for the virus before the Nations League game in Finland; and on Wednesday Connolly and Callum Robinson had to withdraw from the squad ahead of the friendly with England due to an injury and a Covid-19 positive test result respectively.
David McGoldrick's retirement a week ago has also shorn a goal-shy team of an experienced Premier League forward.
When is the luck going to turn? At what point is this long winter of discontent going to offer something to warm the bones of downtrodden supporters?
A good result at Wembley would help, but the truth is this looks like a fixture destined to fade from the memory banks pretty quickly.
There's been a bit of talk this week about the classic battles these old rivals have had in the past but let's not forget the dreadfully dreary stalemate at the Aviva back in 2015. Tomorrow night could be cut from the same cloth.
It'll hardly be era-defining, though it just might help sprinkle some badly needed positivity on the new era and in fairness it's not completely meaningless either given Ireland are in danger of dropping down to third seeds ahead of the draw for the World Cup qualifiers. They really can't afford to keep on losing,
"I'm looking for the team to develop," Kenny said when batting off suggestions Ireland could have taken on an easier game than a clash with the English after their fixture with Bosnia-Herzegovina was postponed due to Covid-19-related travel complications.
"We've taken on England. Does that make sense to do that? Are people going to go on about win/game ratios in friendlies and things like that? Is that important?
"We've taken on the England game because we don't fear anyone. We're thinking about how can we improve. It's important. These are good games, England at Wembley, Wales in Cardiff, Bulgaria here. They're good games to play in, the lads are excited about playing in them."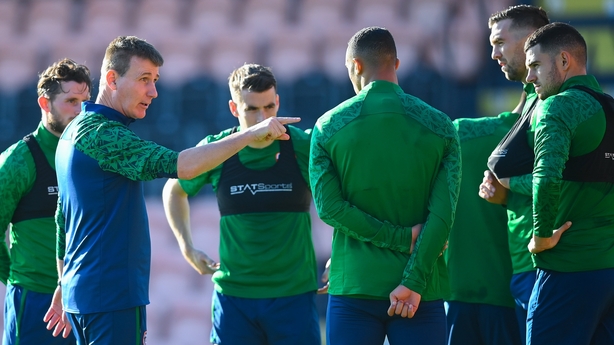 Five games in, one goal and no wins, there's been a few grumbles already but there's been enough in the Irish displays to give fans some hope for the future - even if the promised land of a major tournament might feel like a dot on the horizon.
No drums and no pyro at Wembley tomorrow night then - and while the manager doesn't have time to daydream about the possibilities of a treasured win at a World Cup finals right now, he's grounded enough to know that patience and faith are ultimately only sustained by wins.
Listen to the RTÉ Soccer podcast on Apple Podcasts, SoundCloud, Spotify or wherever you get your podcasts.
Watch the Republic of Ireland's Wembley friendly against England this Thursday with coverage beginning on RTÉ2 and RTÉ Player at 7.30pm.