What do you see when you look at Ollie Horgan?
An accomplished pianist who enjoys the works of Bach and Beethoven?
A maths teacher dedicated to passing on his own passion for theorems and formulae to the pupils of St Eunan's College in Letterkenny?
A family man who's spent years and years driving around the country to invest his time in grassroots football; who never wears shoes when he's scouting players and likes to mix and match GAA shorts with his Finn Harps club gear?
All of this is Ollie Horgan, the wild-haired Galway man who made his name at Fanad United in the Ulster Senior League before getting his break into League of Ireland management with Finn Harps in 2013.
Harps actually turned him down two years before that, but it's safe to assume they don't regret taking a punt on the 52-year-old the second time around, when higher profile names - most notably Julian Dicks - had been interested.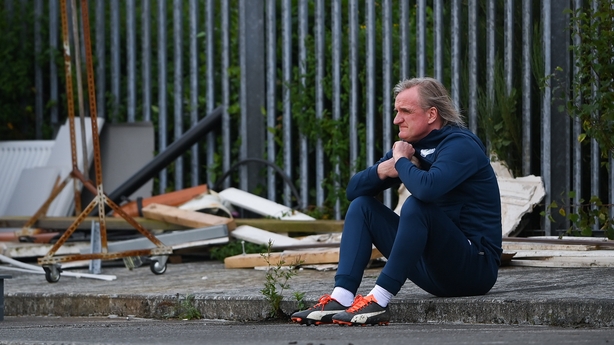 He is an easy figure to underestimate; someone who genuinely loathes hubris and complacency to the degree that if Harps were 18 points clear at the top of the table with six games to play he'd probably be focused on the goal difference.
His appearance can disarm you. Horgan often looks dishevelled, he's endlessly self-deprecating, and he runs for the hills when anything resembling praise comes his way. "I was more annoyed that we'd no players on the Team of the Year as they were the real heroes," was his response to being nominated for the PFAI Manager of the Year ward in 2018.
Look closer though and you'll find an intelligent, incredibly diligent coach whose ability to see things where others often don't look has once again maintained Harps' top-flight status.
Make no mistake, the Donegal club looked doomed in September. After an opening-night win against Sligo Rovers, they picked up one point from their next seven games.
In August Horgan, rolling the dice to freshen up his attack, got out his contacts book and tracked down Adam Foley, a 30-year-old midfielder who had most recently played with Newry City in Northern Ireland's second tier. He had no experience of playing in the Premier Division and hadn't kicked a football in five months.
"It was my goddaughter's Communion," Foley tells RTÉ Sport. "Ollie rang me. I didn't even know who it was. He said, 'where are you?'. I said, 'I'm in Balbriggan'. He said, 'right, I'm on the way down to you'. I said, 'I'm at my niece's Communion here, Olllie', and he said, 'right, enjoy your day, I'll be down to you in 48 hours'."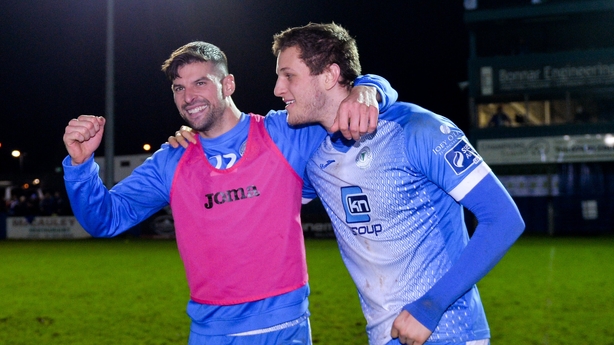 Forty-eight hours later, Horgan arrived at the City North Hotel on the border of north county Dublin and Meath to meet his man. It took him four minutes to convince Foley to sign.
"He's a character," adds Foley. "He's out straight with you the whole time. When I met him in the City North, he told me straight away, 'what you see is what you get with me, there's no bulls**t'. His words were, 'I don't give a f**k'. They were his exact words. As soon as he said it, I said, 'right give me that pen'. I signed the contract there and then."
It proved to be an inspired acquisition. Foley, utilised as a striker, took a few weeks to get up to speed but he was a key figure in the run-in, scoring the winner against Waterford on Monday night that ultimately kept Harps up.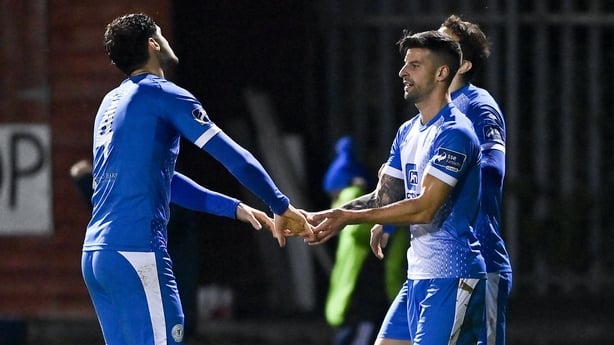 "I hadn't played since March. My last game was with Newry before lockdown. I had a knee injury just before the lockdown started. I'd a patella tilt in my kneecap. I hadn't run in about five months. I got an injection and not even two days later Ollie rang me.
"I had to rest for 10 days. My first session was just before the Bohs game (a 1-0 loss) so I just had to get myself fit. Going from the Championship in Northern Ireland to the Premier Division, it's completely different levels.
"My first full session was on a Monday night, two days after the Bohs match. I could barely move. I was blowing out of my arse it was so tough. It was just about getting myself up to that level of fitness."
Horgan's punt on Foley wasn't just a lucky shot. He had spotted the Republic of Ireland amateur international playing for Glenavon in 2017 and felt his height and mobility could give his team something different.
Those hours spent trekking around the provinces to take in matches pay off when you finally spot what you're looking for. Horgan, who would literally drive the length and breadth of the country just to help his side get three points, found the edge he needed to survive.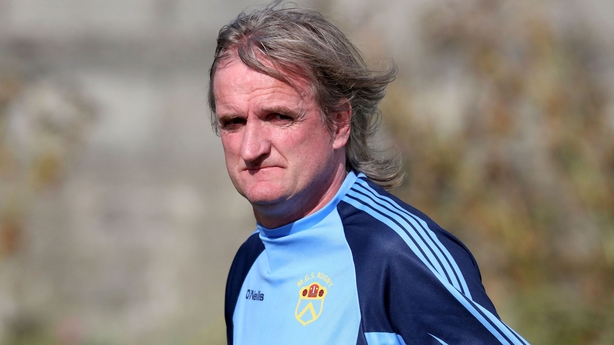 Hard work is one thing, but wedded to smart coaching and constant planning, not to mention some good players, it's made Harps a technically more accomplished team than they perhaps get credit for.
Horgan's men go through hours of work on team shape, and are briefed on the strengths and weaknesses of every player they come up against.
"We know everything about everyone," adds Foley.
"He leaves no stone unturned. In training, we do shape every session. I mean we've gone over clips, analysis on everything. We get sent everything as well, we're well aware of who we're up against. That's all down to Ollie and the coaching staff. He knows his stuff - and then some.
"He does a lot for all of us. He makes sure we're well prepared, and if you look at the calibre of players we have, we haven't just got lads who slog through games. You've Shane McEleney, Gareth Harkin, Karl O'Sullivan, Mark Russell, David Webster, Ryan Connolly, we have some quality players… lads who've played at the top level in this country and played in Europe for years."
"We probably don't know any other way of surviving."
Horgan himself has been typically understated since the great escape.
"It doesn't get any easier," he told the RTÉ Soccer Podcast the morning after the win against Waterford.
"It's hard going at that end of the table... but that's what we're used to. It's the first time in a while we're not involved in a play-off. We'll gladly take that day off. We probably don't know any other way of surviving.
"We'll be positive and look to see if we can kick on in the seasons to come. It's a serious league. It takes money to move up even one position. It'd be great if we could kick on... but let's see. Time will tell."
They get to take a swing at undefeated champions Shamrock Rovers this Friday evening when Stephen Bradley takes his troops to Ballybofey for an FAI Cup quarter-final.
They shouldn't have a chance; which is just how Horgan likes it. With the pressure of a relegation dog fight off for another year, he's now calling the tune from the luxurious surrounds of bonus territory.
"I keep having these visions of Ollie playing the piano every time I walk into a bar!" laughs Foley. "No one has actually seen him playing it, but everyone's heard that he does.
"Before the season's out, I'd love to hear him play the piano."
Ollie Horgan - a man who wears his heart on his sleeve and yet still feels like something of an enigma.
He is the great survivor. Always under the radar, but never out of the game.
Listen to the RTÉ Soccer podcast on Apple Podcasts, SoundCloud, Spotify or wherever you get your podcasts.
Watch the Republic of Ireland's Wembley friendly against England this Thursday with coverage beginning on RTÉ2 and RTÉ Player at 7.30pm.