Liverpool manager Jurgen Klopp has dismissed suggestions that facing Manchester City does not pose the same challenge as in previous years.
Pep Guardiola's side have already lost 5-2 at home to Leicester, drawn at Leeds and West Ham and are five points behind their table-topping title rivals, although they do have a match in hand.
They go into Sunday's game without Sergio Aguero, who has scored in all seven of his appearances against Liverpool at the Etihad Stadium, but Klopp does not see it as any less of a difficult task.
"I really don't want to speak about us but it is obvious that it is not too easy to play against us but the challenge with City is always the way they play with the players they have so that makes it really tricky," he said.
"There are other teams that are really good. If we were now to face Bayern Munich, they are in a pretty good moment for a while already and I wouldn't say that is a Sunday afternoon walk in the park.
"It is just in England with all the quality of the other teams, massive quality, if you think about it, all the challenges in the game - what you have to be aware of and think about and what you have to do - it is City because they have a good plan, a clear plan and in each position a player who has the physicality and the technique to make a difference.
"They play a specific way, they are pretty dominant, but if they have to counter-attack they are pretty strong so they have speed and creativity and that is not so cool when the other team has that and make it pretty tricky.
"And that is why I said it, it is 100% like this, I don't think anybody else would see differently apart from a few journalists who always react on a moment, 'ah, but in a moment they are this or that'.
"But actually they are in really good shape. If you don't use all your chances that can cause you a problem results-wise but for me it is important that they had all these chances because that is what I have to think about and not if they finish them off or not because I know they will finish them off from a specific point.
"We just have to make sure it doesn't happen on Sunday and they will not have that many."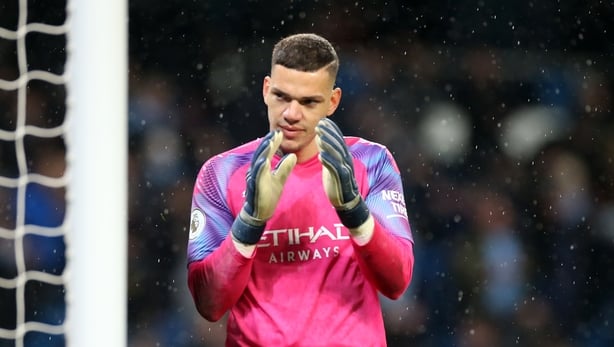 City goalkeeper Ederson believes his team are only now starting to hit their stride.
City dropped points in three of their opening five Premier League matches - a slow start which can partially be attributed to injuries, a limited summer break and a lack of pre-season preparation - but there have been signs of confidence returning in recent weeks.
Pep Guardiola's men have won five of their last six games in all competitions and Ederson feels momentum is building at the right time ahead of tomorrow's clash.
The Brazilian said: "It wasn't one of the best starts to a season, in terms of results, but I think the team is recovering very well.
"It was a difficult. We had a few players testing positive for Covid-19 and a few injuries. Now, they are all returning little by little, so we have seen the team more compact and playing good football lately. We have more depth in the squad now.
"I think the team has got back to its level, we are focused, and on Sunday we have a good test to prove it."
Liverpool have had their own setbacks – notably a 7-2 thrashing by Aston Villa last month – but they have also recovered and they topped the table after last weekend's fixtures.
City would still have a game in hand, but defeat this weekend would leave them eight points behind the Reds.
Ederson said: "It's the game everyone wants – the players, the fans, the media, everybody. I think it's going to be a good game.
"They are some points ahead of us, but we have one game in hand and play against them on Sunday. I hope we can get a good result."
City beat Liverpool 4-0 in last season's corresponding fixture, but manager Guardiola says little can be read into that match in July.
Liverpool had been crowned as champions just the week before and the circumstances are this time are not the same.
Guardiola said: "It's a new competition. This is completely different. There will be different players and we are playing in a different way right now in the way we press.
"I don't pay much attention to what happened in the past because the past is the past, for good or bad.
"Always we have another chance with a new game. With the players that we have, and the best conditions possible, we will try to play."
One player not involved is inspirational Liverpool defender Virgil Van Dijk, who is set to miss most of the season through injury. That may favour City but Guardiola insists it is a shame.
Guardiola, who is without a star man himself in Sergio Aguero, said: "The most important thing is that the surgery was good and I hope he can recover as quickly as possible. I will miss him. I like to play with the best players on the pitch."