We've finally arrived at the closing stretch of the most turbulent, chaotic and protracted campaign in the storied history of Ireland attempting to reach major tournaments.
There have been so many safety nets provided in this qualification effort that it comes as a bit of a jolt to learn that Thursday's fixture is in fact a do-or-die affair.
What, no more back-doors, or side-doors or cat-flaps? If Ireland lose, they're gone? God, that's a bit abrupt, isn't it? Would they not give us a chance?
For those who take a casual interest in the national team, there was some incredulity last November that they were still in with a possibility of reaching this Euros. Getting oneself eliminated from this competition was evidently a hard slog.
The team has been through three managers. The previous FAI regime collapsed in stunning fashion, leaving behind it a financially battered organisation. The long-time CEO scuttled off to London amid a blizzard of condemnation and the entire board resigned. And a once-in-a-century pandemic has seen the entire tournament postponed a year while Ireland's play-off games take place six and a half months later than advertised and behind closed doors.
You might be tempted to call it a GUBU era for the FAI except it might be a stretch to call it unprecedented.
We need your consent to load this SoundCloud contentWe use SoundCloud to manage extra content that can set cookies on your device and collect data about your activity. Please review their details and accept them to load the content.Manage Preferences
Perhaps less importantly, in this qualification process, Ireland have scored eight goals with eight different goal-scorers (one of them being Gibraltar defender Joseph Chipolina) and our supposed best player at the outset of the Nations League has now made nine appearances for England.
Elsewhere, our one-time assistant manager's intense irritation at seeing lads on the treatment table became the subject of a viral whatsapp voice message, the contents of which circulated around much of the English-speaking world. The home game against Georgia was interrupted by a short rain-storm of tennis balls, while the in-game instructions from the sideline during the Gibraltar match - played in a venue so windy it made Pearse Stadium, Salthill look like an oasis of stillness - were briefly drowned out by a plane taking off a few hundred yards away.
What will we remember about Mick McCarthy's second stint in charge? The manager's extreme personal charm in pre- and post-match interviews, the warm glow of nostalgia some of us felt at hearing that booming Barnsley voice on the Lansdowne Road sideline again, the induction of the name 'Didzy' into the Irish football nickname hall of fame, and McCarthy's relentless tendency to see the glass as half-full.
No matter the result that had just occurred, McCarthy insisted he'd have taken it at the outset. 'All is for the best in the best of all possible worlds.' was his guiding mantra throughout the campaign.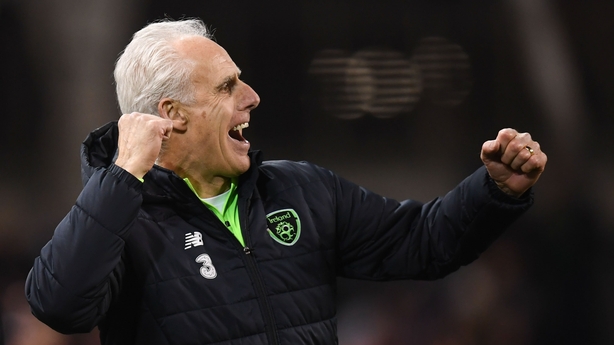 There were decent, high-energy displays at home to Georgia and Denmark but, looked at in a cold light, Mick's second term represented a par performance.
After he graciously stepped aside in April, admittedly with a tidy payout, it was sometimes asserted in his favour that he had at least gotten Ireland to the play-offs.
This is not true.
Ireland have reached this position on the strength of their work in the Nations League in late 2018.
In case anyone doesn't remember, this was the competition in which they were spanked away from home against Wales, where they were beaten 1-0 at home against the same opposition and where they played out two insomnia-curing goalless draws with Denmark, the second of which the Danes would probably have won if they'd needed the points.
It was this sequence of results, and the dismal nature of the football accompanying, which did for Martin O'Neill's reign but this is the path through which we can still make the 24-team finals next year.
None of what Ireland have done since the autumn of 2018 has really mattered.
They could, as the permutation eggheads have been reminding us regularly, have shipped American Samoa style hammerings for two solid years and they'd still have wound up in the spot they are now.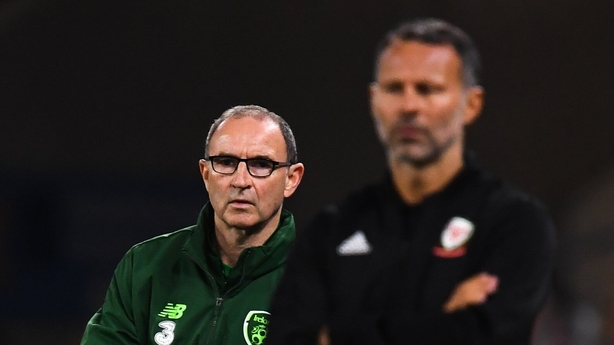 Stephen Kenny has said that Ireland "have to do something extraordinary" to qualify, a comment which, notwithstanding the manager's reputation for positivity, could be read as softening up supporters for the acceptance of disappointment.
There's a sense that fans are relaxed enough about the prospect now. Irish supporters are in a more philosophical frame of mind than usual and have their sights fixed on the long term - or at least on the medium term.
If qualifying for the tournament was the be-all and end-all, the national team would probably not, at this late hour of a campaign, be embarking on an arduous project of re-vamping their style of play.
In some respects, this attitude seems to be in part a repudiation of what the John Delaney era was all about.
The Delaney era is associated, amongst other things, with the recruiting of 'Big Time Johnny' managers to get Ireland to major tournaments by whatever grim means were necessary. Then we could all reach the promised land of a big shindig in a foreign field and Delaney could bask in the glow of being, ahem, "alright now".
The new regime, or at least the recently departed regime, talks in quite different terms. In late August, then Interim Deputy CEO Niall Quinn said that Stephen Kenny's remit was to "create a new footballing identity" and insisted it was wrong to imagine that this project would yield results right away. This is not the type of dreamy mission statement that the Republic of Ireland has rolled out at the business end of a campaign before.
We need your consent to load this rte-player contentWe use rte-player to manage extra content that can set cookies on your device and collect data about your activity. Please review their details and accept them to load the content.Manage Preferences

It was also regarded as especially important to John Delaney that Ireland should qualify for the tournament that he had gone to great lengths to bring here.
So therefore, we now decide that this is not in fact a priority. It's not a particularly cheery prospect, the idea of Poland and Sweden taking on Bosnia in the Aviva Stadium next summer while the hosts sit with their nose pressed against the window.
But there again, the pandemic has probably shifted perspectives on that. It no longer seems like quite the doomsday scenario given all else that is going on in the world.
Kenny insists Ireland will approach Thursday's game "in a positive way" and spoke of being able afterwards to look in the mirror and know that he "didn't compromise" on what he felt was right. Ireland will be "progressive and go to try and win the game".
The difficulty of weaning Ireland away from the post-Trapattoni style of play was underlined by the displays against Bulgaria and Finland.
We can already see the beginnings of a culture war over the management of Kenny, the LOI heads anxious that he succeed and pumping gallons of goodwill into the Twittersphere, while the Sky Sports Arena community eye the new boss warily and turn their nose up at his credentials.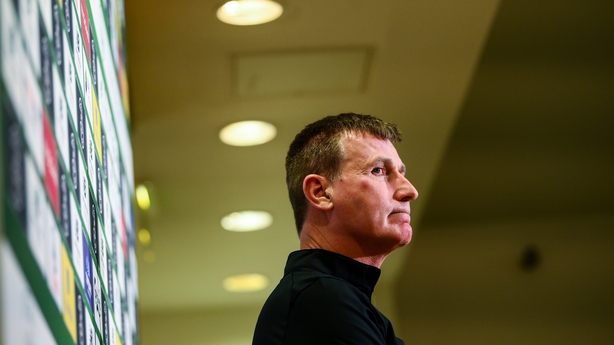 While the latter's voices will be amplified should Ireland stumble on Thursday, this still represents something of a free shot for Kenny.
The outcome of this campaign is not really a reflection on him.
Qualify or not qualify, he will still get a chance to take Ireland into the next World Cup campaign, with a potentially interesting – though it behoves us to be cautious – crop of players emerging.
Then the future will no longer be on hold and the culture war can truly begin.
Follow Slovakia v Republic of Ireland (Thursday, 7.45pm) via our live blog on RTÉ.ie/sport and the RTÉ News app, watch live on RTÉ2 and the RTÉ Player from 7pm or listen to live commentary on RTÉ 2fm's Game On.