Stephen Kenny has set out what he described as a "lofty" ambition for his time in charge of the Ireland team.
He wants to wean Ireland off its longstanding adherence to the "British style" of play just two months after the death of the man who did more than anyone else to get us hooked onto the British style of play.
Eamon Dunphy always maintained that the traditional Irish style was built on tricky ball players and knacky wingers. It was, he said, always distinct from the more bustling and physical English approach. The Scots were also considered to boast their own style, based on passing and possession football.
If we had a failing back then, and we must have, it was due to the preponderance of small fellas on the team. Joe Haverty, Arsenal's skillful winger, was instanced as the archetypal Irish footballer of the 1950s and 60s.
No one under 40 can really remember this - and some might be inclined to suspect he's guilty of romanticising the past. Jack Charlton arrived in 1986 and immediately implanted an English style of play, in line with his vision of the game should be played. The POMO (Position of Maximum Opportunity) approach, founded on the rather flawed work of hobbyist statistician Charles Reep, was embraced wholesale.
In the Rocky Road, Dunphy detailed a famous confrontation between Liam Tuohy, then Under-21 boss and the epitome of a pre-Charlton football man, and Charlton midway through a youth team game away to England in Yorkshire.
Ireland, according to Dunphy, were "a small team who played neat football" and found themselves 2-0 down at half-time.
Charlton was horrified by the spectacle of the midfielder coming short to pick up the ball off the full-back and thundered into the dressing room at half-time, arrogantly ignoring the presence of the actual U21 boss, and demanded they put a stop to this craic at once.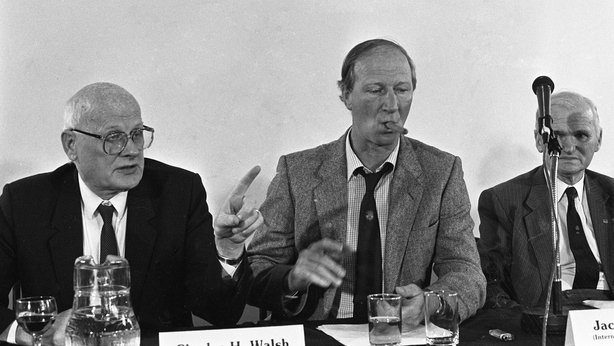 Tuohy was utterly appalled and handed in his resignation on returning to Dublin. Maurice Setters was installed as U21 manager.
Because Ireland properly arrived on the world stage for the first time under Charlton, the long ball became our signature style. It would probably come as news to the rest of the world – as well as to Irish under-35s - that Ireland were ever associated with a different style of play.
The day after Ireland's first ever World Cup game against England in Sardinia, the headline on the Corriere dello Sport read "No football please - We're British".
Nowadays, the Irish citizens of Twitter lose the rag once a fortnight whenever some doltish (or devilishly mischievous) British newscaster mis-identifies one of our Oscar nominees or Booker Prize shortlisted authors as British.
But we could hardly quibble too much with the Italian press verdict back in June 1990.
Ireland have flirted with more fashionable and ambitious approaches in the interim – most notably around the turn of the century – but the Charlton style has left a big imprint, and it is certainly back as the prevailing style since Giovanni Trapattoni was appointed manager in 2008.
Stephen Kenny would likely have his differences with Gilesy and Dunphy - not least on account of their dismissive attitude to what Eamo used to gleefully label the 'Chicken League'.
But they all belong to that purist school of football men who still wince whenever some bespectacled foreign coach is asked what kind of challenge his team can expect of the Irish.
Typically, they respond in a manner which suggests they're steeling themselves to go out to face 11 Terry Butchers. If we can survive a few harum-scarum corners and as long as our goalkeeper isn't maimed by the opposing centre-half, we should be okay, type-thing.
Ireland have had five managers since Jack Charlton – Mick McCarthy getting two goes – and through it all have never drifted that far from the 'British' style.
Given his closeness to Jack Charlton, and the widespread perception that he owed his 57 caps to Jack's partiality towards uncomplicated centre-halves, McCarthy's managerial identification with a more attractive style of play feels somewhat incongruous.
On the day he was appointed, Peter Byrne wrote in the Irish Times that at Millwall, where he was manager from 1992 to 1996, McCarthy had encouraged "an attractive brand of football, astounding many of his critics who thought he would concentrate on the long-ball game".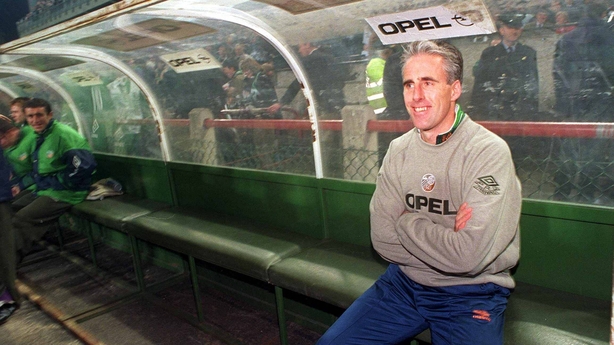 Though McCarthy never exactly renounced the 'son of Jack' tag, he insisted ahead of his first game in charge, a friendly against Russia in February 1996, that he would follow a different path.
"The Irish spirit has got to stay," he told reporters before the game. "But I want us to play a more subtle game. The ball won't just be knocked up to the forwards. We'll get the ball down and try to play football. And straight away… Anybody who thinks I'm going to be the next Jack Charlton should know that's nonsense. I won't be copying anyone."
There were significant teething problems. McCarthy had to blood a host of young players after the debacle of Charlton's final campaign and the team went seven games without a win. And they may not have got as far as the play-offs for France '98 had they been placed in a less forgiving group.
But it was under McCarthy that Ireland came closest to marrying a relatively attractive style of play with success.
Ireland's qualification for the 2002 World Cup in a group containing Portugal and the Netherlands – at the expense of the latter – remains one of our finest qualifying achievements.
"It was a time when Dutch football really thought it was the greatest on the planet, the most intelligent, the most attacking, the most morally correct," Dutch author Simon Kuper told this writer in 2016, emphasising the scale of Ireland's achievement.
One wouldn't want to over-state the case either. When required, the 'out-ball' up to Niall Quinn remained a key weapon in the armoury, as was seen in Ibaraki and elsewhere.
He was succeeded by Brian Kerr, appointed amid much public goodwill in early 2003.
Kerr had achieved wild success with the youth sides, winning the U16 and U18 European Championships in 1998.
He had also been Liam Tuohy's assistant coach on the infamous afternoon in 1986 and so was representative of that strand of football men frozen out during the Charlton era.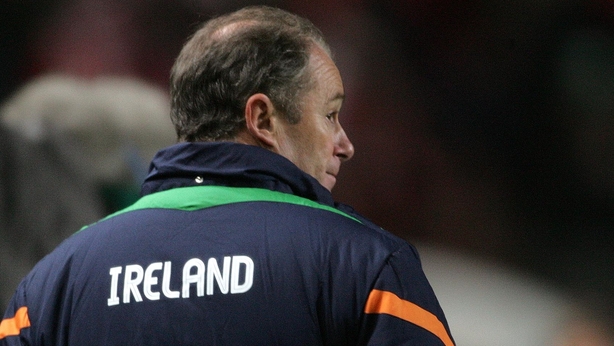 It was assumed that Kerr would follow the progressive mindset advocated by the anti-Charlton wing of Irish football but in interviews the new manager stressed that he would be happy to mix it up when required.
Stylistically, Ireland played in much the same vein as they had under McCarthy but Kerr was criticised for his habit of switching to a defensive formation once in a winning position.
This was to prove costly in home and away games against Israel in the 2006 campaign, particularly at Lansdowne Road where Ireland surrendered a two-goal lead and inexplicably failed to pick up three points.
The appointment of Steve Staunton, with elder statesman Bobby Robson installed as his minder and mentor, was deeply associated with new CEO John Delaney.
Delaney had controversially booted Brian Kerr out the door after his first full campaign and had plucked Staunton from coaching obscurity in Walsall – where, according to the wags, his main responsibility was laying out the traffic cones at training.
There were whispers – whether right or wrong – that the players baulked at Kerr filling their heads with too many tactical instructions and the arch sentimentalist Delaney spoke of how he wanted Ireland to get back to the old 'give it a lash' template.
Ireland certainly played like they were unburdened of any tactical instruction during the Staunton era, most notoriously in the Cyprus game in October '06.
Though he fell back on the four-year plan gambit, he was put out of his misery after two.
Giovanni Trapattoni saw his initial task as correcting this tactical bone-headedness, which he did with his fixation on the 'little details' and his obsessive practising of set-piece arrangement.
While it was fashionable to deride Big Jack's work in the early noughties, Trap immediately identified him as the man who he wished to emulate.
Trapattoni was the most successful coach in the history of Serie A but his heyday had been in the 1980s and his spell in charge of the Italian national team from 2000-04 had been a conspicuous failure.
He represented the Italian managerial stereotype in its most extreme incarnation.
Ireland once more became no fun to play against and extremely difficult to beat. They only lost two qualifying games in four years and went a record eight games without conceding a goal in the middle of 2011.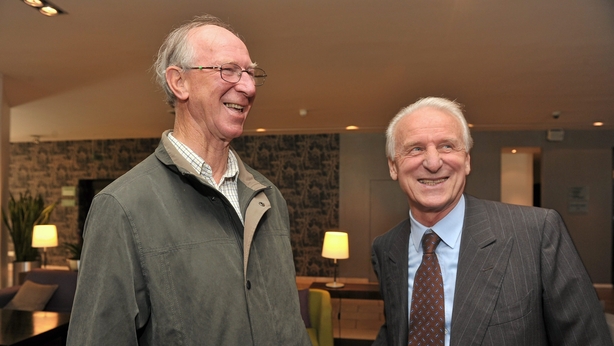 However, with key players like Keane and Duff ageing, the team's technical capability seemed to diminish as time wore on.
Under Martin O'Neill, Ireland have been more traditionally 'British' than at any time since the Charlton era, ironically at a time when England were moving away from this approach.
O'Neill promised a more upbeat approach after the unbearably sterile conclusion to the Trapattoni regime.
Broadly, this was delivered upon and a string of uplifting results - victories over Germany, Bosnia, Italy and Austria - were achieved in 2015 and 2016.
At times, it felt a bit like management by after-dinner speech
Nonetheless, the team's overall style remained crude and there was considerable bemusement around the manager's remarkably laissez-faire approach, which, according to reports, seemed to consist of telling the players the starting XI an hour before kick-off and letting them work out the rest themselves.
Throughout it all, there was no problem so thorny that it couldn't be answered with a Brian Clough anecdote. At times, it felt a bit like management by after-dinner speech.
Stephen Kenny boldly promises a break from the past. This is, after all, a man who has spoken before of how little he enjoyed the Charlton era.
In an interview with the Irish Times' Emmet Malone in late 2018 that could have doubled as a pitch for the main job, the the Dundalk manager spoke about mixing the "best virtues of Irish sides – the honesty, work-rate and passion that we've shown down the years – but introducing a more European style of play, a more fluid and expansive way."
Bullishly, he's not talking about four-year plans and admits he's "impatient" to achieve his goals. With one high-profile exception, his League of Ireland record indicates that this is a manager used to more or less instant success.
We'll get the first indication of how he might fare in the coming week.
Follow Bulgaria v Republic of Ireland this Thursday via our live blog on RTÉ.ie and the RTÉ News app or listen to live commentary on RTÉ 2FM's Game On.
We need your consent to load this SoundCloud contentWe use SoundCloud to manage extra content that can set cookies on your device and collect data about your activity. Please review their details and accept them to load the content.Manage Preferences
Listen to the RTÉ Soccer podcast on Apple Podcasts, SoundCloud, Spotify or wherever you get your podcasts.